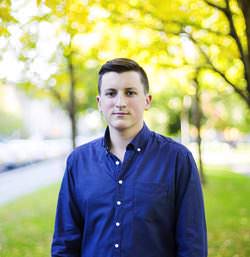 piano
Andrew Boudreau
Pianist Andrew Boudreau is quickly becoming an active part of the Canadian jazz scene. He completed an ARCT Diploma (Piano Performance) with First Class Honours with Distinction from the Royal Conservatory of Music. Then, he studied at the Schulich School of Music at McGill University, where he was a designated Schulich Scholar. There, he received a Bachelor of Music (Jazz Performance) with Outstanding Achievement and Dean's Honour List standings. At McGill, Andrew was also the pianist for the critically acclaimed McGill Jazz Orchestra, which released an album and completed a tour of France and Switzerland. In 2013, Andrew was also awarded the Astral Artist Prize at the National Arts Centre, one of eight young Canadian musicians from a wide variety of genres. Andrew also attended the School for Improvisational Music Workshop in New York City in 2014.
Andrew performed in the OFF Festival de Jazz de Montreal, Festi-Jazz International de Rimoushi, Ottawa International Jazz Festival and the TD Halifax Jazz Festival. Having performed in a variety of settings from Paris to Geneva to New York via Toronto, Montreal and Halifax, Andrew has had the privilege to perform with a wide variety of musicians and ensembles, such as Kevin Dean, Remi Bolduc, Jan Jarczyk, Measha Brueggergosman, the Orchestre national de jazz de Montreal and the Altsys Jazz Orchestra among many others.
Andrew is currently based in Montreal, Quebec, where he maintains an active performing and teaching schedule.
For more please visit Andrew Boudreau's website