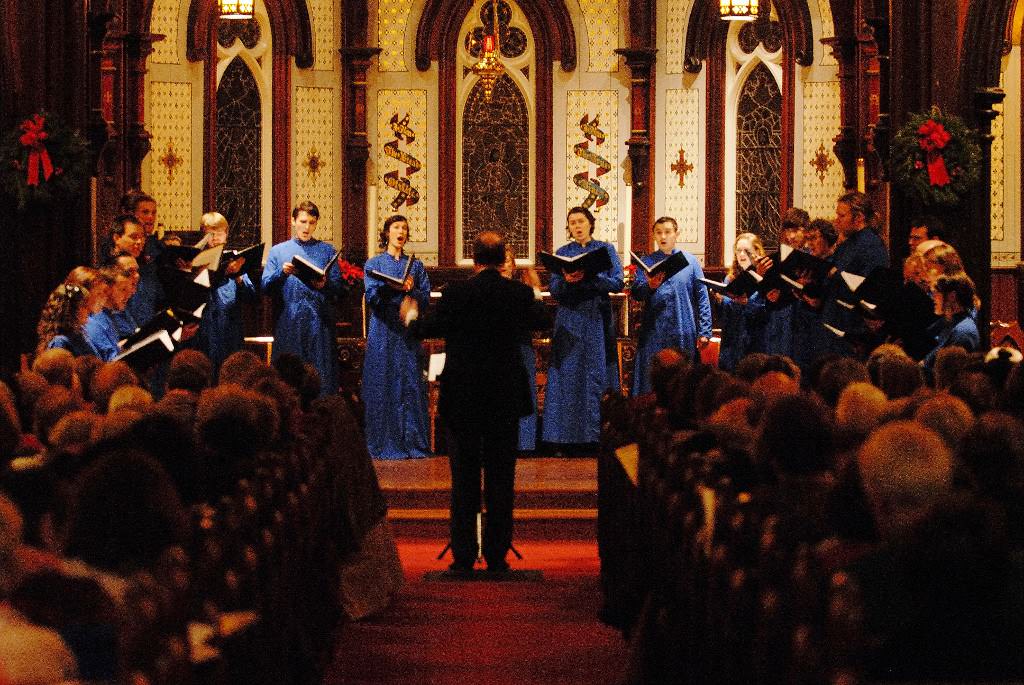 King S Chapel Choir
Paul Halley was made an associate of the Royal Conservatory of Toronto at 16 and was an organ scholar at Trinity College, Cambridge, from which he received his MA with prizes in composition and performance. He won first prize in the College examinations and was made a Fellow of the Royal College of Organists. Halley was the organist and choirmaster at The Cathedral of St John the Divine in New York City (1977-1989) while also acting as principal composer and keyboardist for The Paul Winter Consort, earning five Grammy Awards for his work with the Consort.
Halley founded the children's choir, Chorus Angelicus, and the chamber choir, Gaudeamus, in Connecticut and became director of music at Trinity Episcopal Church, Torrington, where he established a choral and organ scholars program with nearby Yale University.
Since 2007, Halley has served as the university musician at Atlantic School of Theology and as director of music for the University of King's College chapel. His compositions have been performed and licensed by many artists and groups, including the New Jersey Symphony, John Williams and the Boston Pops Orchestra, and professional choirs around the world. He is the recipient of many composer awards and is a guest artist throughout North America. His recordings and performances are frequently aired on National Public Radio and the CBC.
Choir
Modeled after the chapel choirs of Cambridge and Oxford, the choir at the University of King's College comprises 24 talented choristers and is directed by Grammy winning musician Paul Halley. The choir sings for the Chapel's weekly services of Evensong and Eucharist and gives concerts throughout Eastern Canada and the United States. This is the final concert of the second annual three-part concert series at the Cathedral Church of All Saints entitled "King's At The Cathedral." Next season, the choir will be performing the Rachmaninov Vespers on 6 November 2011, A King's Christmas, 9-11 December 2011, and Bach's B Minor Mass, 20 and 22 April 2012.The Chapel Choir of the University of King's College, modeled on the Chapel Choirs of Cambridge and Oxford, comprises twenty choristers selected through annual auditions held in September, which are open to all students at King's College and Dalhousie University. The choir's primary function is to sing at the weekly Evensongs and Eucharists, as well as other major services throughout the academic year. The choir had its beginnings in the early 1970s when Dr. Robert Crouse put together a group of singers to lead the worship at the Thursday Eucharists at King's. Since that time the choir has expanded its role, having sung under the direction of several notable conductors including Helen Roby, David Buley, and most recently Dr. Walter Kemp.
In July 2007, Paul Halley was appointed Director of Music of the Chapel and since then has built the group into a fine ensemble which now includes touring and recording amongst its activities. Halley says of the choir: "It is my hope that over time, prospective students will view the Chapel Choir as one of the reasons to attend university in Halifax. There's really nothing quite like the training a fine collegiate chapel choir can offer. You get through so much first-rate music, just in one week - all the anthems, motets, mass settings, canticles, psalms and hymns - that your musical literacy increases at a phenomenal rate."
For more please visit King's Chapel Choir's website
Upcoming Events