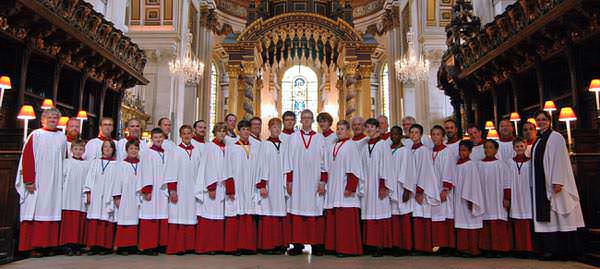 Ottawa Cathedral Choir
Formed in 1891, the Choir of Men and Boys is one of the few remaining choirs of men and boys in North America, and the only such resident choir in a Canadian Anglican cathedral.
The Choir is made up of twenty boys between the ages of eight and fourteen. Very few of the boys join the Choir with any previous knowledge of choral music. It is by virtue of their regular attendance and willingness to learn that they are exposed to different languages and benefit from a high-standard of musical training and vocal technique. In addition to regularly singing at Cathedral and Diocesan liturgies, the Choir offers concerts of sacred and secular works. Most recently:
In 2009, the Choir made its first visit to England, where it sang in Cambridge University colleges, took up a one-week residency at Ely Cathedral, and also sang at Great St Mary's Church (Cambridge) and St Paul's Cathedral (London). In 2010, the Choir visited New York City, where it sang at St Thomas Fifth Avenue, the Cathedral Church of Saint John the Divine, and the Church of Saint Mary the Virgin. In 2011, the Choir visited France and England, where it sang at Vimy Ridge, église Saint Pierre (Barlin, France), Notre-Dame Cathedrals in Paris and Chartres, Salisbury Cathedral, Bath Abbey, and St Paul's Cathedral (London). In 2012, the Choir visited the Boston area, where it sang at Trinity Church (Boston) and at St Peter's by-the-Sea (Cape Neddick, Maine). In the summer of 2013, the Choir returned to the United Kingdom, where it sang at St. Mary's and St. Giles' Cathedrals in Edinburgh, and St. Bride's Church, Fleet Street and St. Paul's Cathedral, London. In June 2014, the Choir returned to New York City to sing at St. Thomas' Fifth Avenue, St. Patrick's Cathedral, St. Mary the Virgin and Fifth Avenue Presbyterian Church. On June 21, 2015, the Choir sang "A Sacred Concert" at Christ Church Cathedral Ottawa to mark National Aboriginal Day and the transition period following the Indian Residential School's Truth & Reconciliation Commission. In July 2015, the Choir sang services at Washington National Cathedral, St. Paul's Church on K Street, and offered recitals in Alexandria VA, Annapolis MD, and St. Michael's MD.