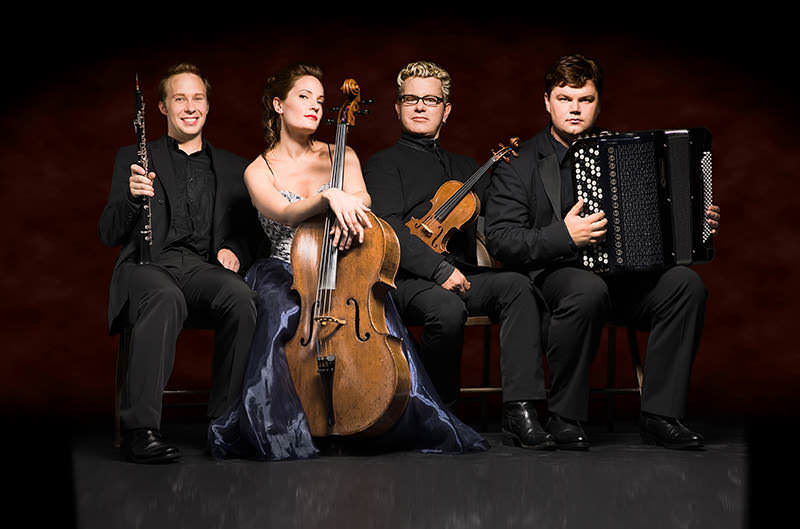 Quartetto Gelato
Colin Maier
Born and raised in Calgary (Go Flames Go!), Colin graduated from the University of Calgary in 1997 with a Bachelor's degree in oboe performance studying with David Sussman. Colin achieved a lifelong dream by joining Quartetto Gelato in 2009. "It is the greatest honor to follow in Cynthia's footsteps and to share a stage (and while on tour, a carpool and hotel room) with these world class musicians". In addition to being a musician, Colin has also worked for over 20 years as a dancer, actor, stuntman, singer, choreographer, acrobat and martial-artist. This combination of high level music and theatre is quite unique and he continues to find new, exciting and ground breaking ways to combine his two passions. For more information on Colin, please visit his website at www.colinmaier.com
Colin's two solo albums, "Advice From a Misguided Man" in 2012 and "The Fabulist – Oboe and Other Things" in 2014 have been heard on radio stations in 17 countries and received fantastic reviews from Wholenote, Fanfare and American Record Guide. The albums feature the oboe and Colin's multi-instrumentalism and are comprised of original Canadian commissions, Canadian arrangements, Canadian/World premieres and virtuosic showpieces that span many musical genres.
As an oboist he has played with groups such as; The Calgary very diverse Philharmonic, National Ballet, Symphony of the Kootenays, Soundstreams, Toronto Concert Orchestra, Scarborough Philharmonic, Niagara International Chamber Music Festival, The Jive Mommas, High Strung, The Fabulous Doo-Wop Boy and The Plaid Tongued Devils. In 2002, he was a featured Jazz oboist at the International Double Reed Festival where he performed and conducted a jazz master class with legendary jazz bassoonist Michael Rabinowitz.
In addition to oboe, Colin also plays clarinet, english horn, violin, 5-string banjo, acoustic/electric bass, piano, saxophone, flute, guitar, mandolin and musical saw. He has yet to master the kitchen sink despite years of training…much respect to the members of STOMP.
Colin had the honor of playing the devil fiddler in the flying blue canoe for the Vancouver 2010 Winter Olympic Opening Ceremonies." Some highlights from Colin's theatre career where he appeared as an actor include; "Lord of the Rings" (Mirvish), Fire (CanStage), "Forbidden Phoenix" (LKTYP), "KA" (Cirque du Soleil), "Amadeus" (Alberta Theatre Projects), "That Dance Show" (Saltance Productions), "Cats" (Neptune Theatre), Joseph's Dreamcoat (StageWest/Drayton), "A Chorus Line" (StageWest), Sarah Brightman's World Tour, and TV's "Honey I Shrunk the Kids!".
Lydia Munchinsky
Cellist Lydia Munchinsky, nee Helsdon, is a freelance performer and teacher currently residing in Toronto. Originally from Aylmer Ontario, she came to Toronto in 2000 to study cello with Simon Fryer and piano with Peter Longworth at The Glenn Gould School. Since completing the Performance Diploma Program, Lydia has enjoyed many of the diverse musical opportunities this city has to offer. Some of those include playing for music theatre companies Stage West and Theatre Aquarius, the new music ensemble Array, electric violinist Dr. Draw, and chamber folk group Ozere. She has premiered solo cello and chamber music works by a number of Toronto and Austrian composers and gives recitals regularly, some of which have been recorded by CBC and CIUT radio. Before having a baby in July 2013, (born the same day as Prince George), Lydia also taught for Sistema Toronto in Parkdale.
Before moving to Toronto, Lydia studied piano with Dorothy Jones and Karen Rowell, and cello with Tim Halliday, Amanda Keesmaat and Julia MacGregor. She performed in Australia, Korea and Chicago at the ages of ten, twelve and fourteen and completed her ARCT (Associate of the Royal Conservatory of Toronto) in performance for both piano and cello before attending her post secondary studies. The year after she finished high school she also traveled to Europe for five months. While there she spent one term at l'Abri, an International Christian Study and Philosophy Centre, and backpacked across Europe for two months with her cello. While in Switzerland, she also met her husband, Marty. Since January of 2014, Lydia has toured the continent with Quartetto Gelato, an experience for which she is extremely grateful. After all, her daughter Arya, who often joins them on tour, is their biggest fan!
Peter De Sotto
Peter is a remarkable talent who's chameleon like abilities allow him to perform on the violin not only as a seasoned classical violinist but also as a dazzling gypsy virtuoso. If that is not enough the real surprise is his fabulous tenor voice, which ranges from South America, to authentic Irish folk, to the great romantic Italian songs and arias including Turandots "Nessun Dorma". DeSotto has been referred to as "a credible Pavarotti stand-in (Stereo Review). Peter has appeared in leading roles in numerous opera and theatre productions and was a member of The Toronto Symphony Orchestra for 11 years, and was voted Musician Of The Year in 1999 by the Toronto Musicians Association.
"Whenever Peter De Sotto (tenor, violin, mandolin) released his natural, Italianate tenor – usually in Sicilian and Neapolitan folk Songs – I found tears springing to my eyes. It hardly seems fair that he's also a violin wiz who tossed off a gypsy number at dizzying speed." (National Post)
Not only is Peter "an amazing violinist capable of playing any style of music convincingly" but he has "one of the most gorgeous voices I have ever heard. I couldn't believe any one person could possess that much talent." (Glenn Dicterow, concert master, New York Philharmonic)
Alexander Sevastian
Alexander Sevastian joined Quartetto Gelato in 2002. Alex (accordion, piano, bandoneon) has won four International Accordion Competitions including the Oslofjord in Norway (1998), The Cup of the North in Russia (2000), the Anthony Galla-Rini Accordion Competition in the U.S.A. (2001) and The Coupe Mondiale in the U.S.A. (2007).
Alex was born in Minsk, Belarus and began his studies on the accordion at the age of seven. In 1991 he attended the Glinka Musical College in Minsk. His advanced studies took him to the Gnessin Academy of Music in Moscow where he received his Masters in Performance degree in 2002, studying with renowned performer and pedagogue, Friedrich Lips.
Alex began his professional career in Moscow in 1996, performing with the Russian Radio Orchestra, which he toured with as a soloist throughout Russia, Ukraine, Germany, Italy, and Japan. Alex also was a very active recitalist and chamber musician. Highlights of his career include appearances in the Tchaikovsky Concert Hall, Glinka Capella Hall (St.Petersburg), Suntory Hall (Tokyo), Minato Mirai Hall (Yokohama), Roy Thomson Hall (Toronto), Jack Singer Hall (Calgary) and Metropolitan Museum (New York). Recent solo engagements include recitals in Mexico, Italy, Portugal, Serbia, U.S.A. and Canada as well as appearances with several symphony orchestras.
Alex and his family moved to Canada in April 2001. In May 2003 he completed the Advanced Certificate in Performance program at the University of Toronto where he studied with Joseph Macerollo.
Alex made his debut with the Toronto Symphony Orchestra under a baton of Peter Oundjian in April 2008 playing the Malcolm Forsyth Accordion Concerto at the New Creations Festival and toured with the orchestra on their Atlantic tour in Eastern Canada in 2009.
Alex lives in Toronto with his wife Anna and son Vladimir. In the fall of 2005 he became a Canadian Citizen.
For more please visit Quartetto Gelato's website