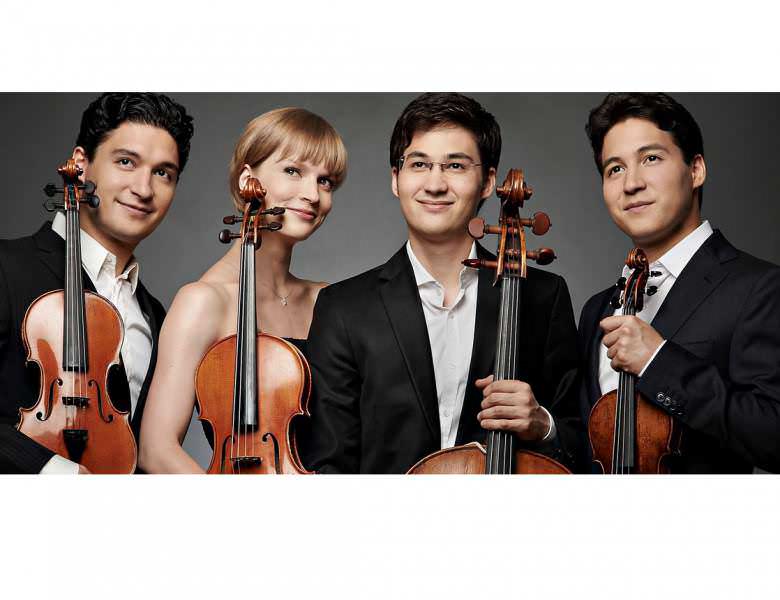 Schumann Quartet
"The Schumann Quartet impresses with almost effortless, world-class virtuosity. Together, they create a very sqpecial force, and they inspire each other as well as the audience. I am convinced that this ensemble's future is bright, and that they will continue to delight their audiences," writes Harald Eggebrecht, the music critic of the Süddeutsche Zeitung, about the Schumann Quartet..
The ensemble, consisting of the brothers Erik, Ken and Mark Schumann along with Estonian violist Liisa Randalu, has impressed audiences worldwide ever since winning the renowned Concours de Bordeaux in May 2013. Critics have praised their "high emotional intelligence" and "supreme technical accomplishment," declaring: "the future belongs to them."
Founded 2007 in Cologne and in its current formation since 2012, the Schumann Quartet attracted much attention early on. The ensemble is prize winner of international competitions such as the Premio Paolo Borciani in Italy and the Osaka International Music Competition in Japan, and winner of the Schubert and Modern Music Competition in Graz, Austria in 2012 and of the Premier Prix de Quatuor à Bordeaux in 2013.
Among the ensemble's formative experiences were their studies with the Alban Berg Quartet in Cologne and with Günther Pichler at the Escuela Superior de Reina Sofia in Madrid. Chamber music instruction by the Cherubini Quartet's Harald Schoneweg was an important source of inspiration during the quartet's early days, as was the artistic collaboration with Eberhard Feltz. Among the ensemble's chamber music partners are renowned artists such as Menahem Pressler, Henri Sigfridsson, Sabine Meyer, Nils Mönkemeyer, Diemut Poppen, Nicolas Altstaedt and David Orlowsky.
An encounter of a different kind with Hyung-ki Joo of the duo Igudesman & Joo inspired the quartet to take to the stage this season with a humoresque programme. Beginning with the 2009/10 season, the Schumann Quartet has been artist in residence at the "Erstklassik" concert series at the Robert Schumann-Saal in Düsseldorf.
The Schumann Quartet has made numerous live recordings with broadcasters such as WDR, SWR and Radio France; their debut recording with works by Beethoven, Bartók and Brahms was released in April 2013 to great critical acclaim. The second CD with works by Mozart, Ives and Verdi was released in January 2015 and has gained fantastic reviews among the media and press. The Schumann Quartet is supported by the Villa Musica Rheinland-Pfalz Foundation and by the Irene Steels-Wilsing Foundation.
In February 2014, the Jürgen Ponto Foundation awarded its Music Prize for String Quartet to the Schumann Quartet. This season 2015/16, the ensemble will hold a residency at the Schloss Esterhazy, which includes concerts and a commissioned work for the Quartet, which will be world premiered in 2016.
Upcoming Events