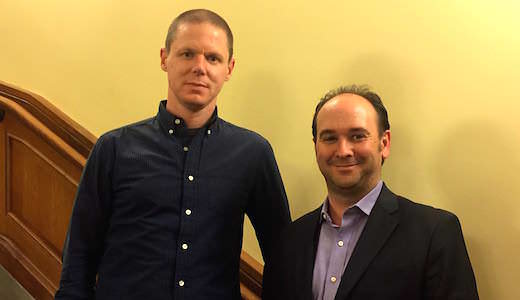 Saturday April 28, 11:00 AM
Eugene Cormier & Derek Charke
Eugene Cormier is in high demand as a solo performer, chamber musician, accompanist, studio musician, adjudicator, and as a teacher. He has won top honours at The Newfoundland Music Festival, The Nova Scotia Music Festival, The Newfoundland Arts and Letters Competition and has been awarded grants from The Newfoundland & Labrador Arts Council and Acadia University. Derek Charke is a JUNO and three-time ECMA award-winning composer and flutist. His music is eclectic, often defying categorization due to wide-ranging influences. Described as minimalist and post-minimal, modernist, inventive, rich textured, full of colour, and imbued with drama and rhythmic vitality, his music often incorporates tonality and modality, electronics and soundscapes, explorations of contemporary instrumental techniques, and improvisation.
Featuring
Eugene Cormier (guitar), Derek Charke (composer/flute)
Performances
Saturday April 28, 11:00 AM – Cecilia's Retreat
Address: 1199 Oakland Rd. RR2, Mahone Bay
Tickets: Seating limited. Reserve by email, or at 902 624-0506.