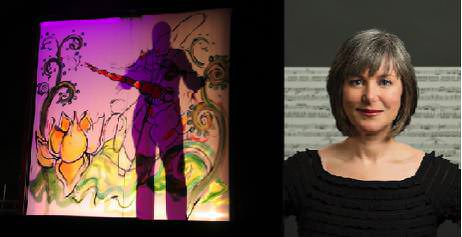 Saturday June 6 2015, 2:00 PM
Cookie Concert – Holly Carr and Jennifer King
About
This wonderful combination of art and music is sure to be an inspiring and enjoyable afternoon experience for all ages.
Holly will be painting live on silk while Jennifer is performing on the piano. Many of the characters found in the music-a little shepherd, dancing dolls, sleeping elephants, Tom Thumb, enchanted fairy gardens, Sleeping Beauty and Beauty and the Beast will be represented by Holly's expressive and colorful painting.
The beautiful French Impressionistic music of Claude Debussy and Maurice Ravel was written for children in their lives. The Children's Corner was written for Debussy's little girl, Chouchou while Ravel wrote his Mother Goose Suite originally as a duet for two daughters of close friends he knew in Paris. Also included will be selections from a solo piano version of Georges Bizet's Children's Games.
This special collaboration of these two artists is designed to fire the imagination of all.
Cookie concerts - combining originality, fun and engaging musical and artistic presentations - are designed for the whole family to enjoy. Admission to the performance is $5 at the door (free for toddlers) Advance reservations can also be made by leaving a message at musiqueroyale1985@gmail.com or (902) 634-9994.
Enjoy a freshly baked cookie and added activities that often accompany our cookie events!