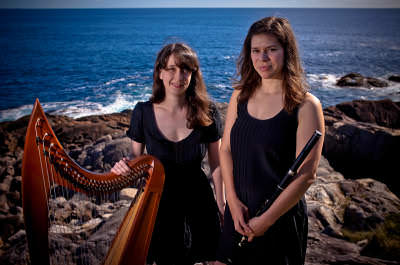 Saturday June 4 2016, 2:00 PM
Cookie Concert with Ragged Robin
About
Musique Royale is pleased to present Ragged Robin at our next cookie concert at the Lunenburg School of the Arts on Saturday, June 4 at 2 pm. Ragged Robin's love of the irresistible groove of traditional Irish music brought Erin Dempsey and Ellen Gibling together in 2015 to form this vibrant musical duo. With harp, flute, and vocals, they collaborate on swinging sets of tunes from the old country and an eclectic assortment of their favourite folk songs. Erin's flute playing ranges from bright and airy to deep and husky and is driven by a playful rhythm. Her deep, soulful vocals conjure honest renderings of folk songs. Ellen's pristine harp playing adds a crisp, sparkling texture and a rich, resonant foundation to both the flute and voice. Together, they present fresh, evocative, and light-hearted interpretations of ancient and contemporary folk music. Ragged Robin is based in Halifax, Nova Scotia, where Erin and Ellen currently live and perform.
Ellen Gibling is a classically-trained harpist with a bachelor's degree in Harp Performance from McGill University. She is the harp instructor at Acadia University and has performed with Symphony Nova Scotia and the National Youth Orchestra of Canada. She is also a member of the pop band The Heavy Blinkers, and has performed and recorded with Jenn Grant. Irish music has been very important to Ellen since her first lessons on the harp, and she has continued to seek it out alongside her work in the classical and pop worlds. Ellen's interest in Irish music has led her to sessions and festivals in Quebec, Newfoundland, Scotland, and Ireland, as well as at home in Nova Scotia. www.ellengibling.ca
Erin Dempsey has been immersed in Irish Traditional music since childhood when she learned Tin Whistle from her father. She was also trained in Irish Traditional dancing, traveling across Canada competing in dance, whistle and Irish song. She began playing wooden flute after her first trip to Ireland in 2003, and now plays flutes constructed by her father, Sean Dempsey. In 2009 she moved to Ireland to refine her flute playing skills. She attended and hosted musical sessions across Ireland, studying with celebrated local performers in Cork, where she lived for four years. Her "piping style" flute playing is reminiscent of the traditional flute and fiddle players of Counties Clare, Galway, and Roscommon.
Cookie concerts - combining originality, fun and engaging musical and artistic presentations - are designed for the whole family to enjoy. Admission to the performance is $5 at the door (free for toddlers). Admission also includes a time to socialize with artists and friends as you enjoy the unique atmosphere in one of Lunenburg's newest artistic spaces…. and a freshly baked cookie!
Enjoy a freshly baked cookie and added activities that often accompany our cookie events!