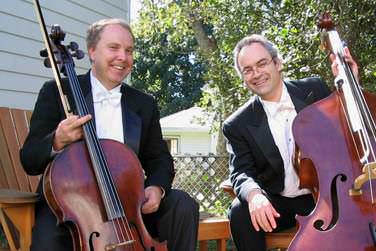 Saturday February 4 2017, 2:00 PM
Max Kasper And Colin Matthews Cookie Concert
About
Schubert's The Unfinished Trout! Performing great chamber music with humorous anecdotes on the life and times of the composers.
Colin Matthews and Max Kasper first met over 25 years ago while both were students in the National Youth Orchestra of Canada. After a decade of playing in different parts of the country Colin and Max found themselves living in Halifax where they started reading duets for fun. These readings evolved into being more serious once both musicians discovered the potential of this combination. Their debut concert was at Bearlys House of Blues and Ribs. Since then Max and Colin have played in many places around the province, including the Octagon, the Lillian Piercy Concert Hall and the Music Room. They have completed their first CD: "Duets for Cello and Bass", and future plans for the ensemble include a music video as well as a second CD featuring contemporary art music written specifically for them.
Enjoy a freshly baked cookie and added activities that often accompany our cookie events!