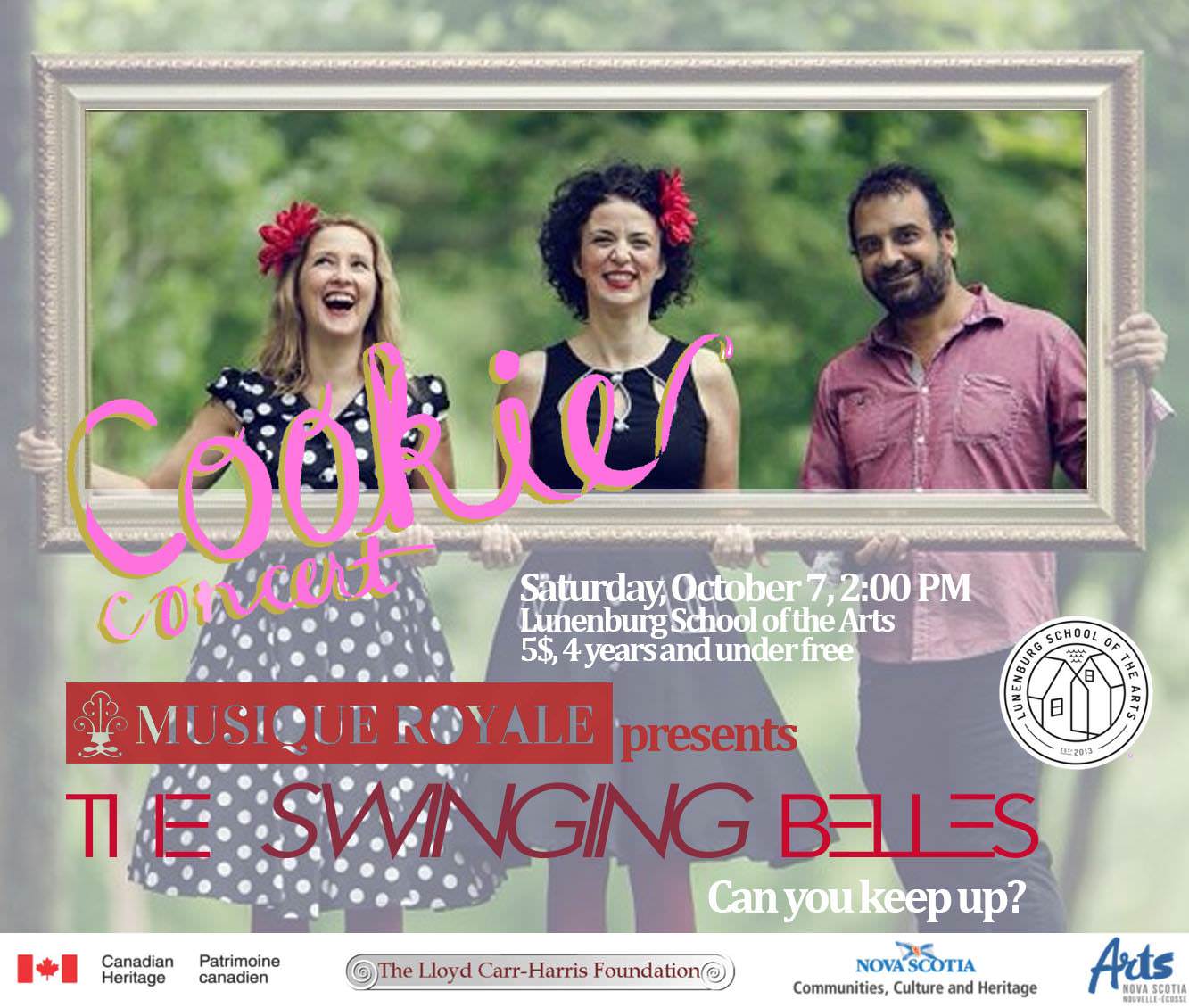 Saturday October 7 – 2:00 PM
Swinging Belles Cookie Concert
About
The Swinging Belles, a JUNO award-winning swing band for kids from St. John's, NL, are intent on getting both kids and adults to kick up their heels and have a swinging good time with the whole family!
Featuring child educators and performers Laura Winter and Erin Power, powered by guitarist extraordinaire Duane Andrews, the Swinging Belles will get parents' toes tapping and kids twirling to swing, country and jazz. Laura and Erin know first hand the joy of dance that children can embrace through swing and jazz, being both primary school teachers. Duane and Erin appreciate the value of fresh, engaging kids music. An interactive performance, shows utilize tools such as storytelling, puppets and even hula hoops to engage their listeners to dance, and dance some more!
With Masters degrees in Education and Folklore respectively Erin and Laura have allowed their passion of music and movement to fuel work in the classroom, showcasing mandolins, banjos and ukuleles to enhance a child's educational experience. Part of folk/country group The Dilettantes, the pair brought in Guitar guru Duane Andrews to form the Swinging Belles. A multi-award winning performer, composer and producer, Andrews has performed on stage at Newport Folk and Montreal Jazz festivals, and is thrilled to be able to share his Swing Jazz and NL traditional music to an enthusiastic young audience.
Their debut album More Sheep, Less Sleep (2014) won a JUNO for Children's Album of the Year, a Canadian Folk Music Award for the same category, and two MusicNL awards (Group of the Year and Jazz/Blues Album of the Year). The band has had a busy summer performing at Calgary's International Children's Festival and The Winnipeg Folk Festival, and is thrilled to shake up the Lunenburg School of the Arts on Oct 7th as a part of their East Coast tour. Come as kids, or kids-at-heart, to enjoy a freshly baked cookie and a jive with the Swinging Belles!
Musique Royale will also host a benefit featuring The Swinging Belles for The Indian Point Fire Department which services not only the Oakland/Indian Point area but also provides assistance to neighbouring communities. The Indian Point Firehall acts as a community centre as well as the locale for Emergency Measures and Preparedness. It has recently undergone renovations upstairs to create an overnight station for the Inshore Rescue Staff. These new developments require a new septic system at a cost of approximately $20,000.
Enjoy a freshly baked cookie and added activities that often accompany our cookie events!