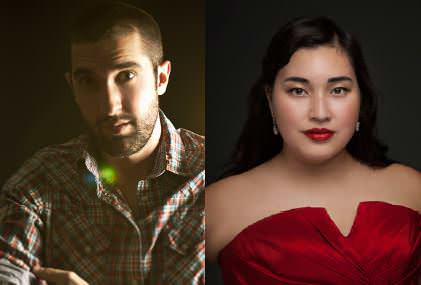 Friday October 27 – 6:00 PM
Bouey-Doucet Duo
About
Two extraordinary Atlantic Canadians join forces to bring their musical gifts back home. Musique Royale is pleased to present Bouey-Doucet Duo on tour with Debut Atlantic. Prince Edward Island violinist Christina Bouey and New Brunswick pianist Pierre-André Doucet have created for a special program sure to lift your spirits. Two musical powerhouses, this duo is sure to ignite the stage.
Canadian violinist, Christina Bouey, is hailed by the New York Times for playing "beautifully," by the New York Post, "When violinist Christina Bouey spun out that shimmering tune, I thought I died and went to heaven," and by Opera News, for playing "with exquisite, quivering beauty." Among her awards and prizes include the Grand Prize at the Fischoff Competition, Hugo Kortchak Award for outstanding achievement in chamber music, Heida Hermann International, Canadian National Music Festival, Queens Concerto Competition, and the Balsam Duo Competition.
Christina has performed as soloist with the Tonkünstler Ensemble, Metro Chamber Orchestra, Bergen Symphony, Manhattan School of Music Orchestra, Prince Edward Island Symphony, Banff Orchestra, Shattered Glass and the Hemenway Strings. Her solo and chamber performance credits include Carnegie Hall, Esterházy Palace, Yamaha Center Auditorium, Metropolitan Museum of Art, Harvard Club of New York, the Chromatic Club of Boston, Montreal Chamber Festival and the Indian River Festival. She plays a 1900 Scarampella on generous loan from the Canada Council Instrument Bank.
Praised for his colourful playing and fascinating writing, pianist and author Pierre-André Doucet is one of Canada's most captivating young artists. An engaging chamber musician and collaborative pianist, he frequently works with countless established vocalists, choirs, instrumentalists and ensembles. Most recently, he was awarded a position in the inaugural Lincoln Center Stage piano quintet aboard the MS Koningsdam, a collaboration between the Lincoln Center of New York and Holland America Line.
In addition to having been heard on Radio-Canada, Espace musique, and CBC Radio's Next! series, Mr. Doucet was also recently featured on CBC Radio 2's list of 30 Hot Canadian Classical Musicians Under 30 (2014). Furthermore, recent musical projects have seen him perform across Canada, as well as to Austria, France, Germany, South Africa, Spain and the United States.
For more please visit: http://www.christinabouey.com/https://www.pierreandredoucet.com/