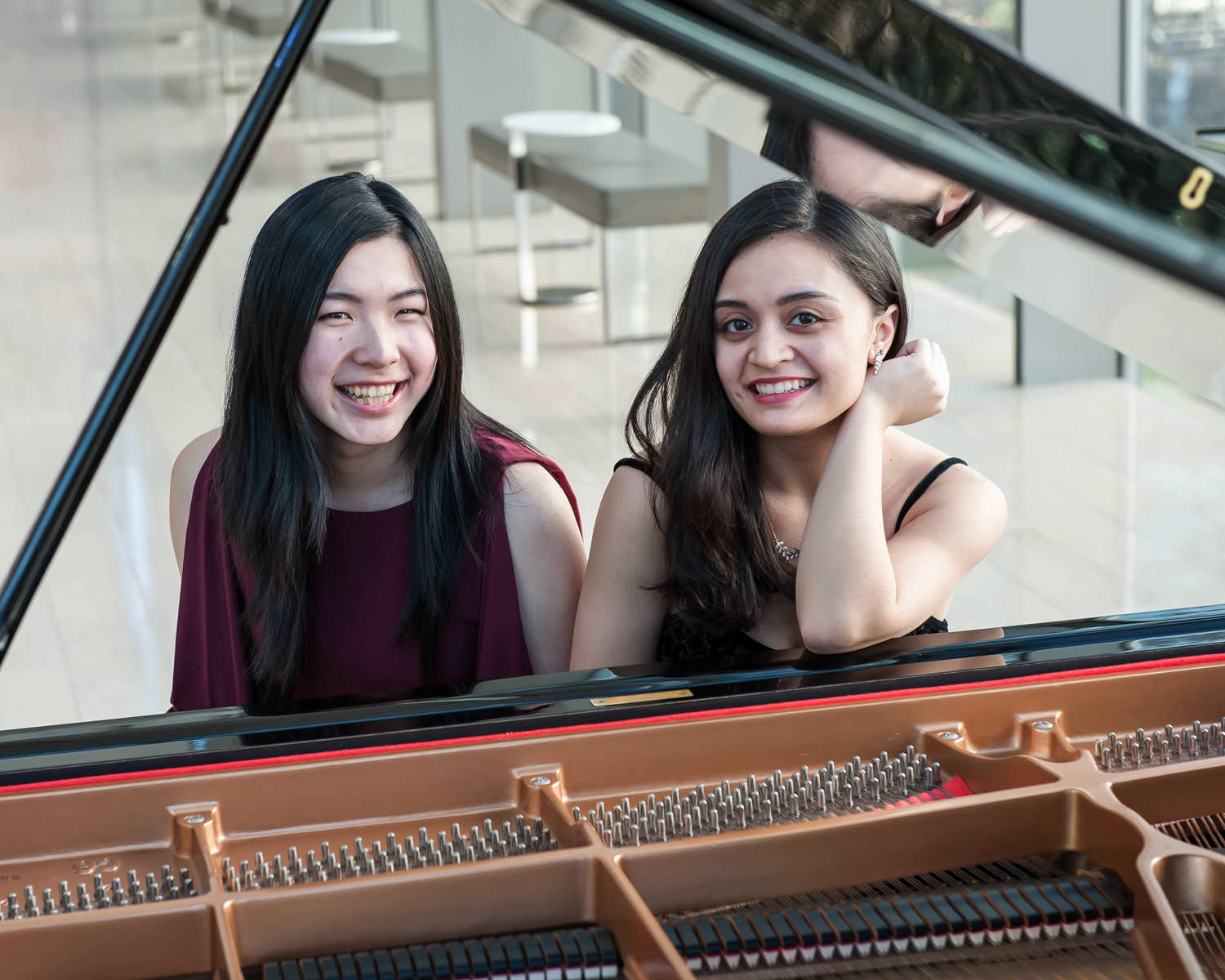 Saturday July 28 2018, 11:00 AM
La Fiammata
Cecilia's Retreat
Saturday 28 July – 11:00 AM

Don't forget to reserve in advance so we can save a seat for you at Cecilia's Retreat!
About
Visit Cecilia's Retreat the morning of Saturday, July 28th for a musical treat with one of the most exciting up and coming Canadian piano duo's, La Fiammata.
The morning concert begins with the charming and lyrical Petite Suite of Debussy. This piece is in contrast with Debussy's romantic and contemporary compositions of the time, and brings delightful entertainment. Also hear the crystalline 5 selections of La Mere l'Oye (Mother Goose Suite) of Ravel. Often detached and reserved, possibly due to his diminutive size, this work exposed a more affectionate and warm side of Ravel. Written for his piano students, little children, Jean and Mimie Godebski, each movement takes inspiration from their favourite fairy tales including Sleeping Beauty, Tom Thumb and Beauty and the Beast. The program finishes with two selections from Corigliano's Gazebo Dances. A work written for his pianist friends, Corigliano drew from the atmosphere of summertime concerts, where listeners take in music under tented pavilions, far into the countryside, on a simple town green, inspired by the warmth and cheer of such moments. Such perfect mood will be plenteous come Saturday morning at Cecilia's Retreat, with La Fiammata.
As the Grand Prix Winners of the Canadian Music Competition 2017, La Fiammata piano duo made its orchestral debut with Orchestre de la Francophonie under the baton of Nicolas Ellis. Consisting of pianists Charissa Vandikas and Linda Ruan, the duo was formed in 2015 in Toronto, where they are both full scholarship students of the Glenn Gould School of the Royal Conservatory of Music. Since then, La Fiammata has achieved great success as a duo, winning the Glenn Gould School Chamber Music Competition in 2016 as well as the Glenn Gould School Concerto Competition in 2017. They were also named the RBC Stockey Young Artists at the Festival of the Sound in 2016. The highlights of the upcoming season include being featured in the Canadian Opera Company Noon Hour Concert Series, as well as soloists with the Royal Conservatory Orchestra. La Fiammata is also incredibly honoured to be named the Youth Ambassadors for the 60th anniversary of the Canadian Music Competition in the Toronto Chapter. The duo is currently studying under tutelage of James Anagnoson of the world-renowned Anagnoson-Kinton Duo.