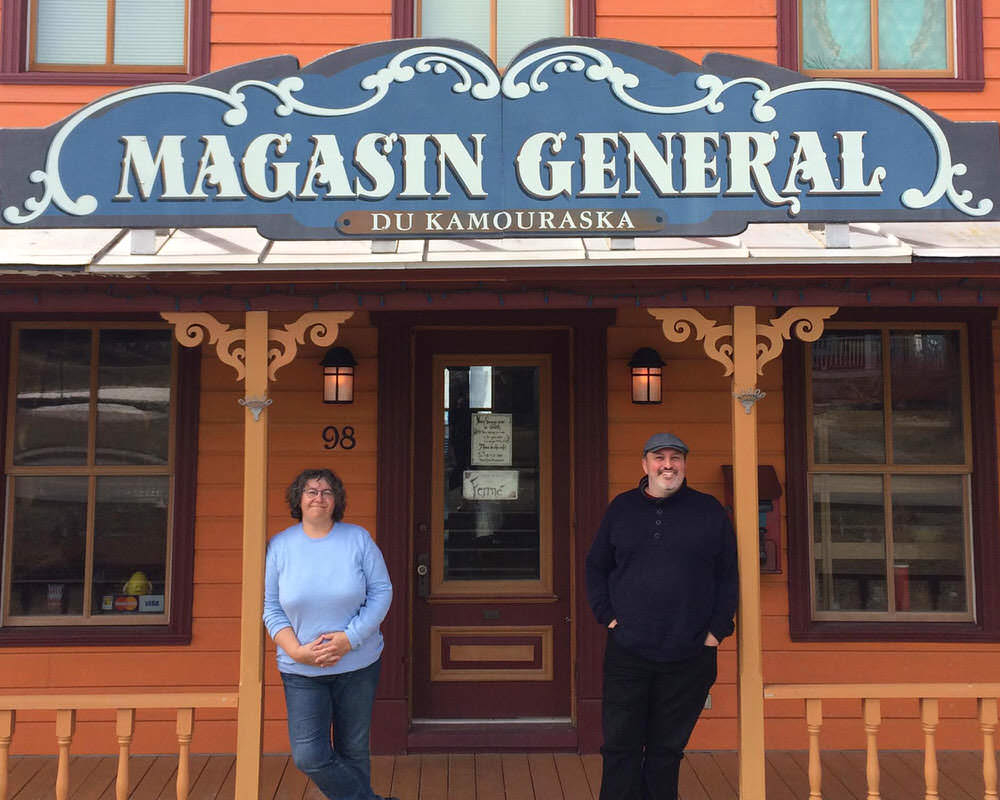 August 25 - 29, 2018
Summer Tour – Magazine General
Cecilia's Retreat
Saturday 25 August – 6:00 PM

$35. Due to limited seating, admission is by advance reservation only. Please reserve by email or phone 902 624 0506.
Paroisse Sacre-Coeur
Sunday 26 August – 3:00 PM

$20. Tickets available online and at the door.
St. John's Anglican Church Lunenburg
Wednesday 29 August – 12:00 PM

Music & Meditation Series: admission by donation.
Featuring
Sylvie Briday
guitar / spoons / foot tapping
Steve Normandin
vocals / accordion / piano
About
What can you find at the General Store? A lot of things! Here, no flour, no hammers and nails, no fishing accessories or fruits and vegetables! Instead join along as Sylvie Briday and Steve Normandin showcase music of all sorts: songs and tunes born in Québec, the Maritimes and France. Played on harmonicas, guitar, piano, and percussions: Musique Royale invites you to pop in, and take a trip at each show!
French-born in Lyons, Sylvie Briday learned jazz saxophone at an early age. Bewitched by Cuban music, she travelled to the legendary island to learn percussion and arrangements studying alongside Buena Vista Social Club member Eliades Ochoa. Director of her own salsa groupe, Sonero, the group toured around France for fifteen years. From 1993, Briday has taught music in elementary schools of Pink Granite Coast area, in Britanny. As a composer, she has created mini-operas, musical comedies (a huge success was "Leon, the groundhog") and latin songs, all for kids. In 2008, Briday visited Quebec and fell in love with the joy and the rhythm of French-Canadian folk music. Now she can teach spoon, foot-tapping and square dances to French people, which she enjoys tremendously! With Steve Normandin, she created a new half-hour show and a CD for small kids (from 0 to 6) Kourouk & Mashka, two baby bears who become friends… but fight for a bee house full of honey!
A self-taught accordionist and pianist, Steve Normandin won the public's award and the stage performance award at Petite-Vallée's 2001 Festival en chanson. From 2004 to 2008, he worked as an actor, musician and arranger for a show called « The Busker's Opera », directed by Robert Lepage. In 2014, Suzie LeBlanc requested Normandin play and sing on her Christmas recording « La veillée de Noël de France à l'Acadie ». In 2015 he sang, made arrangements and played accordions and harmonicas for a tribute to La Bolduc, Québec's first woman songwriter, with the Trois-Rivières Symphony Orchestra, conducted by Jacques Lacombe.
His encyclopedic knowledge of French songwriting of all times and styles has brought him to perform in many different parts of the French-speaking world (France, Belgium, Switzerland, Québec, New Brunswick). Steve Normandin is often invited on French CBC, as a song and history specialist, for a radio show called Aujourd'hui l'histoire. Since 2015, he lives on the lovely western part of France called Britanny, next to the sea…
In early 2000 Magasin Général - a graphic novel from France - became a smash hit. Created by French cartoonists Loisel (France) and Tripp (Quebec), the story told of life in a small Quebec rural village- happiness, tears, and joy- it was something American but mixed with European sensibility. Sylvie and Steve take this theme and find their path to a new show which showcases Québec folk, some original compositions, and a splash of world music! In this General Store you'll get a taste of harmonicas and ukulele, a pinch of piano and guitar, and a whole lot of percussions, accordion, and song!