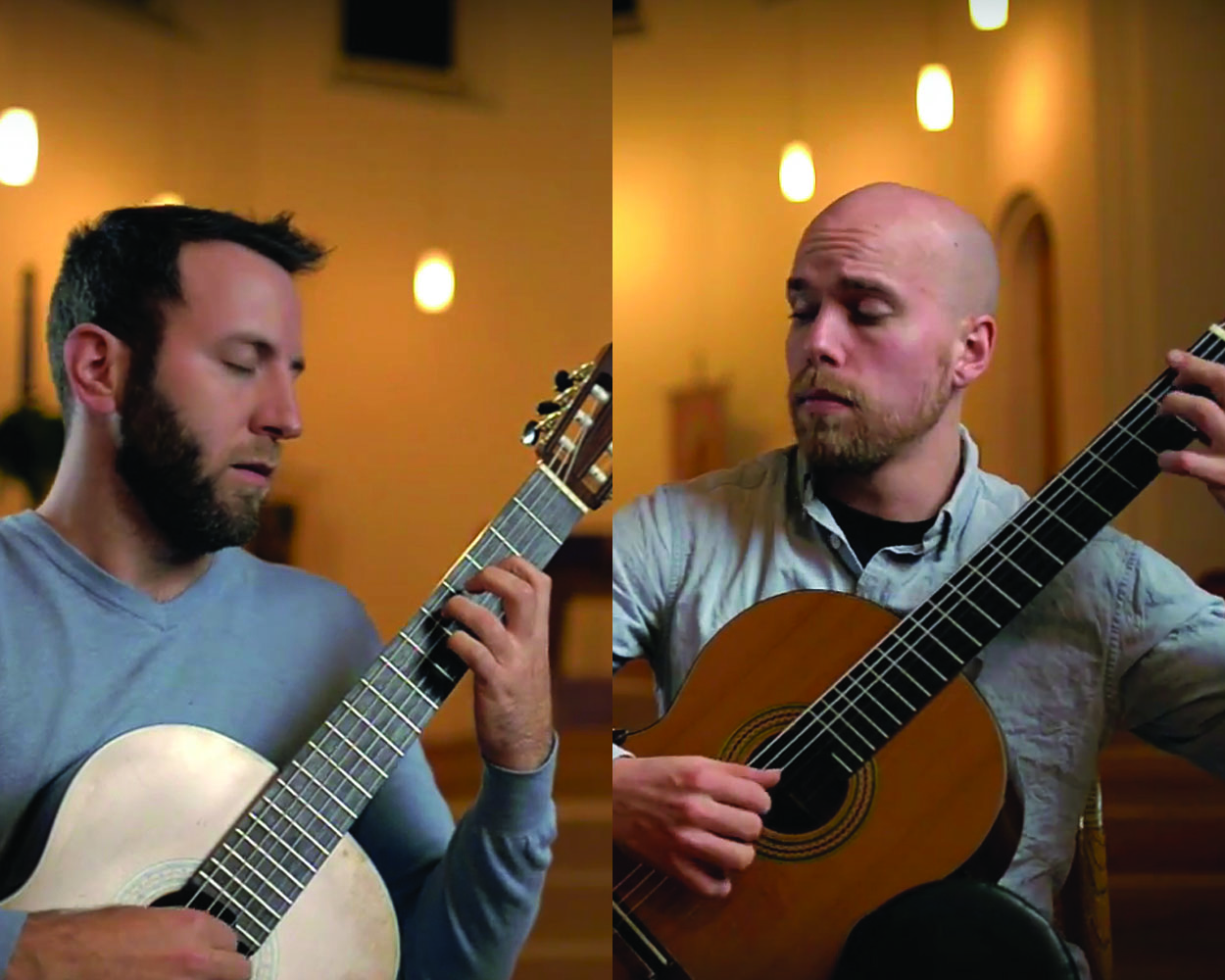 Saturday November 17 2018, 4:00 PM
Cowan-Cicchillitti Guitar Duo
About
Come to Cecilia's Retreat to hear the guitar duo that incorporates musical strength and refinement, as Cowan-Chicchillitti present an intimate program at the Mahone Bay house venue on Saturday Nov. 17th. Musique Royale is thrilled to present Steve Cowan and Adam Cicchillitti on their Maritime tour with Debut Atlantic. Details on both performers are listed below, and to really experience the magic, listen to some of their recordings at http://www.debutatlantic.ca/artist/adam-cicchillitti-steve-cowan.
Steve Cowan is an award-winning guitarist from St. John's, Newfoundland. He has performed and taught extensively throughout Canada and the United States, where he has been praised for his powerful sound, insightful interpretations, and unique repertoire choice. Concert programs often include pieces from a variety of eras, but Steve focuses primarily on new music. Commissioning composers and presenting Canadian guitar works are driving forces in his musical life.
International awards include first prizes at the Indiana International Guitar Competition (2016), Guitare Montréal (2015), the Wilson Centre Guitar Competition (Wisconsin, 2014), and Boston GuitarFest (2013). Steve was also the grand award winner of the Federation of Canadian Music Festivals national competition in 2012, as the only musician from Newfoundland and Labrador to win the prize in the festival's 50-year history.
Steve holds degrees from Memorial University of Newfoundland, the Manhattan School of Music, and is currently pursuing Doctoral studies at McGill University in Montréal. With the support of the Social Sciences and Humanities Research Council of Canada, he is collaborating with composer Jason Noble on a Newfoundland-themed research-creation project entitled The Music of Dialect. The project involves gathering recorded samples of folk songs and various dialects from around the province, to eventually be used in a documentary-style piece for guitar and electronics. His debut album, Pour guitare, was recorded with the support of the Canada Council for the Arts and McGill University. The album features new music by exclusively Canadian composers and was released in spring, 2016.
Steve is spending 2017 teaching and concertizing throughout Europe, as well as recording his second album in Madrid for the EMEC Discos record label.
Adam Cicchillitti, guitar
Adam Cicchillitti is an exciting young talent emerging on the classical guitar scene in Canada. Originally from Montréal, Adam's recent competition successes have placed him on concert stages across Canada and the United States.
Adam is an active performer, teacher, arranger and composer. Most recently in 2016, Adam and baritone Philippe Courchesne-Leboeuf toured the Canadian east coast with les Jeunesses Musicales Canada. Their duo entitled Lieder & Canciones performed his arrangements for guitar of German and Spanish masterpieces originally written for piano and voice, most notably the world premiere of Adam's arrangement of Beethoven's An die Ferne Geliebte, published by Les Productions d'Oz. Lieder & Canciones has been featured regularly on Radio-Canada/CBC television and radio throughout Quebec, New Brunswick and Nova Scotia.
Adam has also been featured as one of Canada's new generation of guitarist-arrangers when he was contracted, again by Radio-Canada and the CBC, to complete twenty arrangements of Schubert lieder for voice and guitar as part of the series Révélations, accompanying international superstar Philippe Sly. The live concert was nationally broadcast on Espace-Musique accompanied by a series of video recordings in 2013. Adam has performed as a featured soloist at Ottawa's premier guitar event Guitare Alla Grande and the Ottawa Guitar Society's Young Artist Series, Angèle Dubeau's Fête de la musique and at several of Eastern Canada's prominent concert halls including Place-des-Arts and Salle Thomson.
Adam's debut album of Spanish nationalist music will be recorded by Drew Henderson and released with Analekta in the spring of 2018. His second album, dedicated to the music of his mentor Patrick Roux and produced by European record label MusicOrpheus, is scheduled to be released in 2019.