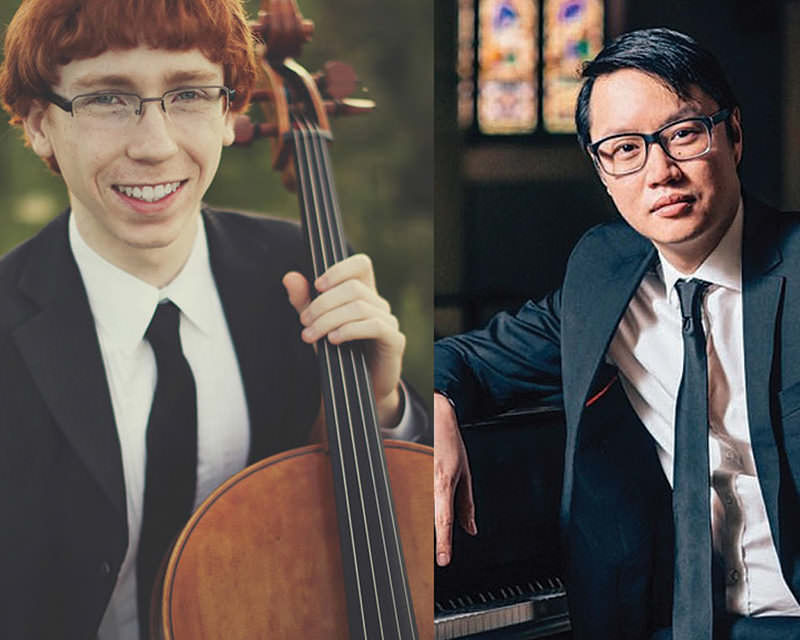 Friday January 18 2019, 4:00 PM
Cameron Crozman & Philip Chiu
About
On Friday, January 18th, hear cellist Cameron Crozman at Cecilia's Retreat performing alongside pianist Philip Chiu, who will present selections off of their upcoming CD release, Cavatine, a collection of French repertoire from the 20th century. Hear the Poulenc Sonata for Cello and Piano, which includes the eponymous movement from the disc, as well as beautiful re-imagined folk songs, and even a few cabaret tunes, including one dedicated to Edith Piaf.
Cameron Crozman
Described as a "mature artist with a profound musical imagination," (Toronto Concert Reviews), Cameron Crozman is being hailed as one of Canada's leading young cellists. Maintaining an active performance schedule in North America and Europe, engagements have taken Cameron to such prestigious venues as the Shanghai Oriental Arts Center, Berliner Philharmonie, Paris Philharmonie, Philadelphia's Mann Centre, Montreal's Maison Symphonique, and Canada's National Arts Centre. He has performed concerti with the Quebec Symphony Orchestra, Kitchener-Waterloo Symphony, Hamilton Philharmonic, Orchestre des Lauréats du Conservatoire, and Orchestra London under the direction of conductors such as David Rieland, Edwin Outwater, and Fabien Gabel. In 2012, he toured Canada and the United States playing Dvorak Cello Concerto with the National Youth Orchestra of Canada under the direction of Alain Trudel. Current season highlights include performances with I Musici de Montréal, London Sinfonia, and Orchestre du Conservatoire de Paris and Bruno Mantovani.
An avid chamber musician, Cameron is frequently invited to perform with world leading artists and ensembles. He has already performed with the likes of James Ehnes, André Laplante, Huw Watkins, Martin Beaver, Gérard Caussé, James Campbell, and members of the Ébène, New Zealand, and Penderecki String Quartets. He regularly appears at festivals in Canada and Europe including the Ottawa Chamberfest, Toronto Summer Music Festival, Montreal Chamber Music Festival, Helsinki Musica Nova, Beauvais Cello Festival and Birmingham Frontiers Festival. Festival appearances this year include ScotiaFest, Seattle Chamber Music Festival, and Musique et Vin festival at Clos Vougeot in Burgundy. His performances have been broadcast on CBC, Radio France, Radio Classique, and Medici.tv. He will release his debut CD on the ATMA Classique label this January 2019.
Mr. Crozman was one of 6 cellists from around the world chosen to take part in the Gautier Capuçon's 2016-17 Classe d'Excellence at the Louis Vuitton Foundation. He received his 2e Cycle Supérieur Conférant le Grade de Master (Master's level) in cello with highest honours from the Conservatoire de Paris in the class of Michel Strauss and Guillaume Paoletti. Cameron also concurrently complete his master's level in Chamber music in the class of Claire Désert and Ami Flammer. He holds an Artist Diploma in contemporary repertoire and creation. He has played in masterclass for world-leading cellists, including Janos Starker, Anner Bylsma, Lawrence Lesser, Tsuyoshi Tsutsumi, Gary Hoffman, Richard Aaron, and Colin Carr.
Cameron has been selected to participate in various international competitions, and is 2nd prize laureate of both the OSM Standard Life and the Eckhardt-Gramatté Competitions. He was the youngest recipient of the Canada Council Michael Measure's Prize and was one of only 12 cellists chosen to compete at Kronberg Academy's 2014 Grand Prix Emanuel Feuermann.
Deeply committed to innovation in contemporary music, Mr. Crozman has collaborated with composers Kaija Saariaho and Peteris Vasks, and premiered new works by Daniel Alvarado (with the Orchestre des Lauréats du Conservatoire and David Rieland), Frédéric Lebel (at the Institute for Research and Coordination in Acoustics/Music), and Kelly-Marie Murphy (solo cello). He has worked with a number of contemporary music ensembles and institutions including the Ensemble Intercontemporain, the IRCAM, and the Ensemble Court-Circuit. Cameron is particularly engaged in sharing Canadian music with the world, and has given the European premieres of a number of Canadian works.
Cameron is extremely grateful for the support of the Canada Council for the Arts and Sylva Gelber Foundation in his projects.
Philip Chiu
An exceedingly sociable pianist, Philip concertizes extensively as one of Canada's most sought-after chamber musicians. He has appeared in recitals with leading musicians of the world stage, including James Ehnes, Raphael Wallfisch, Patrice Fontanarosa, Regis Pasquier, Matt Haimovitz, Radovan Vlatkovic, Stefan Dohr, Philippe Bernold, Alex Klein, and Eugene Isotov. He performs regularly with principal members of Canada's leading orchestras and ensembles, including Toronto Symphony Orchestra concertmaster Jonathan Crow, l'Orchestre Symphonique de Montréal concertmaster Andrew Wan, and Pascale Giguere of Les Violons du Roy. Along with pianist Janelle Fung, he forms one of Canada's most exciting piano duos, the Fung-Chiu Duo. He has toured numerous times with premier touring organizations, Jeunesses Musicales Canada, Prairie Debut, and Debut Atlantic, and will be touring again soon with Jeunesses Musicales (2014/2015, 2015/2016) and Prairie Debut (2014/15).
Dedicated to elevating the standard and art of collaborative piano, Philip is the creator and director of the new Collaborative Piano Program at the Domaine Forget International Festival and Academy. He is an acclaimed accompanist­/coach based at McGill University, has been an invited professor­-accompanist for the Conservatoire de musique de Montreal, and regularly accompanies at l'Universite de Montreal. He travels regularly across Canada and the U.S. to accompany for national and international competitions.
Philip is extremely grateful for the support of the Sylva Gelber Music Foundation, Canada Council for the Arts and Jeunesses Musicales in his various pursuits. He can be heard/seen on Classical 96.3 FM, Australia's ABC Radio, CBC Radio, and Radio­-Canada.