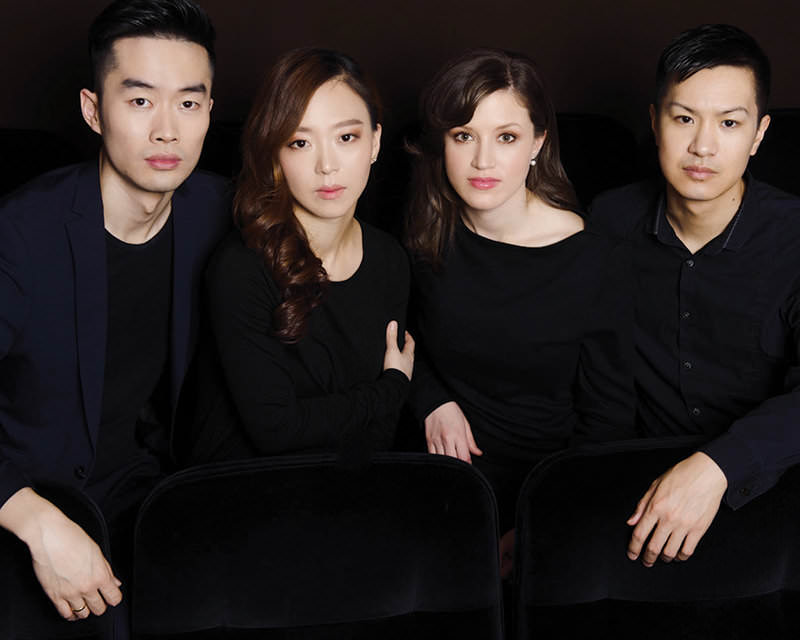 Saturday January 26 2019, 4:00 PM
Rolston String Quartet
About
Scooping up a multitude of awards in most recent years, and praised as rivaling the best string quartets in the world, Rolston String Quartet interpret works of Ravel, Beethoven and Mendelssohn at Cecilia's Retreat this January! Hear Haydn's "Sunrise" String Quartet op. 76 no. 4 in B Flat Major, the Russian themed Razumovsky String Quartet in F Major op. 59 no. 1 by Beethoven, and "Waves" the 2nd String Quartet of Canadian composer Murray Schafer, based on the intervals at which ocean waves crest. The Rolston String Quartet will perform this program on tour with Debut Atlantic across the four East Coast provinces. Make sure to reserve in advance so we can save you a seat at Cecilia's Retreat for Rolston String Quartet on January 26th!
The Rolston String Quartet
The 2018 recipient and first international ensemble chosen for the prestigious Cleveland Quartet Award from Chamber Music America, Canada's Rolston String Quartet continue to receive acclamation and recognition for their musical excellence. In 2016, a monumental year, they earn First Prize win at the 12th Banff International String Quartet Competition (BISQC). In that same year, the quartet's winning included Astral's National Auditions and Grand Prize of the 31st Chamber Music Yellow Springs Competition. They were also prizewinners at the 2016 Bordeaux International String Quartet Competition and the inaugural M-Prize competition. There is no wonder they were named among CBC Radio's "30 Hot Canadian Classical Musicians Under 30" in 2016.
On the heels of their Banff win, Rolston String Quartet immediately embarked upon the BISQC Winner's Tour, taking them to Germany, Italy, Austria, Canada, and United States. As Ludwig van Toronto states, "they performed with a maturity and cohesion rivaling the best string quartets in the world." In the 2017-18 season, they tip the 100-concert milestone with performances throughout Canada, United States, Germany, Brussels, Italy, and Israel. Highlights included the Smithsonian, Kennedy Center for the Performing Arts, Koerner Hall, and the Esterhazy Palace. The 2018-19 season highlights include debut performances at Carnegie Hall, Freer Gallery, Wigmore Hall, Chamber Music Houston, two major tours in Canada under the Prairie Debut and Debut Atlantic touring networks, and three European tours with dates in Leipzig, Berlin, Lucerne, Heidelberg, Barcelona, Graz, and other centres.
Rolston String Quartet began their two-year term as the Yale School of Music's fellowship quartet-in-residence in the fall of 2017. They have also served as the graduate quartet-in-residence at Rice University's Shepherd School of Music and have participated in residencies and fellowships at the Académie musicale de Villecroze, Aspen Music Festival, Banff Centre, McGill International String Quartet Academy, Norfolk Chamber Music Festival, Robert Mann String Quartet Institute, St. Lawrence String Quartet Seminar, and the Yehudi Menuhin Chamber Music Festival.
Notable collaborations include performances with renowned artists Andrés Díaz, Gilbert Kalish, Mark Morris, Arthur Rowe, Robert McDonald, Donald Palma, Jon Kimura Parker, and Miguel da Silva. Additionally, they have worked with songwriter Kishi Bashi and composers John Luther Adams and Brian Current. Primary mentors include the Brentano Quartet, James Dunham, Norman Fischer, and Kenneth Goldsmith, and the quartet has received additional guidance from the St. Lawrence String Quartet, Barry Shiffman, Miguel da Silva, and Alastair Tait.
The Rolston String Quartet – Luri Lee (violin), Hezekiah Leung (viola), Jonathan Lo (cello), and new member as of spring 2018 Emily Kruspe (violin) – was formed in the summer of 2013 at the Banff Centre for Arts and Creativity's Chamber Music Residency. They take their name from Canadian violinist Thomas Rolston, founder and long-time director of the Music and Sound Programs at the Banff Centre.