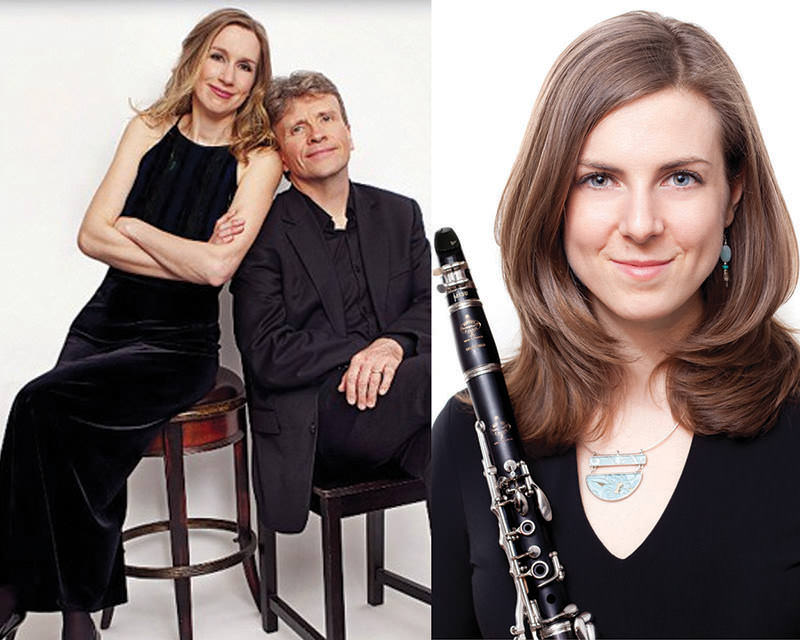 Friday February 1 2019, 6:00 PM
Duo Concertante and Christine Carter
About
Winners of the 2018 ECMA Classical Recording of the Year, Nancy Dahn and Timothy Steeves' Duo Concertante are back at Cecilia's Retreat, this time bringing clarinetist Christine Carter, for a delightful start to February. Their program begins with the Suite for Violin, Clarinet, and Piano by Milhaud, which draws upon contrasting musical ideas including rhythmic Latin pulsations (inspired by his time spent in Brasil), playful polytonal techniques, and a hearty folk dance. The second work is Khachaturian's Trio for Clarinet, Violin and Piano written while the Georgian composer was a student at the Moscow Conservatory under Nikolai Myaskovsky, an enchanting work which bases its first and third movements respectively on an Armenian and Uzbeck folk melody. The program finishes with Poulenc's incidental music for "Invitation to the Castle", a rarely performed work written for the eponymous play by celebrated French playwright Jean Anouih, said to encapsulate Poulenc's essence and aesthetic sense. Come to Cecilia's Retreat to hear Duo Concertante and Christine Carter present this colorful program, but first be sure to reserve by email at barbara.butler@ns.sympatico.ca and we'll have your seat saved!
Information on the artists
Canada's premiere violin and piano ensemble, Duo Concertante, are partners in music and in life. Known for the passion and brilliance of their performances, critics have praised Nancy Dahn and Timothy Steeves' "artistry, poetry, and impeccable technique" (La Scena Musicale) and "deeply integrated performances that flow naturally as if the music were being created on the spot" (Gramophone). The Duo's busy touring schedule across North America, Europe, and China, has led to performances at Wigmore Hall, Weill Recital Hall, Roy Thomson Hall, the National Arts Centre, and the Forbidden City Concert Hall in Beijing. Nancy and Tim's ten commercial CDs on the ATMA, Centredisc, and Marquis labels include the recording of Murray Schafer's Duo for Violin and Piano which won a JUNO award in 2011 and Bach Sonatas for Violin and Keyboard which won the ECMA Best Classical Recording in 2017. Duo Concertante have consistently revealed a passion for new music, commissioning over thirty-five new works for violin and piano from many of Canada's leading composers. Incarnation, their newest all-Canadian album, was picked by CBC as one of the top ten classical recordings of 2017 and won the 2018 ECMA for Classical Recording of the Year. Fellows of the Royal Society of Canada, they are also both Research Professors at Memorial University and Artistic Directors of the Tuckamore Festival.
Canadian clarinetist, Christine Carter, has performed at venues across the globe, from Carnegie Hall to the Sydney Opera House. Highlights have included performances at the Mozarthaus in Vienna, German Consulate in New York City, and Palffy Palace in Prague. She has completed artist residencies at the Mozart Festival Würzburg (Germany), Málaga Clásica Festival (Spain), Shenzhen International Woodwind Festival (China), and five seasons with the Dark by Five inter-arts ensemble at Gros Morne Summer Music in Newfoundland. In addition to her collaborations with Duo Concertante and Dark by Five, Christine is the clarinetist of the critically acclaimed Iris Trio. Her performances have been praised for their "special passion and inspiration" (Augsburger Allgemeine) and "beauty of sound and striking expression" (Bremen Weser Kurier). Christine has also performed extensively as an orchestral musician, including engagements with the New World Symphony (Miami), Montreal Symphony Orchestra, Newfoundland Symphony Orchestra, YouTube Symphony Orchestra, and Metropolitan Opera Orchestra (New York), as well as under the batons of some of the world's finest conductors, such as Lorin Maazel, Michael Tilson Thomas, Kent Nagano, and Fabio Luisi. She holds a Doctor of Musical Arts from Manhattan School of Music and is Assistant Professor of Music at Memorial University in St. John's. Christine is a Buffet Crampon Artist.