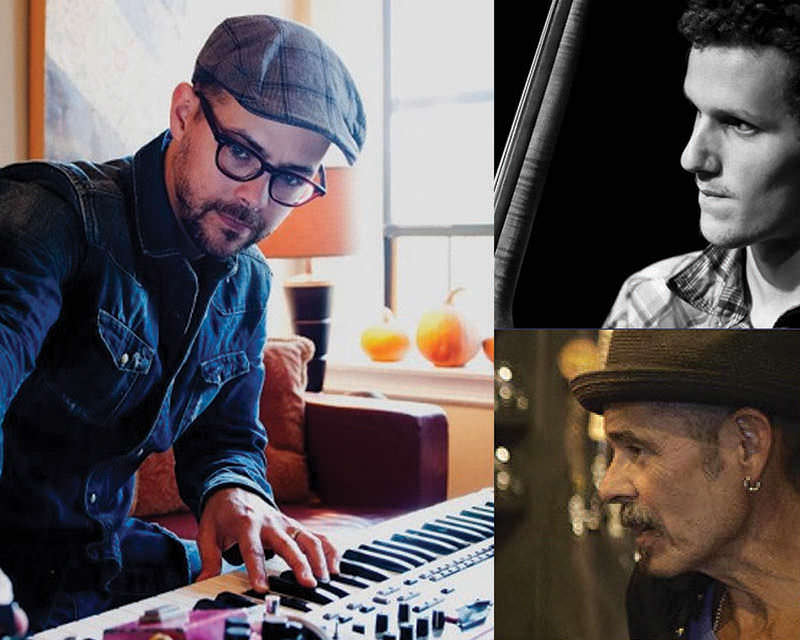 Saturday March 2 2019, 2:00 PM
Junco
About
Pianist Glenn Patscha and Drummer Geoff Arsenault reconvene with bassist Colin Nealis for another Junco Trio groove get together. They will be serving up a delicious set of New Orleans and Louisiana inspired music that will please all ages. The fellas will take some time to talk about the functions of their instruments in a rhythm section and some basic ideas of New Orleans music. Come for education alongside simmering grooves. The name Junco comes from the song Junco Pardner by James Booker. Read on for more information on the stellar performers.
Glenn Patscha was born in Winnipeg and relocated to New Orleans in 1989 to study piano with Ellis Marsalis at The University Of New Orleans. He went on to play and record with many New Orleans icons young and old such as Earl Palmer, Victor Goines, Danny Barker, Brian Blade, Nicholas Payton, Jeremy Davenport and Leroy Jones.
After moving to New York City in 1998 Patscha started the critically acclaimed band Ollabelle. T Bone Burnett signed the band to his Columbia Records imprint DMZ in 2003. While living in New York City he recorded and performed with Levon Helm, Sheryl Crow, Bettye Lavette, The Holmes Brothers, Cubanismo, Madeline Peyroux, Roger Waters, Lizz Wright, Ryan Adams, Willie Nelson and Loudon Wainwright among many others. He has also recorded debut album with The Big Bright with Fiona McBain (Ollabelle) and Liz Tormes. Glenn has just relocated from NYC to Mahone Bay with his family and is very happy to be living in Lunenburg County.
Drummer, singer, songwriter, performer, and illustrator Geoff Arsenault is a uniquely talented, multifaceted artist with a funky, soulful sensibility. A long-time collaborator with musicians ranging from Ray Bonneville to Dutch Mason, Mary Jane Lamond to Thom Swift, Arsenault's two solo albums, "This Ain't No Fiction" and "Voodoo Baby Rattle" have been celebrated by fans and critics alike. Multiple nominee and winner of the 2006 best drummer in the national Maple Blues Awards, Arsenault is known for his generous and harmonious style and distinctive musical contributions to multiple genres. Geoff currently resides in Lunenburg County.
Glenn Patscha and Geoff Arsenault are joined by bassist Colin Nealis for this educational and groovy session. Colin is a multi-instrumentalist, composer and arranger. His string arrangements can be heard on the Polaris Prize shortlisted The Party (Andy Shauf) or his film composing work on the Oscar shortlisted My Dead Dad's Porno Tapes. He produced and arranged Jennah Barry's Young Men LP as well as her upcoming full-length release Holiday. He is a graduate of Humber's Bachelor of Music Degree (2010) studying double bass with some of Canada's finest including Mike Downes, Neil Swainson and Gary Karr. Bring a friend or come solo and take a hot trip down to New Orleans and Louisiana Saturday, March 2nd with Junco.