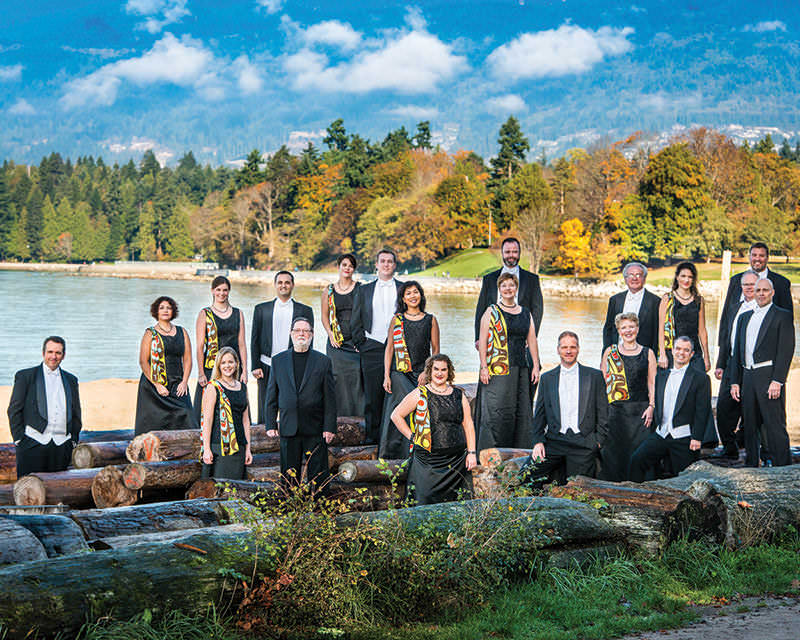 Sunday March 10 2019, 3:00 PM
Vancouver Chamber Choir, Music Sea to Sea
St. John's Anglican Church Lunenburg
Sunday 10 March – 3:00 PM

$25. $30 at the door. Available at Lunenburg's Shop on the Corner, and online.
About
Vancouver Chamber Choir directed by Jon Washburn
Musique Royale is thrilled to present the Vancouver Chamber Choir in Lunenburg, for their final concert of a coast-to-coast tour honouring Jon Washburn's contribution to the Canadian choral landscape. For this special tour, the Vancouver Chamber Choir has selected their all-time Top Ten List (by number of performances over the last 48 years) including Bach's Lobet den Herrn, Debussy's Trois chansons, Britten's Hymn to St Cecilia and more music by Zoltán Kodály, Imant Raminsh, R. Murray Schafer, Stephen Foster and Loreena McKennitt.
An outstanding professional vocal ensemble noted for its diverse repertoire and performing excellence, the Vancouver Chamber Choir is one of Canada's national treasures. Vancouver Chamber Choir's founder and long-time conductor Jon Washburn will finish his 48th concert season having taken the ensemble on over 3,000 performances of 350 pieces by 120 Canadian composers in addition to their extensive international repertoire.
Well known internationally for his mastery of choral technique and interpretation, Mr. Washburn was named a Member of the Order of Canada (the nation's highest civilian honour) in 2001, and in 2002 received Queen Elizabeth's Golden Jubilee Medal for his lifetime contribution to Canadian choral art. A myriad of the highest accolades under his belt, Jon Washburn and the Choir are foremost supporters of Canadian music, having commissioned and premiered more than 250 Canadian choral compositions. Performing at home in Vancouver and on tour across the country, Vancouver Chamber Choir has also taken international excursions in the USA, Mexico, Japan, China, Hong Kong, Taiwan, South Korea, Finland, France, Germany, the Czech Republic, Russia, Estonia, Latvia, Lithuania and Ukraine.
Get ready to be immersed in this bittersweet celebratory choral experience under the backdrop of starry St. John's Anglican as Musique Royale presents Vancouver Chamber Choir directed by Jon Washburn!