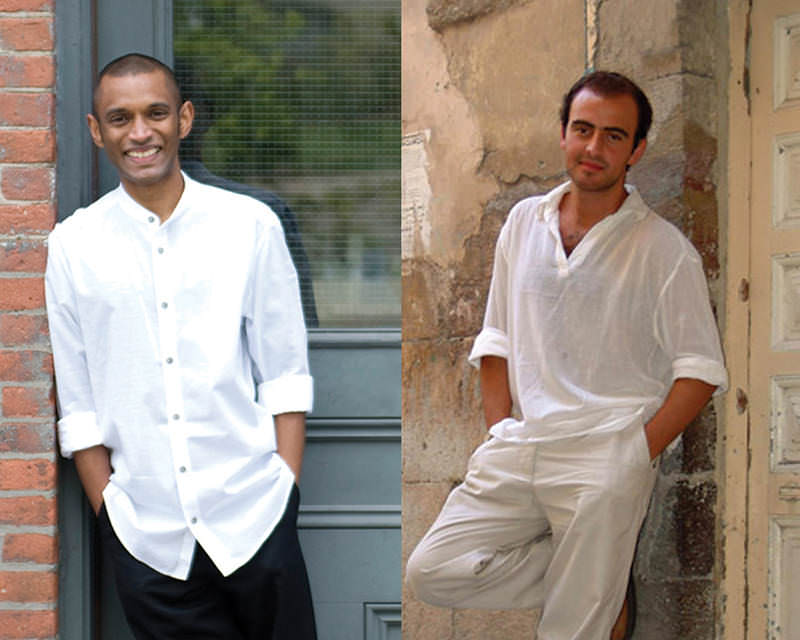 Friday March 22 2019, 7:30 PM
Symphony Nova Scotia, Beethoven's Seventh and Dinuk's Clarinet
St. John's Anglican Church Lunenburg
Friday 22 March – 7:30 PM

$30. $35 at the door. Available at Lunenburg's Shop on the Corner, online and by phone at 902 692 8081.
About
Musique Royale is proud to once again welcome Symphony Nova Scotia to the South Shore for a concert showcasing the newest work of Nova Scotia's own Dinuk Wijeratne. A JUNO-winning dynamo, he's "exuberantly creative" (New York Times). "Internationally respected for his virtuosity and sensitivity" (CBC) and "An artist who reflects a positive vision of our cultural future" (Toronto Star). Now, Symphony Nova Scotia proudly presents Dinuk's middle-Eastern-influenced Clarinet Concerto, written specifically for Dinuk's close friend and longtime collaborator, the Syrian-born clarinetist Kinan Azmeh. In addition, hear Ligeti's Concert Românesc, made famous from Kubrick's 2001: A Space Odyssey, and Beethoven's stunning Symphony No. 7 – a beautiful, unforgettable masterpiece, and one of the most popular symphonies of all time.
Information on the artists
Kinan Azmeh
Hailed as a "Virtuoso" and "Intensely Soulful" by the New York Times and "Spellbinding" by the New Yorker, and "Incredibly Rich Sound" by the CBC. His utterly distinctive sound across different musical genres has gained him international recognition as clarinetist and composer. Kinan was recently named composer-in-residence with Classical Movements for the 2017-2018 season.
Kinan has been touring the world as soloist, composer and improviser. Notable appearances include: Opera Bastille, Paris; Tchaikovsky Grand Hall, Moscow; Carnegie Hall and the UN's general assembly, New York; the Royal Albert hall, London; Teatro Colon, Buenos Aires; der Philharmonie; Berlin; the Library of Congress, the Kennedy Center, Washington DC; the Mozarteum, Salzburg, Hamburg's Elbphilharmonie and the Damascus opera house for its opening concert in his native Syria. He has appeared as soloist with the New York Philharmonic, the Seattle Symphony, the Bavarian Radio Orchestra, the West-Eastern Divan Orchestra, the Qatar Philharmonic and the Syrian Symphony Orchestra among others.; and has shared the stage with Yo-Yo Ma, Marcel Khalife, Aynur, Daniel Barenboim and Jivan Gasparian.
Kinan is a graduate of New York's Juilliard school as a student of Charles Neidich, and of both the Damascus High institute of Music where he studied with Shukry Sahwki, Nicolay Viovanof and Anatoly Moratof, and Damascus University's School of Electrical Engineering in his native Syria. Kinan earned his doctorate degree in music from the City University of New York in 2013.
Dinuk Wijeratne
Sri Lankan-born Canadian Dinuk Wijeratne is a JUNO award-winning composer, conductor, and pianist. His boundary-crossing work sees him equally at home in collaborations with symphony orchestras and string quartets, tabla players and DJs, and takes him to international venues as poles apart as the Berlin Philharmonie and the North Sea Jazz Festival.
Dinuk made his Carnegie Hall debut in 2004 as a composer, conductor, and pianist, performing with Yo Yo Ma and the Silk Road Ensemble. A second Carnegie appearance followed in 2009, alongside tabla legend Zakir Hussain. Dinuk has also appeared at the Kennedy Center (Washington DC), Opera Bastille (Paris), Lincoln Center (New York), Teatro Colón (Buenos Aires), Sri Lanka, Japan, and across the Middle East.
Dinuk grew up in Dubai before taking up composition studies at the Royal Northern College of Music (RNCM), Manchester, UK. In 2001, he was invited by Oscar-winning composer John Corigliano to join his studio at New York's Juilliard School. Dinuk was also composition fellow at the 2002 Pacific Music Festival in Sapporo, Japan, and was appointed Artist-in-Residence by the Performing Arts Foundation at International House for the 2003/4 season. Conducting studies followed at New York's Mannes College of Music, and doctoral studies at the University of Toronto under Christos Hatzis.
Dinuk has composed specially for almost all of the artists and ensembles with whom he has performed; to name a few: Suzie LeBlanc, Bev Johnston, Tim Garland, John Dankworth, Nikki Iles, Julian Argüelles, Victor Mendoza, Buck 65, Skratch Bastid, Joseph Petric, Nick Halley, Ed Thigpen, Pandit Ramesh Misra, Adrian Spillett, David Jalbert, Kevork Mourad, Mayookh Bhaumik, Yolande Bavan, Christina Courtin, MIR, the Afiara & Cecelia String Quartets, the Apollo Saxophone Quartet, TorQ & 4-Mality Percussion Quartets, McGill Percussion Ensemble, the NY Kathak Ensemble, the New Juilliard Ensemble, Onelight Theatre, Symphony Nova Scotia, and the orchestras of Toronto, Illinois, Windsor, and KwaZulu Natal (South Africa). He continues his collaborative recitals of entirely original works with acclaimed clarinetist Kinan Azmeh, based on their duo album entitled 'Complex Stories, Simple Sounds'.
Symphony Nova Scotia
"Symphony Nova Scotia is the most versatile orchestra in Canada!"
-Howard Cable, Canadian music industry legend, conductor, arranger, music director, composer, scriptwriter, and radio and television producer.
Symphony Nova Scotia is truly Nova Scotia's orchestra. With a home base in Halifax and performances across the province, Symphony Nova Scotia reaches more than 50,000 Nova Scotians of all ages each year with some of the most innovative concerts and educational offerings in the country. The orchestra has repeatedly been praised for its versatility and flexibility, performing everything from baroque to pops to jazz with equal finesse. Chronicle Herald says, "They can play it all: Beethoven, Shostakovich, Hatzis and Current, as well as Tommy Dorsey, Scott Macmillan, Rose Cousins, Buck 65 and Natalie MacMaster. We are, in this province, exceedingly fortunate to have them."
Symphony Nova Scotia also places a high priority on community engagement and corporate social responsibility. Its education programs reach over 15,000 elementary, junior, and senior high school students each year – students who may not otherwise have access to symphonic music.