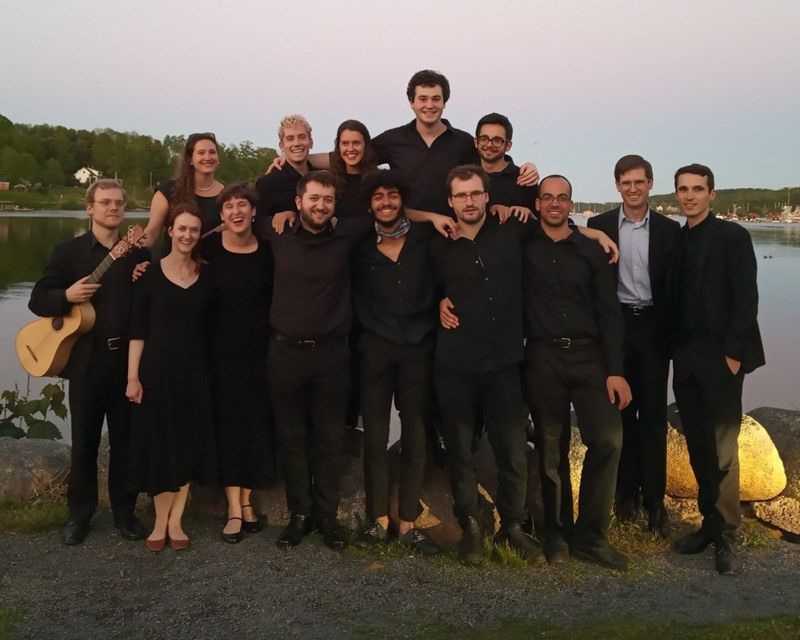 June 12 - 17, 2019
An Ocean Apart with Aureas Voces
About
Stunning arrangements of Nova Scotian folk songs from the Helen Creighton Collection and works from celebrated English composer Henry Purcell (1659-1695) tell the journey across oceans of young love and the passions of distance. Aureas Voces director Nick Veltmeyer congregates emerging artists from Halifax, Toronto and Montreal areas and this tour features soprano Janelle Lucyk, violinist Jeremy Rhizor and lutist Jonathan Stuchbery.
Artistic Director, Nick Veltmeyer has arranged his seven favorite folk songs out of some 3,000 songs from the beloved Helen Creighton Collection. Veltmeyer's arrangements balance contemporary and traditional interpretation of the ballads and songs of Nova Scotia, which represent a slice of oral tradition stretching back hundreds of years. These arrangements from Helen Creighton's collection are universally relatable songs of triumph over struggle and grief, recording experiences of voices that remain silent in history books. Pairing these with songs of Henry Purcell reveals surprising connections between early music and folk music (modal melodies, ornamentation, emotional content of poetry) and the pieces on the programme resonate and speak to each other across centuries and oceans.
Information on featured artists
Nick Veltmeyer – director / composer / tenor / keyboards
Nick Veltmeyer is a scholar of Early Music at the University of Toronto with Prof. Daniel Taylor. Nick is the organ scholar of St. James Cathedral, one of Canada's best precious musical hidden gems. Nick Veltmeyer was awarded a scholarship and bursary from the Nova Scotia Talent Trust for his studies in sacred music and Classical literature at the University of King's College, including a longstanding apprenticeship with Paul Halley. Nick Veltmeyer has guest directed the University of Toronto's Schola Cantorum and has performed with the Theatre of Early Music, Opera Atelier, Toronto Chamber Consort, and Ensemble Caprice. Nick has also studied conducting with Ivars Taurins Jeanne Lamon at TBSI, and Dinuk Wijeratne at Dalhousie University, as well as organ performance with Ton Koopman, Jacques Van Oortmerssen, James David Christie and Jean-Claude Zehnder in the Netherlands. As an educator, Veltmeyer has taught privately and founded educational music programs at St. Stephen's (Chester) and Christ Church (Dartmouth). As a composer, Veltmeyer has written for the University of King's College Chapel Choir and has produced multimedia collaborations with 2016 Sobey Art Award finalist William Robinson and light artist Kurt Laurenz Theinert.
Janelle Lucyk – soprano
Janelle Lucyk graduated in 2014 with distinction from the Conservatoire Royal de Bruxelles in Belgium where she performed in three choirs, debuted a piece written for her and the Brussels Chamber Choir by Jan Moeyaert, and formed Voces Desuper, an ensemble performing regularly in the magnificent Cathédrale de Saints-Michel-et-Gudule, and especially at the Te Deum ceremony for the King and Queen of Belgium. Following, she completed her Masters in Management at Durham University in the UK. She sang in Durham's top four choirs, and won the role of Susanna in Durham Opera Ensemble's 2015 performance of Mozart's The Marriage of Figaro for which she was awarded the Best Soloist by Music Durham, and Best Female Soloist by her peers at the DOE. Moving back to Canada, Janelle has been captivated by the music scene around Nova Scotia. She was recently featured in Scott MacMillan's Celtic Mass by the Sea with Musique Royale for Canada 150. She was featured in CPE Bach's Magnificat and Mozart's Laudate Pueri with Ensemble Regale and The King's Chorus, in addition to Monteverdi's Vespers of 1610 and Bach's St John Passion with the King's Chapel Choir.
Jonathan Stuchbery – lute
Jonathan is an artist engaged in inspiring and educating audiences as diverse as his musical interests. Whether it be on the lute and period instruments, classical, or electric guitar, his performances offer "exciting and technically brilliant" (Marvin Dickau) displays of the wealth of the musical language. Versatile as a soloist, chamber musician and continuo player, Jonathan frequently distinguishes himself; performing as a finalist in the 2017 McGill Concerto competition, and receiving the McGill David Moyse Guitar scholarship in 2017, 2016 and 2015. Solo performances have included concerts with the McGill Contemporary Music Ensemble and for the Governor General of Canada. He is active in the rich early music scene in Eastern Canada, and can be seen performing music on period instruments, solo and with ensembles such as Les Méandres (Montréal), Melos Choir (Kingston), and Cor Unum Ensemble (Toronto). He is a founding member of the Cygnus trio (flute, violin, guitar), which places an emphasis on performing not only in traditional venues, but in reaching out to the community through events such as visits to women's shelters, house concerts, and children's programs. The trio recently toured their program 'Lost Islands' through Ontario, featuring new music and poetry by Canadian artists, in collaboration with actors Paul Hopkins, and Blair Williams, and composer Arie van de Ven. He has extensive experience in contemporary classical music, having premiered and performed large-scale works on classical, and electric guitar in series such as Live@CIRMMT and Montréal/Nouvel Musique. He is currently working on a program of new music for the theorbo, combining his passion for both early and contemporary music.
Jeremy Rhizor – violin
Jeremy Rhizor is a violinist, the artistic director of the Academy of Sacred Drama, and the publisher of the Academy Journal. Noted for playing "virtuosically but with fluid grace" by the New York Times, Mr. Rhizor specializes in the performance of Baroque-era sacred music. As a violinist, he performs the work of Bach and Handel with Trinity Baroque Orchestra, is regularly featured at Bach Vespers at Holy Trinity, and performs the work of classical and romantic masters with the American Classical Orchestra. He is the founder and director of the Academy of Sacred Drama – an artistic and intellectual community exploring the stories, ritual, and music of sacred drama. He has led the modern-day and American premieres of Baroque oratorios by Bassani, Draghi (at the Yale Institute of Sacred Music), Freschi, Gianettini, and Pasquini as well as rarely heard works by Stradella, Scarlatti, and Charpentier. Past seasons included a performance for the 40th Anniversary Celebration of Music Before 1800, a recital tour in Nova Scotia, and the Swedish premiere of an oratorio by Pasquini. In recent summers, he has played orchestral music at the Lakes Area Music Festival in Brainerd, Minnesota. Mr. Rhizor dedicates his time to exploring the world of sacred dramatic music and searching for appropriate boundaries in our understanding of the communal and individual nature of humanity.