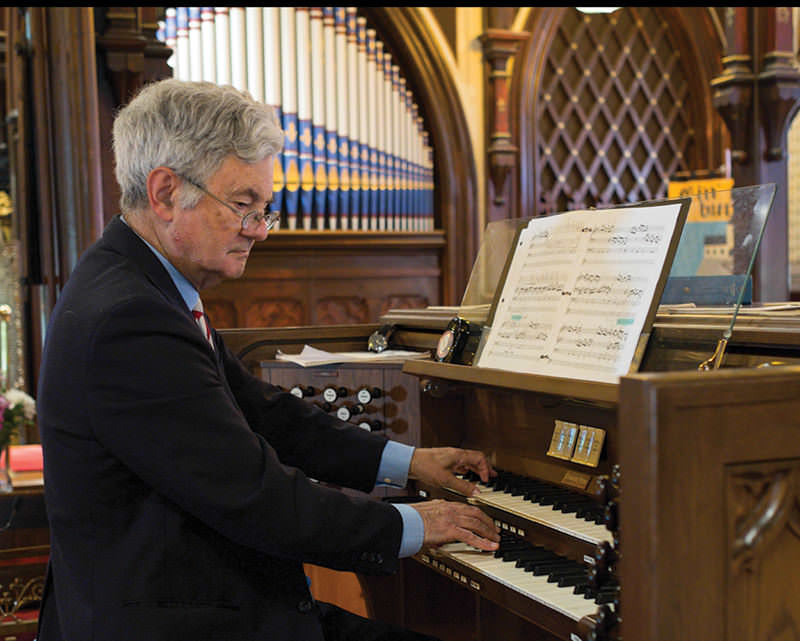 Sunday July 14 2019, 3:00 PM
John Laing
St. John's Anglican Church Lunenburg
Sunday 14 July – 3:00 PM

$20 advance/$25 at the door/students $10 at the door.. Available at Lunenburg's Shop on the Corner, and online.
About
Musique Royale presents an organ concert by one of the significant contributors for liturgical music in Canada, John Laing. Laing will perform works by Bach and Mendelssohn and original compositions including one featuring the shimmering vocals of soprano Judith Burdett.
About John Laing Born in London, U.K., John Laing began to play the piano and to write music at a very young age. He was chosen as a chorister in the choir of King's College, Cambridge, under Sir David Willcocks, then awarded a music scholarship to study at Clifton College, Bristol. After a year at the Royal College of Music, during which time he was awarded his A.R.C.M. diploma and made a Fellow of the Royal College of Organists, he returned to Cambridge as Organ Scholar of Corpus Christi College. There he received his Mus. B. and M.A. degrees. Upon leaving the university, he became Assistant Director of Music at Wycliffe College, Gloucestershire.
In 1977 John accepted an invitation to become Interim Organist and Choirmaster at Christ Church Cathedral, Montreal, and Conductor of the Canadian Centennial Choir, Ottawa, during Gerald Wheeler's sabbatical year. The following year he became the Organist and Choirmaster at Christ's Church Cathedral, Hamilton, and Conductor of the Hamilton Children's Choir. During this time, he saw the need in the city for a professional-quality chamber choir, and in 1982 he founded The John Laing Singers. As Conductor and Artistic Director he continued to lead this excellent choir to many successes and honours until his retirement in 2011. In 1987 he became Organist and Choirmaster of St. Jude's Anglican Church, Oakville, where he developed a high-quality music programme and founded the much-loved Celebration of the Arts concert series, now in its twenty-third season; he continued there until 2005. Since 2010 he has been Organist and Choirmaster at The Church of the Ascension, Hamilton.
By his mid-fifties, John decided that he wanted to focus on his first love, composition, upon which to develop a career during his later years. Since then he has reduced administrative duties while continuing regular conducting and performing, but particularly has concentrated on composition, through which he has already achieved many notable successes in concerts and on CD recordings.
On account of his many successes in the field of music, John has received the "Above and Beyond Award" from the Oakville Arts Council, the "Order of Niagara" from The Anglican Church of Canada, the "Musician of the Year" award from the City of Hamilton, Honorary Citizenship of Sarasota, Florida, the Freedom of the City of London, U.K., and the Queen Elizabeth II Diamond Jubilee Award (Canada) "for services to fellow citizens, community and country".