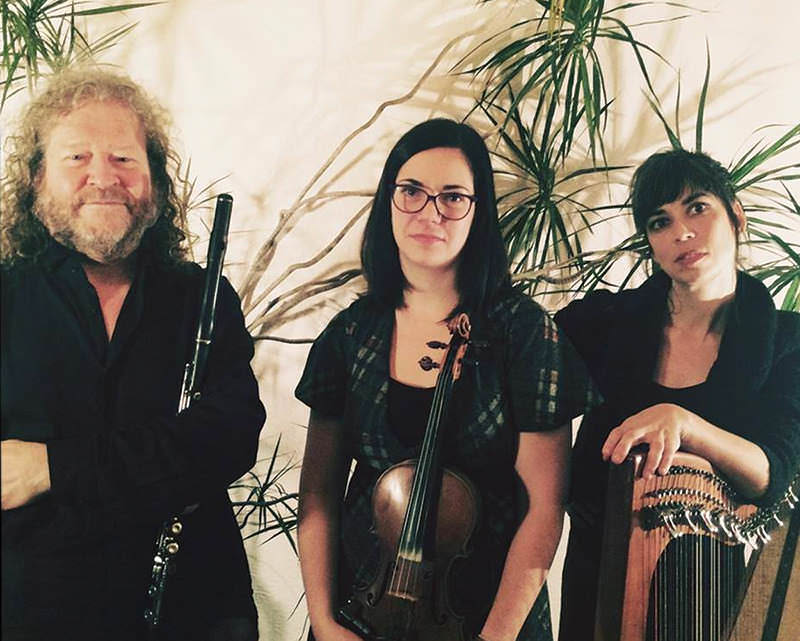 Wednesday July 17, 2019
Bùmarang
St. John's Anglican Church Lunenburg
Wednesday 17 July – 12:00 PM

Admission by donation. In collaboration with St. John's Wednesday's at Noon series.
Cecilia's Retreat
Wednesday 17 July – 6:00 PM

About
Musique Royale invites locals and visitors alike to experience Bùmarang, virtuosic Celtic music infused with many musical flavours from three of Montreal's finest Celtic musicians. Bùmarang, comprised of Kate Bevan-Baker (Hey Rosetta!, The Dardanelles), Sarah Pagé (Barr Brothers), and Dave Gossage (Orealis, Land of Kush) draws from their diverse musical backgrounds in jazz, classical, African, bluegrass, and traditional music to create an unforgettable Celtic sound. Musique Royale is delighted to announce two performances of Bùmarang on Wednesday July 17th. The first concert is at 12:00 pm at St. John's Anglican Church in Lunenburg in partnership with the Wednesday's at Noon series. The second presentation will take place at Cecilia's Retreat in Mahone Bay, at 6:00 pm.
About The Artists
Newfoundland-born Kate Bevan-Baker is a recognized fiddler, classical violinist, and singer. She holds violin performance degrees from Memorial and McGill Universities, and recently completed her PhD specializing in Irish Music on PEI from Concordia University where she was a SSHRC doctoral scholar. Kate's performance career has taken her to Russia, across Canada twice with the National Youth Orchestra of Canada, to China for the 2010 World Expo, the 2010 JUNO Awards performing with Michael Bublé, as well as playing with orchestras such as the Newfoundland Symphony Orchestra, PEI Symphony Orchestra, and the Orchestre Symphonique de Longueuil. She has performed with prominent classical musicians across Canada at Festival of the Sound and Sound Symposium, and with ensembles such as La Nef and Ensemble Telemann. Kate is a founding member of the Newfoundland-based ECMA-nominated traditional band, The Dardanelles, and currently plays fiddle and sings with the Montreal-based Celtic trio, Solstice. She has been featured on many nation-wide radio and television broadcasts, and can be heard on over thirty CDs, videogame, and movie soundtracks. Kate is a founding member of the all-female quartet, Birds On A Wire, made up of classically trained players sharing an interest in other musical styles such as Celtic, bluegrass, rock and jazz, and dedicated to stretching the boundaries of typical string quartet playing. Kate currently lives in Montreal where she balances and active performance schedule, teaches at the Siamsa School of Irish Music, and lectures at Concordia University's School of Irish Studies.
Montreal based experimental harpist Sarah Pagé is best known for her work with The Barr Brothers, Lhasa DeSela, Esmerine and Patrick Watson. Classically trained, she has been pushing the traditional boundaries of her instrument for over a decade. She has garnered an international reputation as a highly versatile and creative collaborator. She has appeared on the Late Show with David Letterman twice and has shared the stage with Bassekou Kouyate, Tinariwen, Barry Manilow, George Benson, Calexico, Fred Frith, and Thurston Moore among others. An active member of her community, she is regularly involved in producing and organizing benefit concerts and charity initiatives. She has organized two benefits for Justice for Missing and Murdered Indigenous Women and in 2015 produced an album for Project PAL, a mental illness community outreach program. Her performances can frequently be heard on the CBC, Radio Canada, BBC, NPR and France Inter. Her work with The Barr Brothers on the critically acclaimed 2014 album Sleeping Operator earned her several JUNO and ADISQ nominations and a spot on the 2015 Polaris Prize shortlist. She has recently recorded her first solo album.
Dave Gossage is one of Montreal's most respected and experienced musicians. Cited by Gazette music critic Mark Lepage as "Montreal's secret weapon," multi-instrumentalist Gossage switches from flute to guitar, whistles and harmonicas with ease and in virtually all styles of music. He attended the Royal Conservatory of Music in Toronto and later received his degree from Concordia University in Montreal, specializing in contemporary theory and composition. Over the years, Dave has played in all styles of music including African, classical, rock and funk, but he is best known for his Jazz and Celtic playing. He has headed his own groups in both of these styles and is a pioneer of the acid jazz scene in Montreal. Considered one of Montreal's best flute players, his list of sessions is impressive and includes work with Land of Kush, Shalabi Effect, Kid Koala,Michel Rivard, Nathalie Simard, Kevin Parent, Paul Piche, Paperboys,Cirque du Soleil, and Brendan Nolan,as well as countless soundtracks. As a composer and arranger, Dave has worked in theater, film and poetry. He has worked extensively as an arranger at the National Film Board and his arrangements for the animated short, When the Day Breaks, won a Gemini, the jury prize at the Cannes Film Festival, and was nominated for an Oscar as well as Animal Behaviour which was nominated for an oscar as well this year. In Celtic music, Gossage produced the Juno-nominated "Night Visions" album by Orealis. David has toured extensively performing shows from St. John's to Vancouver and all through the United States and Europe. Dave teaches jazz at McGill University.