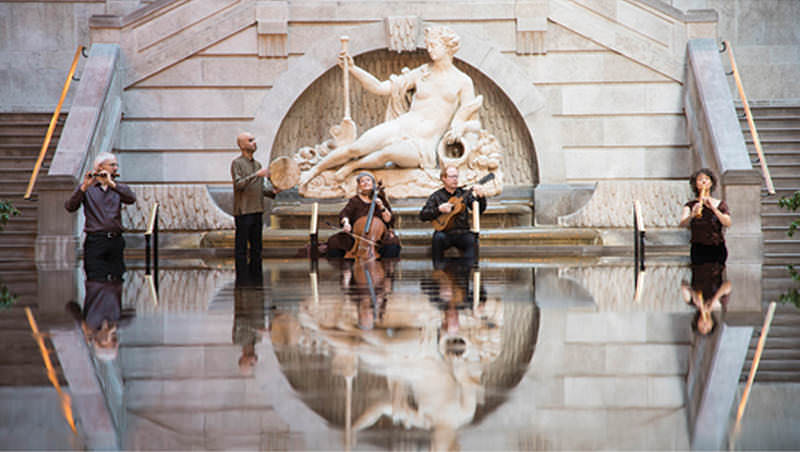 September 25 - 27, 2019
Pres du Soleil
Eglise Sacre Coeur
Wednesday 25 September – 7:00 PM

$20 advance/$25 at the door/students $10 at the door. Available by phone reservation 902 742 8765, online, and at the door.
St. Andrews United Church
Thursday 26 September – 7:30 PM

$20 advance/$25 at the door/students $10 at the door. Available by reservation at musiqueroyale1985@gmail.com, online and at the door.
St. John's Anglican Church Lunenburg
Friday 27 September – 7:30 PM

$20 advance/$25 at the door/students $10 at the door. Available at Lunenburg's Shop on the Corner, online, and at the door.
Featuring
Kiya Tabassian
setar / vocals
About
For decades now, Ensemble Caprice has been exploring new sound universes. Ensemble Caprice combines forces with Constantinople, and these two prominent Montreal-based musical forces dive into a concert exploring Medieval and Oriental Music for three spectacular concerts sure to soar high.
About the artists Ensemble Caprice, a baroque ensemble which performs on period instruments, has become known for its innovative and adventuresome approach to an increasingly expanding musical repertoire. In addition to its series of concerts in Montreal, the group tours extensively, giving dozens of concerts in Quebec, Canada, the USA, Europe, and even Asia. The ensemble is a regular guest at many prestigious European festivals: the Lufthansa Festival of Baroque Music in London, the Bruges (Belgium) and Utrecht (Netherlands) festivals, the Felicia Blumenthal International Music Festival in Tel Aviv; and in Germany, the Musikfestspiele Potsdam Sanssouci, the Regensburg Early Music Festival, the Händel-Festspele in Halle, and the Stockstadt festival. In November of 2009, the New York Times published a lengthy article hailing the musicians' innovative and refreshing approach, praising them as "imaginative, even powerful; and the playing is top-flight".
Constantinople is a musical ensemble that seeks inspiration from all sources, and aims for distant horizons. Inspired by the ancient city illuminating East and West, the ensemble was conceived as a forum for encounters and cross-fertilization in 1998, in Montreal. Regularly invited to perform in international festivals and prestigious concert halls, such as the Salle Pleyel in Paris, the Berliner Philharmonie, the Fes Festival of World Sacred Music in Morocco, the Rencontres musicales de Conques in France, the Aga Khan Museum in Toronto, the Cervantino Festival in Mexico, the Festival de Carthage in Tunisia, the Onassis Cultural Centre-Athens and the BOZAR in Brussels, Constantinople is acclaimed by the public, music professionals and critics alike. Over the course of the decade, Constantinople has created nearly 40 works and travelled to more than 140 cities in 30 countries.