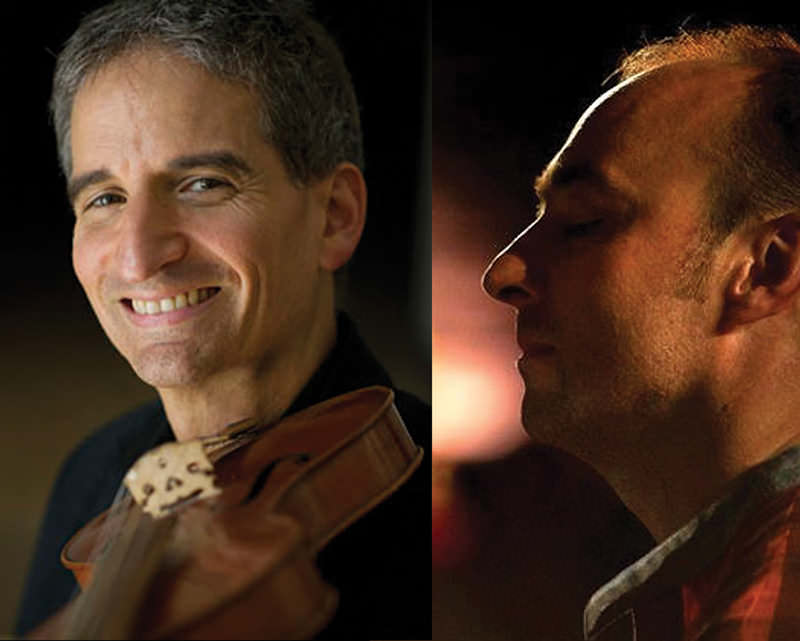 September 25 - 28, 2019
Autumn Any Day Now
St. Barnabas Anglican Church
Wednesday 25 September – 7:00 PM

$25 at the door / $20 advance / students $10 at the door. Available at Lunenburg's Shop on the Corner, online, and at the door.
Dawn Oman Art Gallery
Thursday 26 September – 7:00 PM

$25 at the door / $20 advance / students $10 at the door. Available at Dawn Oman Art Gallery, online, and at the door.
All Saints Anglican Church
Saturday 28 September – 3:00 PM

$25 at the door / $20 advance / Children & students $7 at the door. Tickets by phone reservation 902 405-5213, online, and at the door.
About
David Greenberg and David McGuinness serve up a feast of fiddle tunes from 18th-century Scotland and the present day, seasoned with exotic experimental excursions into the music of Frank Zappa and Fred Frith. A high-energy exploration of the history of tradition, with a few surprises thrown in. In addition to a healthy dose of wild and woolly fiddle tunes, the program will include the wondrously twisty violin sonata by Georg Muffat, some of J.S. Bach's gorgeous D minor Partita, and original compositions by the Two Davids.
Information on the artists
David Greenberg David Greenberg is a baroque violinist and fiddler in the Cape Breton and 18th-century Scottish styles. He grew up in Maryland, learning violin from age four and exploring various fiddling styles early on. David studied baroque violin with Stanley Ritchie at Indiana University in the 1980s and joined Tafelmusik for ten years, 1988-1998. With Kate Dunlay, he co-authored an influential treatise on Cape Breton fiddling, the DunGreen Collection. David co-founded several music ensembles, including the Medieval Quintet, Puirt a Baroque, Ferintosh, and Tempest Baroque Ensemble. He performs regularly with Chris Norman, Suzie LeBlanc, Red Priest, and Tempest. He is featured on dozens of recordings, including those with Seattle Baroque, Apollo's Fire, Ensemble Caprice, Les Voix Humaines, La Nef, Toronto Consort, Doug MacPhee, Suzie LeBlanc, Chris Norman, Ferintosh, Concerto Caledonia, and Tempest.
David McGuinness David McGuinness divides his time between historical Scottish music and contemporary work. As director of early music ensemble Concerto Caledonia he has made thirteen albums, mostly of newly-rediscovered repertoire, and collaborated with musicians in a variety of genres from folk to punk cabaret. David has been a music producer and composer for television and radio, most notably on several seasons of E4's TV drama Skins, including collaborations with Gabrielle Aplin, Rae Morris, and the Ukulele Orchestra of Great Britain. In 2007 he produced John Purser's 50-part history of Scottish music for BBC Radio Scotland and co-ordinated the station's observance of No Music Day with the artist Bill Drummond. In 2019 Sony Music reissued the Prefab Sprout album I Trawl the Megahertz, for which he provided the string arrangements.
He is Senior Lecturer in music at the University of Glasgow, was principal investigator on the AHRC-funded research project Bass Culture in Scottish Musical Traditions, and is currently working on the music for the forthcoming edition of Allan Ramsay's collected works for Edinburgh University Press. His most recent performance projects are What News, an album of traditional Scots ballads with singer Alasdair Roberts and sound artist Amble Skuse, and Nathaniel Gow's Dance Band, in which Concerto Caledonia plays 18th-century Scottish dance music while the audience dances the original figures.