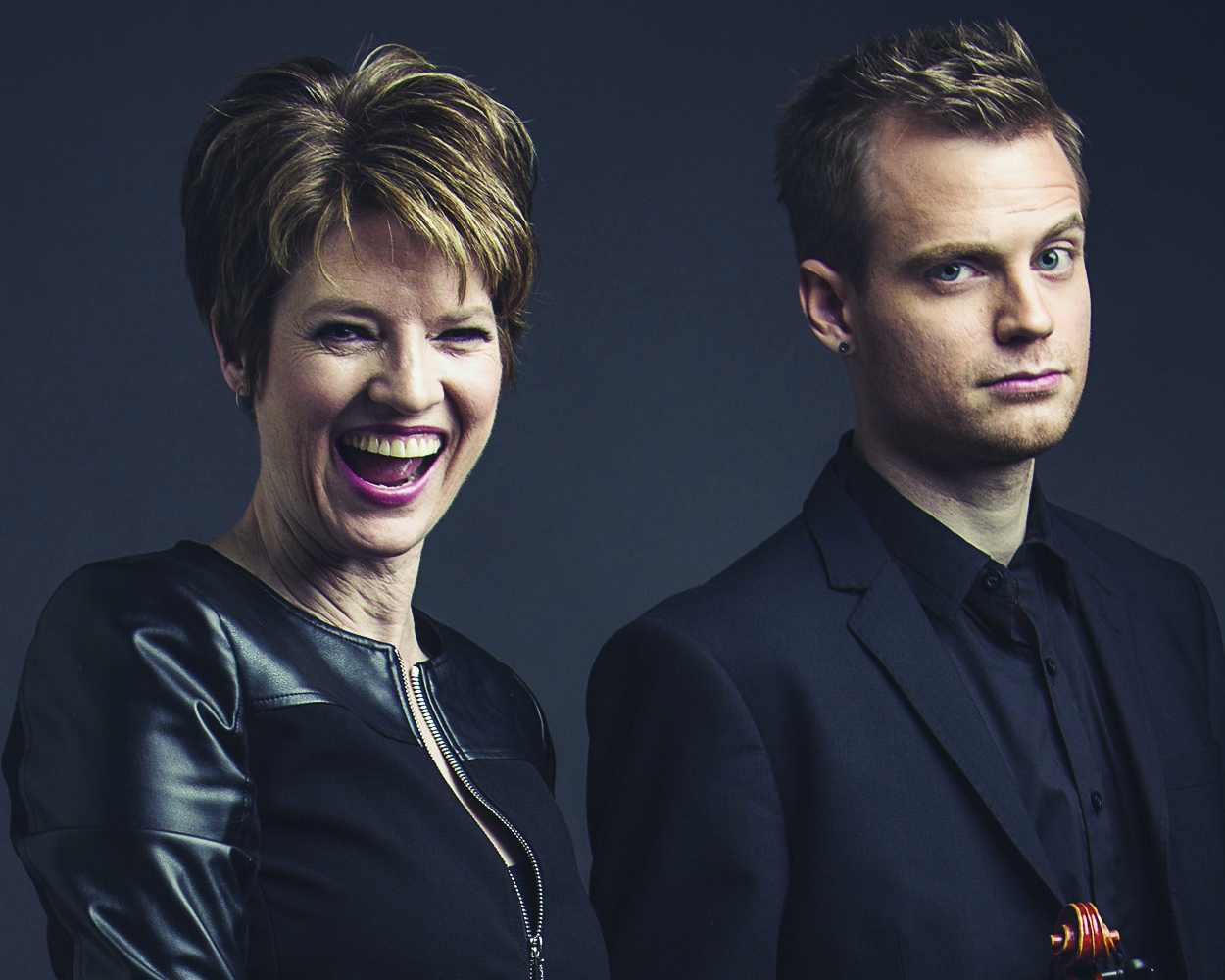 Sunday October 27 2019, 4:00 PM
Bev & Marc
Cecilia's Retreat
Sunday 27 October – 4:00 PM

$Admission by advance reservation, please email barbara.butler@ns.sympatico.ca.
About
Combining violin, FX pedals, marimba, vibraphone and even a musical saw, Debut Atlantic Encore Artists Bev & Marc are returning to Marc's native Atlantic Canada. Their combined virtuosity and a down-to-earth approach create a riveting visual and aural presence.
The duo usually plays a style of melodic, contemporary, tonal music; their smoothly paced, eclectic programming proves that not all of contemporary music is abstract and atonal! Bev & Marc perform popular marimba and violin repertoire but also research and arrange other pieces to adapt to their instrumentation. Hear their commissioned works from Canadian composers including Quantum Holograms by Richard Mascall (featuring digital FX pedals), and award winning Canadian composer Christos Hatzis. The energetic duo has performed at Chamberfest, Music and Beyond, Jeunesses Musicales, CAMMAC, Kincardine Summer Music Festival, and several other festival series including university concert series and masterclasses. They have released three music videos filmed in Montreal and produced by noncerto. Their concert at Cecilia's Retreat is part of a larger tour with Debut Atlantic.
Beverley Johnston, percussion Beverley Johnston is one of Canada's leading percussionists. Over the years, she has commissioned and performed many works by leading Canadian composers some of which have become a staple of the standard percussion repertory around the world. In honour of her exemplary commitment to the performance of the music of Canadian composers, she has been awarded the distinction of "Canadian Music Centre Ambassador".
Her exceptional stage presence, her remarkable virtuosity and musicianship have established her reputation beyond the border of her native Canada, where she tours and performs frequently as a soloist and chamber musician. She has been invited to numerous internationally renowned marimba and percussion festivals over the years. She has recorded six solo CD's and can be heard as soloist and chamber musician on many other recordings. Her recordings are available from the Canadian Music Centre and iTunes. Beverley teaches at the University of Toronto and is a Marimba One and Paiste artist.
Marc Djokic, violin Marc Djokic is a Canadian violinist and winner of the 2017-2018 Prix Goyer. Among other distinctions, he is a Prix Opus laureate and former Canada Council Instrument Bank recipient. Djokic is concertmaster of l'Orchestre classique de Montreal. His debut album, Solo Seven, garnered glowing reviews upon its release in 2018. His next two collaborative albums will be released on the ATMA Classique and Analekta labels in 2019.
Originally from the Maritimes; Halifax, Nova Scotia, Djokic first and foremost studied with his father Philippe Djokic, one of Canada's great soloists and a pupil of the master Ivan Galamian. He continued his studies with David Russell, Donald Weilerstein and Jaime Laredo. In summer 2019 Marc Djokic embarked on his second European tour with solo recitals, chamber music concerts, and masterclasses. Djokic has toured several times throughout Canada as a chamber musician, and performed as a soloist with the Toronto Symphony Orchestra, the National Arts Centre Orchestra and Quebec Symphony Orchestra.
From 2015 to 2017, Mécénat Musica noncerto produced more than 45 music videos featuring Djokic and his collaborations, filmed in unique locations across nine provinces. Marc Djokic has commissioned several compositions with the support of Canada Council, Ontario Arts Council and Mécénat Musica. In 2018 Djokic co-sponsored and launched the inaugural CAMMAC Composers Competition, and is currently Artist-in-Residence at CAMMAC.