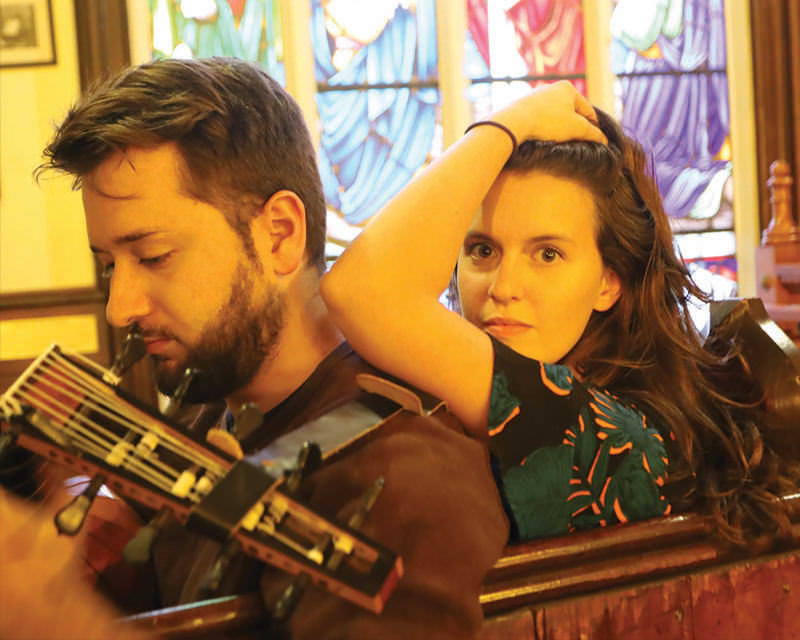 Tuesday November 19 2019, 7:00 PM
The Nine Maidens
St. Joseph's Square
Tuesday 19 November – 7:00 PM

$25 (students $10). Admission by advance reservation, please email penny.margolis@gmail.com
5450 Kaye Street, Halifax
About
Delightful songs of heroines and heroes who cleverly abscond danger and find the comforting escape of love. English traditional songs tell of age old expeditions, daring escapes and exotic delights, accompanied by lute, violin and guitar. Ayres by Dowland and Purcell recount the transience of good fortune in the life of seafaring voyageurs.
Kerry Bursey (tenor/guitar/lute) is one of Canada's most captivating emerging artists. A herald of the lost art of self-accompaniment, he is one of a small number of professionally active musicians to sing and play early repertoire simultaneously. A graduate of the Conservatoire de musique de Montréal in classical guitar and a finalist at both the 2011 Grand prix de guitare de Montréal and the Concours de musique de Sorel, Kerry now concentrates on historical repertoire. He performs as a lutenist in recital and in concert and is especially interested in songs and ayres, accompanying singers in medieval, traditional, renaissance and baroque music.
As a tenor, his natural, unwavering vocal strength has resonated across Canada's early music scene. He sings with Studio de musique ancienne de Montréal, Ensemble Caprice, Theatre of Early Music, Harmonie des Saisons, Arion Baroque Orchestra, Clavecins en concert, Aureas Voces, Montreal Symphony Orchestra, Orchestre Métropolitain, I Musici, les Grands Ballets and the choir of the Church of St. Andrew & St. Paul. He has participated in Tafelmusik's Baroque Summer Institute, and has studied and performed sacred cantatas of Bach in Germany and Italy at the renowned Bachakademie in Stuttgart and Bachkantatenakademie in Weimar. Kerry is based in Montreal and is a graduate student of Dominique Labelle and Suzie LeBlanc in early music vocal performance at McGill University.
Janelle Lucyk (soprano/violin) graduated in 2014 with distinction from the Conservatoire Royal de Bruxelles in Belgium where she performed with three choirs, debuted Lux Aeterna, written for her and the Brussels Chamber Choir by Jan Moeyaert, and formed Voces Desuper, an ensemble performing regularly in the magnificent Cathédrale de Saints-Michel-et-Gudule, and especially at the Te Deum ceremony for the King and Queen of Belgium. Following, she completed her Masters in Management at Durham University in the UK and won the role of Susanna in Durham Opera Ensemble's The Marriage of Figaro for which she was awarded the Best Soloist by Music Durham, and Best Female Soloist by her peers at the DOE.
Growing up as a violinist, Janelle was the youngest member of Regina Symphony Orchestra for several years and with them performed Vivaldi's Four Seasons as soloist in 2009. She was ​Provincial Winner of Kiwanis Music Festival in SK for both Voice and Violin the same year and was the co-concertmaster of the South Saskatchewan Youth Orchestra. Janelle has been captivated by Nova Scotia's flourishing music scene since arriving in the stunning maritime province. She has had the good fortune of working as a soloist with the Kings College Chapel Choir under five-time Grammy winner Paul Halley on many unforgettable concerts including Monteverdi's Vespers of 1610 and Selva Morale e Spirituale and multiple Bach Passions. She has performed recently with Per Sonatori, Boar's Head Festival, Newfoundland Symphony Orchestra, Tribute to Les Six with Simon Docking, Aureas Voces, Theatre of Early Music, Ensemble Caprice & Constantinople and has organized concerts involving improvisation, early music, and jazz with Sarah E. Myatt (mezzo), composer/organist Peter-Anthony Togni, and Jeff Reilly (bass-clarinet).