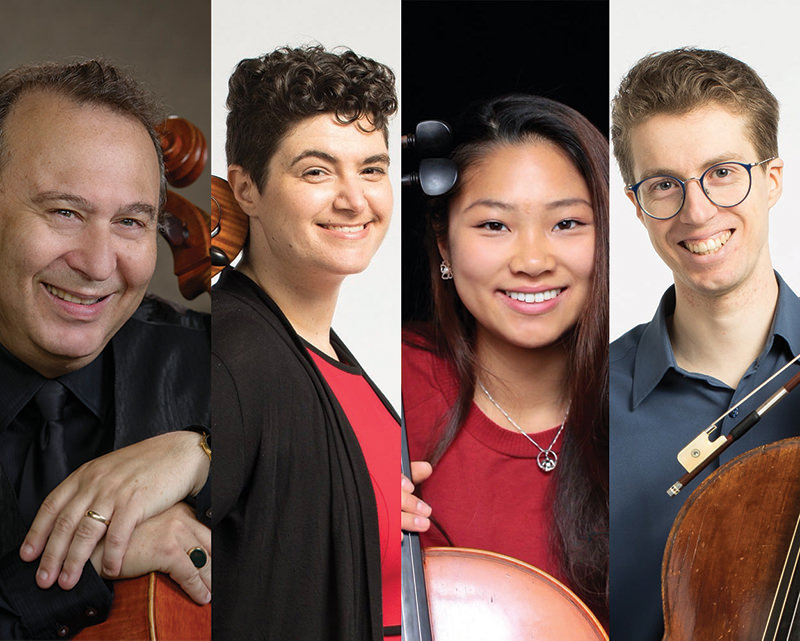 Saturday August 22 2020, 7:30 PM
Praying and Dancing
About
Musique Royale presents "Praying and Dancing" performed by a cello quartet that includes Rachel Desoer, Shimon Walt, Priscilla Lee, and Ben Marmen. In this time of forced isolation, this is a program to lift the spirits. Featuring music by Bach, hear a mixed selection of works starring the singing quality of cellos. Also included are some dances to remind us of celebrations we've had and will return to. This music is an expression of hope that we will be together in the same space enjoying music before long.
About the artists
Rachel Desoer, cello
Rachel Desoer is a Canadian cellist. She studied at the Juilliard School, Oberlin College, McGill University and the Banff Centre. She graduated from Oberlin in 2008 with a Bachelor of Music degree. Rachel was the cellist of the Cecilia String Quartet from 2010 to 2018. In this ensemble Rachel toured extensively around the world, recorded 4 albums on the Analekta label and taught chamber music at the University of Toronto.
Touring has allowed Rachel to perform at such inspiring venues as Wigmore Hall, The Concertgebouw (Amsterdam), Konzert Haus Berlin and many more. The Cecilia Quartet also made educational programming a priority and performed hundreds of presentations for schools. In 2014, the quartet created a concert series called Xenia concerts specifically designed for children on the autism spectrum and their families. Exemplifying their commitment to the equal representation of women in music, Rachel spearheaded the commissioning of 4 string quartets by Canadian women composers in 2016.
Rachel continues to play recitals and concertos with orchestra regularly. She has worked in orchestras, most notably, the National Arts Centre Orchestra and the Canadian Opera Company. Currently, Rachel is the principal cellist of Symphony Nova Scotia. Rachel plays the 1929 Carlo Guiseppe Oddone cello generously on loan to her from an anonymous donor.
Shimon Walt, cello
Shimon Walt is the Assistant Principal Cellist of Symphony Nova Scotia. Since his arrival to Nova Scotia in 1976 he has been an integral part of the province's musical life. Whether on concert stages with Symphony Nova Scotia, in solo recitals or in chamber music concerts, or teaching in the classrooms of Dalhousie University, he is totally dedicated to the art of music. Shimon is also one of the founding members of Symphony Nova Scotia and Rhapsody Quintet.
Mr. Walt was educated in Tel Aviv and Boston, where his principal teachers were Uzi Wiezel and George Neikrug. He has performed with major orchestras under such noted conductors as Leonard Bernstein, Zubin Mehta and Pablo Casals. Today he shares his time between Symphony Nova Scotia, Dalhousie University, Rhapsody Quintet and operating an entertainment agency, Walt Music.
Shimon Walt is known as a dedicated teacher, and many of his students have gone on to professional musical careers. He has been a provincial adjudicator for the Kiwanis Music Festivals in Nova Scotia, Ontario, New Brunswick and Newfoundland, and served on national juries for FACTOR (the Foundation to Assist Canadian Talent on Record) and the Canada Council for the Arts.
Benjamin Marmen, cello
Mooring in Halifax, NS in 2010 to enroll at Dalhousie University, Benjamin Marmen and his cello have since sought to become dynamic contributors to the musical life of the city and province. A small-town boy out of Grand Bay-Westfield, NB, Benjamin began cello lessons at age seven with Sonja Adams in Saint John, and later went to Halifax, NS, to study with Shimon Walt, under whose mentorship he then completed his Bachelor of Music degree at Dalhousie University.
Through various competitions, Benjamin has been awarded the privilege to perform as soloist with Symphony Nova Scotia, The Saint Andrew's Arts Council Festival Orchestra, the Nova Scotia Youth Orchestra, and the Dalhousie Symphony Orchestra, and was a guest soloist with Nova Sinfonia and Chebucto Symphony Orchestra. He enjoys the opportunity to collaborate regularly with local chamber musicians, and holds the position of section cellist in Symphony Nova Scotia since 2014.
Away from the classical stage, Benjamin has had many exciting musical adventures, such as taking to the stage with Natalie MacMaster and her band at the 2013 ECMAs, and performing and recording with local artists Maxim Cormier, guitar, and singer-songwriters Mo Kenney and Selby Evans. Dipping his toes in the film industry, he has been featured in soundtracks by local composers and directors. In theatre, he composed and performed a solo cello accompaniment to Shakespeare's Macbeth, directed by Ken Schwartz, at Neptune Theatre's Scotiabank Stage, which was nominated for Best New Score at Theatre Nova Scotia's Robert Merritt Awards; he also learned to wait tables as a cello-playing character in a comedy show at the Grafton Street Dinner Theatre. When he's not playing music, Benjamin enjoys spending time with his wonderful wife, Lydia, and three-year-old son, Felix, reading, and getting more involved in his home church in Halifax.
Priscilla Lee, cello
Priscilla Lee is entering her fourth year of Bachelor in Music performance at Dalhousie University. One of seven children, she credits her musical training started with listening to her older siblings' daily music practice. She started piano lessons at age five and picked up cello at age ten, soon participating in competitions, orchestras, and chamber groups. She has performed solo with Dalhousie Symphony Orchestra, and is the youngest winner of the apprenticeship position in Symphony Nova Scotia. She is the principle cellist of Nova Scotia Youth Orchestra. Currently, Priscilla studies cello under Shimon Walt and piano under Peter Allen.