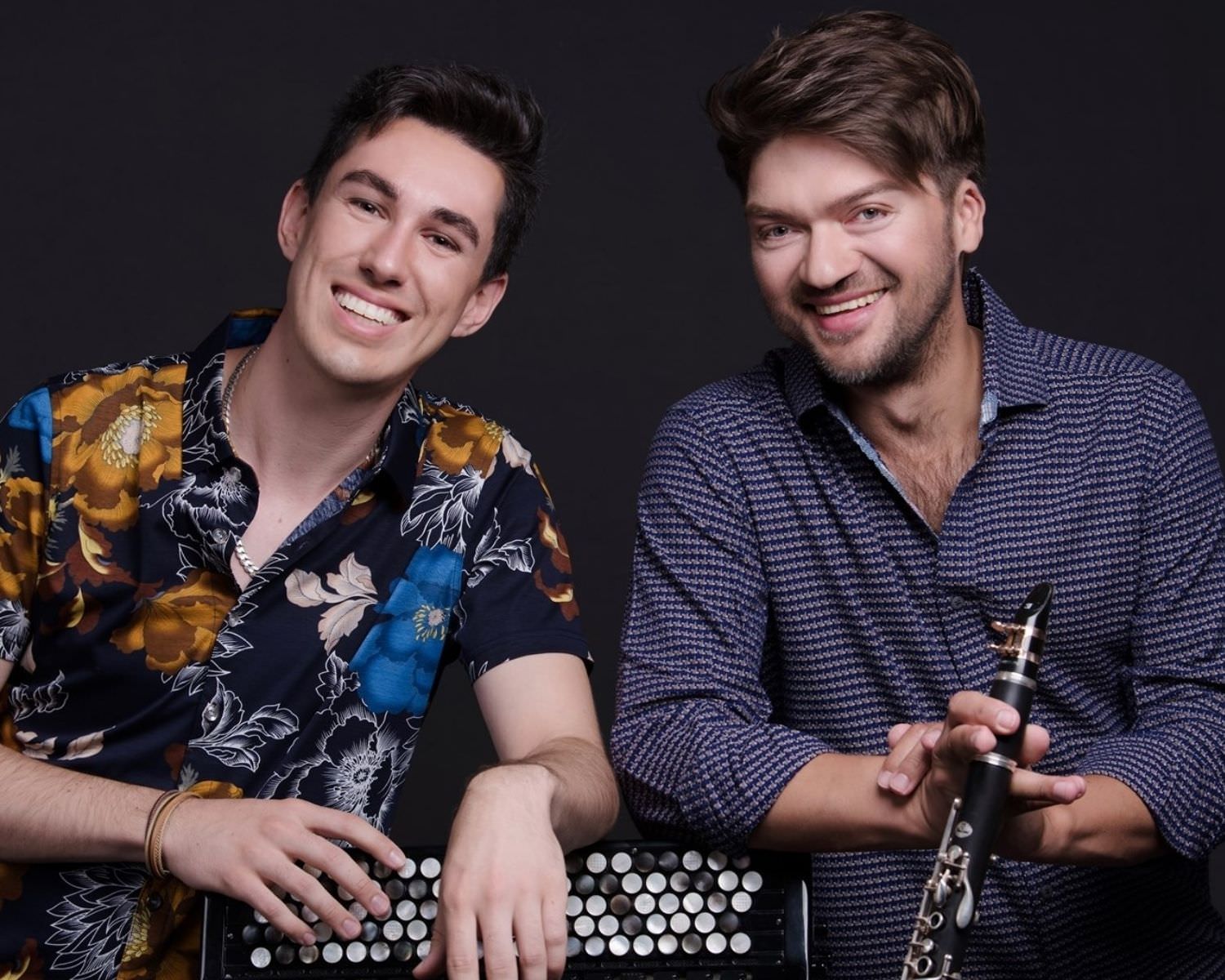 Sunday September 27 2020, 7:30 PM
Bridge & Wolak
Featuring
Michael Bridge
accordion / piano
Kornel Wolak
clarinet / piano
About
For one night only, Musique Royale presents a virtual concert featuring Bridge & Wolak, a globe-trotting music & comedy duo, merging traditional instruments with 21st century digital technology. This September the duo is on a "virtual tour" across Atlantic Canada with Debut Atlantic! Michael Bridge (accordions & piano) and Kornel Wolak (clarinet & piano) perform their own original brand of fusion, drawing from their classical roots, and loves for folk, jazz and tango music. The concert will be available on Musique Royale YouTube and Facebook channels the evening of Sunday September 27th. With deft virtuosity and endless wit, they have been called the "Victor Borges of the 21st Century." Fun-loving gentlemen (with seven degrees in music), they represent the modern conception of musician-entertainer-educators.
About the artists
"Watch and be amazed!" — CBC
Across Poland, Ukraine, the Czech Republic, France, Ecuador, throughout the USA and Canada, Bridge & Wolak have mystified audiences of all sizes (and can tell you all the best vegetarian restaurants.) Most concerts include a Q & A, so have your questions ready and expect riotous answers – they've been asked everything from "How can Kornel play for 5 minutes without breathing?" to "Do you like girls??" (by a grade 5 student).
Michael Bridge and Kornel Wolak were set up on a blind (musical) date by Michael's accordion professor at the University of Toronto, and have since toured the world and become great friends and colleagues. They both started studying music at age 5 – Kornel in Poland, and Michael in Alberta.
Off stage, Kornel Wolak teaches clarinet at Queen's University and Michael Bridge is completing his doctorate in accordion at the University of Toronto (while writing his thesis in hotel rooms!) Collectively holding seven degrees in music, they frequently offer school concerts and university masterclasses / lectures throughout their tours. Dr. Wolak is also a pioneer in collaborative research in oral articulators with the department of Speech Language Pathology, University of Toronto, which led to the publication of peer-reviewed scientific articles and his two books on woodwind pedagogy.
A highly decorated accordionist, Michael Bridge placed second at the World Digital Accordion Championships, twice won the Canadian championships, and the Calgary Stampede Talent Search among 300 contestants. He is the North American artist-ambassador for Bugari Evo digital accordions.
Together, Bridge & Wolak were nominated for the BC Touring Artist of the Year award in 2019 and have collaborated with CBC, TVO and other broadcasters for TV and radio specials. They gratefully acknowledge the Canada Council for the Arts and the Ontario Arts Council for financially supporting their international touring.