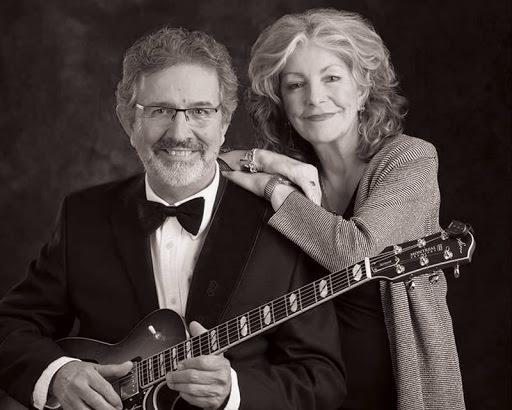 Saturday October 10 2020, 7:30 PM
Bonus Recording: Standard Time Quartet
About
Musique Royale is delighted to release a recording of Standard Time Quartet performing at Dawn Oman's Art Gallery. The quartet features guitarist Georges Hebert and jazz vocalist Irene Wilkinson, accompanied by some of the best musicians in the Maritimes, and offers nostalgic and romantic mellow jazz from The Great American Songbook (classic standards from the 20s, to the 50s) peppered with the lyrical fusion of samba and jazz which gave rise to bossa nova in the 60s. The band was formed in 2016 and has played many concerts in the Halifax region, the Valley and along the South Shore. Their shows have included a steady run at The Halifax Distilling Company and concerts for Musique Royale, at The Company House, The Spatz Theatre, The Halifax Public Gardens Summer Concert Series and at the Paul O'Regan Theatre. So far all of their independent ticketed concerts have sold out. These seasoned musicians bring a wealth of international experience and sophistication to their music. Singly they have performed all over the world under the big band, jazz, musical theatre, world music, country, folk and classical umbrellas.
About the Artists
Irene Wilkinson
Although her formal qualifications are in biomedical science (cancer research), vocalist Irene Wilkinson has worked, for much of her life, in fine and performing arts, as a graphic artist, musician, singer, songwriter, radio producer with CBC, dance teacher, artistic and technical director, scriptwriter & choreographer, motivational speaker and in educational support for children at risk (she continues her work as a writer/presenter in this field and the results of her research are published in various educational journals). Irene travelled extensively throughout her native England and in Europe as part of the band "Hermanas" with her sister, Carole. Tours of France, Spain, Switzerland, Yugoslavia, Italy, Sardinia and Sicily led to the release of a record which made the top seller list in Sicily. Soon after her marriage in 1974, she followed her husband, Peter, to Nova Scotia where she became involved with the theatre and eventually applied her talents to radio variety with CBC. She recorded and produced programs for the national network and introduced Canadian audiences to current popular music from other countries ("Pop Over the World") exposing an underground and thriving jazz movement, in what was then the U.S.S.R., by means of a two-part documentary heard across the network on Jazz Radio Canada. She also produced records for Nova Scotian artists like McGinty, Sandy Greenberg and Cobblestone, made many personal radio and television appearances on programs about women and music in Nova Scotia including recordings for airplay ("Music Maritimes"). Irene taught dance and has choreographed and directed more than 50 musicals in the Halifax school system including a full-scale production of Engelbert Humperdink's opera "Hansel and Gretel in1994, featuring the Halifax All Schools Honour Choirs. She worked with music teachers to develop 'riser' choreography for school choirs such as Soundtrax, a popular Halifax high school vocal ensemble. In addition to organizing benefit concerts for charity, doing publicity for 4 choirs in the city and volunteering, she is also something of an activist, passionate about human rights and supportive of many movements including anti-poverty, anti-racism, equality and inclusion. Two of her greatest passions are reviving the great standards from the "Golden Era of Song" in the 20s, 30s and 40s … and singing jazz.
Georges Hebert
Guitarist, sound engineer and producer, Georges Hebert, began playing guitar in the early 60s, influenced by Chet Atkins, Django Reinhardt, Barney Kessel and Charlie Byrd amongst others. He is perhaps best known for his work and tours with Anne Murray (he was her personal guitarist for many years). Georges has performed, in the Maritimes, with the Brunswick Playboys, Frank's Bandstand and Sing -a-Long Jubilee, Denny Doherty, Marg Osbourne, The John Allan Cameron Show, the Sunshine Hour and Coming up Country. In Toronto, Georges was lead guitarist with Ian Tyson's Great Speckled Bird. He has been featured on several television shows including appearances on The Johnny Carson show, The Merv Griffin Show, The Boston Pops and BBC-TV as well as television programs in Germany and Holland. Georges has toured throughout Canada, the United States, Bermuda, The Caribbean, Europe, Australia and New Zealand, playing in well-known concert halls like Carnegie Hall, Radio City Music Hall in New York, The Greek Theatre in Los Angeles, London's Royal Albert Hall, the London Palladium and Victoria Place as well as Centennial Hall in Monte Carlo. He has played with the who's who of show business all over the globe including celebrities such as Moe Koffman, Gene MacLellan, Dusty Springfield, The Mamas and the Papas, Dionne Warwick, Vera Lynn, Shirley Eikhard, Rita MacNeil, The Rankins, Julio Iglesias, Brian Adams, Dutch Mason, The Mercey Brothers, J.P. Cormier and Roger Whittaker. Georges has produced and recorded more than 60 CDs for various artists including 6 CDs of his own and continues a busy schedule of touring, playing and recording in his studio (Studio Arts) in Bedford, Nova Scotia
Tom Easley
Bassist, composer, and educator Tom Easley has earned a reputation as one of Eastern Canada's finest jazz bassists. Two-time East Coast Music Award winner, Maple Blues Winner and multiple nominee for various other awards. Tom co-lead the music group Hot Toddy for a decade co-producing seven CDs and performing at many major jazz and blues festivals all across Canada, Europe and the United States. Over the past 25 years Tom has toured throughout Europe, Asia and South America with many diverse musical projects that range from musical theatre to jazz quartets. He has performed, produced and recorded in a variety of genres including several East Coast Music Award nominated releases including the award-winning recording Easley/ Stevenson/ Arsenault CD ("Nine Steps"). Tom has performed with a number of internationally recognized artists including Mike Murley, Juan Martin, Ed Thigpen, Jeff Hamilton, John Abercrombie, Adam Rogers, Randy Brecker and Los Lobos. Tom holds a degree from St. Francis Xavier University with a B.A. Honours in Jazz Performance. Currently, he is Halifax based and is on faculty at the Nova Scotia Community College's Music Arts Program and part time faculty for the St. FX Jazz Degree Program.
Curtis Dietz
Trumpeter Curtis Dietz is a native of Hanover, Ontario and has been a member of Symphony Nova Scotia since 1996. He is a graduate of the University of Montreal and also studied at the University of Toronto, the Royal Conservatory of Music, and the Banff Centre. Before coming to Symphony Nova Scotia, Curtis was a freelance musician in Montreal performing with the Montreal Symphony Orchestra, I Musici de Montreal, and L'Orchestre Metropolitain. In the summer of 2002, Curtis joined the Canadian Opera Company orchestra for their performances at the Edinburgh Festival in Scotland. In 2005 he was featured as lead trumpet in Neptune Theatre's production of Chicago. He is currently on the faculty of the Acadia University School of Music. His mother also thinks he is very good. Last but not least, Curtis is the proud father of two wonderful daughters, Greta and Kate, and a son Peter with wife Gina Patterson.