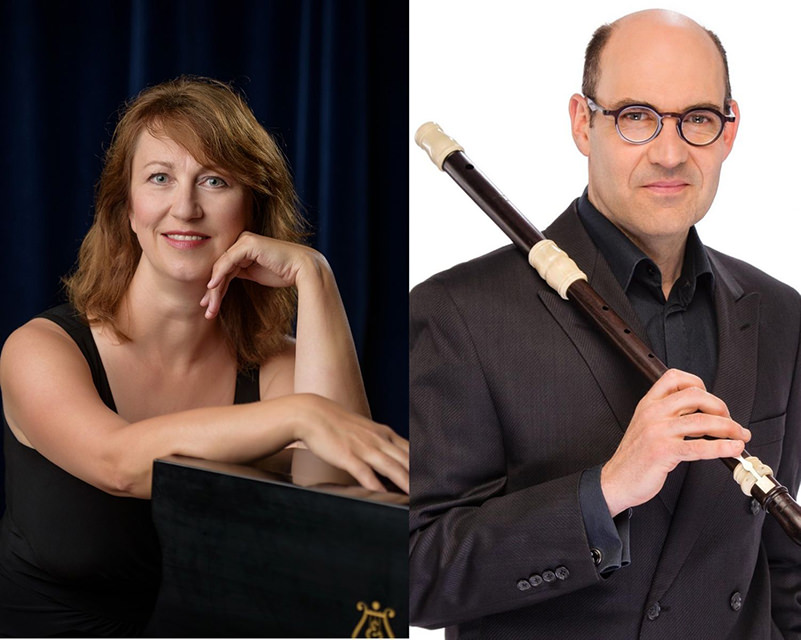 Saturday October 17 2020, 7:30 PM
Party Like It's 1699! - The Dance Music of 18th Century France
Featuring
Henri Gauci
transverse flute
Lynette Wahlstrom
harpsichord
About
(1) Jacques Hotteterre (le Romain)
Prelude in D Major - from L'Art De Préluder sur la Flûte Traversière (1719)
Troisiéme Suite - from Premier Livre De Pièces Pour la Flûte Traversière (1715)
Allemande. La Cascade de St. Cloud
Sarabande. La Guimon
Courante. L'Indiferente
Rondeau. Le plaintif
Menuet. Le mignon
Gigue. L'Italienne
(2) Louis de Caix d'Hervelois
Première Suite - from Quatre Suites Pour la Flûte Traversière (1736)
Prélude.
Légèrement
Allemande
Sarabande
Muzette
La Badine
Minuet I & II
Gracieusement
Vivement
Musique Royale is delighted to present "Party Like It's 1699! - The Dance Music of 18th Century France", featuring Citadel 415 in a virtual concert at St. John's Anglican Church in Lunenburg. Citadel 415 is a duo of Henri Gauci performing on transverse flute and Lynette Wahlstrom on harpsichord.
When people think of baroque dance they often envision complex choreography, graceful motions, frilly dresses and enormous wigs. This of course is true to a certain extent, but "La Belle Dance" as it was called in 18th century France developed into an art form that guided much of the social and political life of Europe. Dance was not considered solely a source of entertainment or a simple pastime but an integral part of social standing as men of nobility were expected to master not only the skills of reading, writing and handling weapons but also the ability to dance. In the halls of Versailles men and women of high standing would gather regularly at organized social balls to dance allemandes, sarabands, gigues and minuets at events that not only established themselves as a highlight of social life but also developed into displays of opulence, social standing and influence to become instruments of significant political impact.
Throughout human history dances may have differed from tribe to tribe, era to era or nation to nation, but the phenomenon of movement to music is as intuitive and universal to human beings as is our use of language. Researchers have discovered music stimulates pleasure and reward centres of the brain in addition to activating the cerebellum, an area involved in the coordination and timing of movement. Those of us who have ever felt the urge to air-conduct along to a recording or have found ourselves tapping our toe to a snappy tune have experienced the instinctive phenomenon of synchronizing music and movement. Although possible parallels between the elements of baroque and contemporary dance may or may not exist, there is little doubt the desire to "bust a move" upon hearing the latest dance music applied equally to the aristocrats of the 18th century as it does to party goers today.
Henri Gauci's transverse flute was built by Alain Weemaels in 2010, modeled after Hotteterre, Paris ca. 1700. The harpsichord Lynette Wahlstrom performs on was built by Henri Gauci in 2010, modeled in the Franco-Flemish single after Ruckers with 18th Century French ravalement. For the program on October 17th, the duo will perform at Pitch A=392 hz - Temperament Rameau.