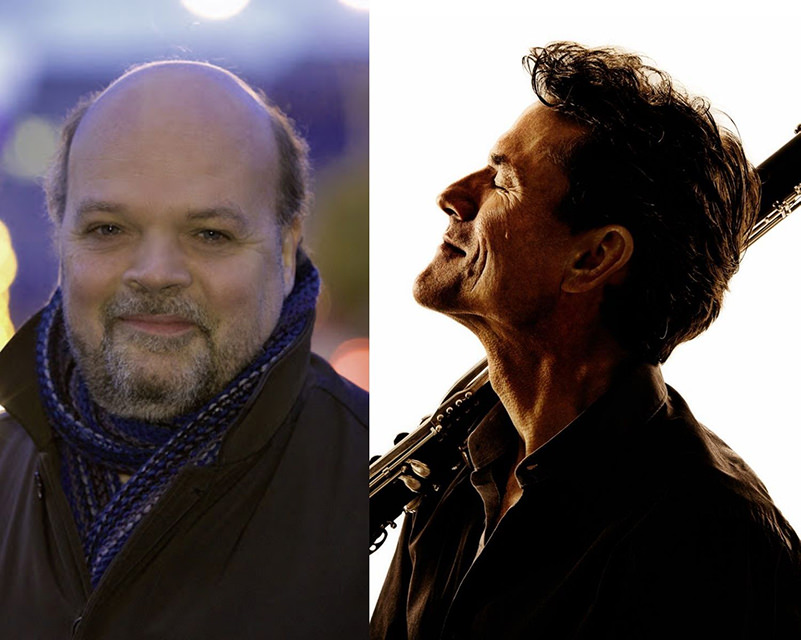 Saturday October 24 2020, 7:30 PM
Blackwood
About
Programme
1) SILENTIO by Peter-Anthony Togni
2) LOST AND FOUND by Jeff Reilly
3) UNCOUNTABLE by Peter-Anthony Togni
4) PASSAGES by Peter-Anthony Togni and Jeff Reilly
5) TO DREAM OF SILENCE by Jeff Reilly
6) SUDDENLY, SNOW! By Jeff Reilly
7) AVE VERUM from Responsio by Peter-Anthony Togni and Jeff Reilly
8) WELCOME by Peter-Anthony Togni
On Saturday October 24th at 7:30 pm, hear Blackwood Duo in a virtual concert performing original music from their new album scheduled for release this fall. Hear a collection of compositions that are inspired by subjects ranging from the power of dreams, the birth of children and grandchildren, the natural world and Irish mystical poetry. The virtual concert from St. John's Anglican Church in Lunenburg is released on Musique Royale YouTube and Facebook Channels.
Blackwood draws upon the wide ranging performance experience of composer/organist/pianist Peter-Anthony Togni and bass clarinetist/composer Jeff Reilly. Based in Halifax on Canada's east coast, over the past two decades these musical soul searchers have toured the world with the trio Sanctuary, released concertos for bass clarinet and choir on the German label ECM, string orchestra concertos on Warner Classics and full length works for solo bass clarinet and vocal quartet on the Montreal based label ATMA Classique.
About the artists
Jeff Reilly – bass clarinet
"Reilly's performance is gripping: his use of extended techniques add moments of sudden rawness to a beautifully full tone that masterfully conveys the image of the lone prophet Jeremiah". The Classical Review, UK (re: ECM release of Lamentations of Jeremiah) "Jeff Reilly is an undisputed master of the Bass Clarinet who has gone to the end to explore its sonic universe." Halifax Chronicle Herald "The virtuoso clarinetist Jeff Reilly extends his cadenzas across the history of sound, from monotony to modernism, in a performance that is dominant and often hypnotic" Norman Lebrecht
Jeff Reilly leads a multifaceted life as a bass clarinetist, composer, conductor, a CBC radio music producer, and as a radio documentary maker. A recording artist for the prestigious German label ECM, he has performed with choirs, orchestras and chamber groups, in music festivals, cathedrals and concert halls around the world – with his trio Sanctuary he has performed in Shanghai, Paris, London, New York, St Petersburg, Moscow, Riga, Sochi, Toronto, Montreal and more.
The pure emotional accessibility of his rich, lyrical performance and compositional style reminds us that extended techniques, avant-guard sonorities and complex forms of notation can be executed within the service of musicality and sensitivity. Receiving 4 Juno nominations, an ECMA award as well as 4 ECMA nominations, his approach to music blurs any simple distinctions between improvisation and composition, and does so with a musicality and sensitivity that reminds us that such distinctions are moot. Jeff has commissioned many large-scale works that feature bass clarinet, including Eriks Esenvalds, Christos Hatzis, David Mott, Peter-Anthony Togni, and Barry Guy. Jeff Reilly lives in Halifax with his wife and twin daughters, and is the CBC senior producer of music production for the Atlantic Region.
Peter-Anthony Togni – piano
Peter-Anthony's music is spiritually rooted and contemplative, ranging from the ethereally quiet to the explosive outer limits of contemplation. One of Canada's busiest contemporary composers, Juno nominated Togni has toured internationally and his music is regularly broadcast worldwide. Togni's works have been released on XXI Records, CBC Records, Hänssler Classics, Warner Classics UK and ECM. He is also a well-known Canadian broadcaster. Recent recordings include Lamentatio Jeremiah Prophetae, (bass clarinettist Jeff Reilly and the Elmer Iseler Singers – 2010), Spatium (Togni Trio – 2012), Piano Alone (solo piano – 2013), Estuary (Santuary Trio – 2015, ECMA nomination 2016) and Sea Dreams (Luminous Voices – 2020). Responsio (premiered 2013) won the 2014 Lieutenant Governor of Nova Scotia Masterworks Arts Award, was released on ATMA classique (2015) and was nominated for a Juno Award (2016). Warrior Songs, for percussionist Jerry Granelli and choir, premiered in Boulder Colorado (2014), with its Canadian premiere in Toronto (2015). Peter-Anthony played at the 53rd Magadino International Organ Festival (Switzerland – 2015), co-founded by his father the late Victor Togni. Isis and Osiris, Gods of Egypt, a new Canadian opera, premiered during Opera in Concert's 2016 season. Sea Dreams, for choir and two flutes, premiered in Calgary in 2018, and Living Flame of Love premiered in Edmonton in 2019. Originally from Pembroke, Ontario, he currently resides in Dartmouth, Nova Scotia, where he composes and teaches at Acadia University, and is organist and choirmaster at St. Benedict Parish.