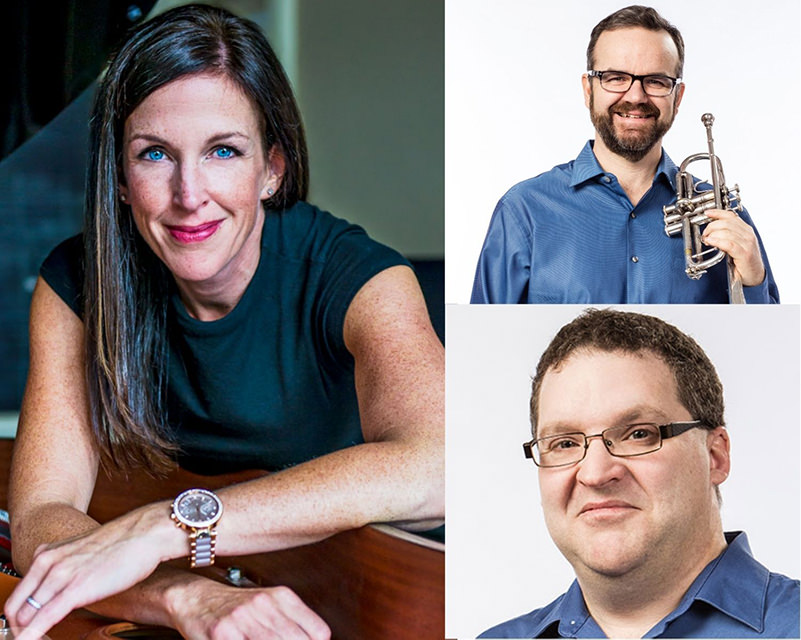 Saturday October 31 2020, 7:30 PM
Triton Trio
About
Musique Royale presents Triton Trio on Saturday Oct 31st at 7:30 pm, in a virtual concert from St John's Anglican Church in Lunenburg.
Programme
Antonio Vivaldi (1678-1741) – Concerto for Two Trumpets and Piano
Eugene Bozza (1905-1991) – Dialogues for Two Trumpets
Ann Southam (1937-2010, Canadian composer) – Glass Houses No.7 Solo Piano
John Williams (1932-) – With Malice Towards None for Trumpet and Piano
Jean Baptiste Arban (1825-1889) – Carnival of Venice for Two Trumpets and Piano
About the artists
Curtis Dietz – trumpet
A native of Hanover, Ontario, Curtis Dietz has been a member of Symphony Nova Scotia since 1996. He is a graduate of the University of Montreal and also studied at the University of Toronto and the Banff Center for the Arts. Curtis has performed and recorded with some of Canada's finest orchestras including the Montreal Symphony, the Canadian Opera Company and the National Arts Center Orchestra. He is a frequent collaborator with Grammy winning Composer Paul Halley and is a founding member of the Maritime Brass Quintet. Curtis currently resides in Hacketts Cove Nova Scotia with his wife, Gina Patterson, and three musically active children Peter, Kate and Greta.
Richard Simoneau – trumpet
Richard was born in 1970 in Quebec City, and began playing trumpet at age 13 in high school. He pursued his studies at the Quebec and then Montreal Conservatories, graduating in May 1994. That summer, he auditioned with the Montreal Symphony Orchestra and won a one-year contract to play third and Assistant Principal Trumpet. The next year he played Principal Trumpet with the Hamilton Philharmonic and the National Arts Center Orchestra in Ottawa, before moving to his current position of Principal Trumpet with Symphony Nova Scotia in September 1996.
Since moving to Halifax, Richard has been heard on many occasions as soloist with Symphony Nova Scotia. Many of those performances have been recorded and broadcasted nationally by the CBC. His other musical activities include performing brass concerts with the Maritime Brass quintet, which is a professional brass ensemble. Richard has been on faculties of such universities as Acadia University in Wolfville, Université de Moncton, and Dalhousie University in Halifax. He also acts as artist in residence at the Scotia Festival of Music held in Halifax. When Richard is not performing on the trumpet, he enjoys spending time outdoors, mostly hiking and camping. Richard is a Yamaha Artist and performs on Yamaha trumpets.
Tara Scott – piano
Tara Scott is one of Atlantic Canada's most renowned collaborative pianists. Her love of teaching and performing has led her to pursue staff accompanist positions at Western, Dalhousie, Acadia, and Mount Allison Universities. She has performed extensively with singers, instrumentalists and choirs across Canada. Tara is the principal Music Director and Pianist for Maritime Concert Opera, based in Lunenburg NS. With MCO, she has performed eighteen full-length operas and has conducted chamber orchestras for two productions. She co-founded, with Nina Scott-Stoddart, Halifax Summer Opera Workshop, an opera training program with fully staged productions, now in its sixteenth season. She has worked as Music Director for Eastern Front Theatre, Acadia's Singing Theatre and has performed with Opera Nova Scotia, Opera New Brunswick and Halifax Theatre for Young People. In 2019, Tara received a Merritt Award from Theatre Nova Scotia for outstanding music direction of KAMP the musical.
Tara maintains a busy private piano studio in Dartmouth NS and is on faculty at the Maritime Conservatory of Performing Arts. She has adjudicated extensively for music festivals throughout the Maritimes and has worked as piano examiner for Mount Allison and the Maritime Conservatory. She is also the accompanist for Dalhousie's Collegium Cantorum, directed by Gary Ewer. Tara received a Bachelor of Music Degree in piano performance from Mount Allison University, under the tutelage of Dr Janet Hammock. She studied with Dr John Hess at Western University, receiving a Master's degree of literature and performance in collaborative piano. Originally from Grand Bay-Westfield NB, Tara now resides in Dartmouth with her husband and three children.