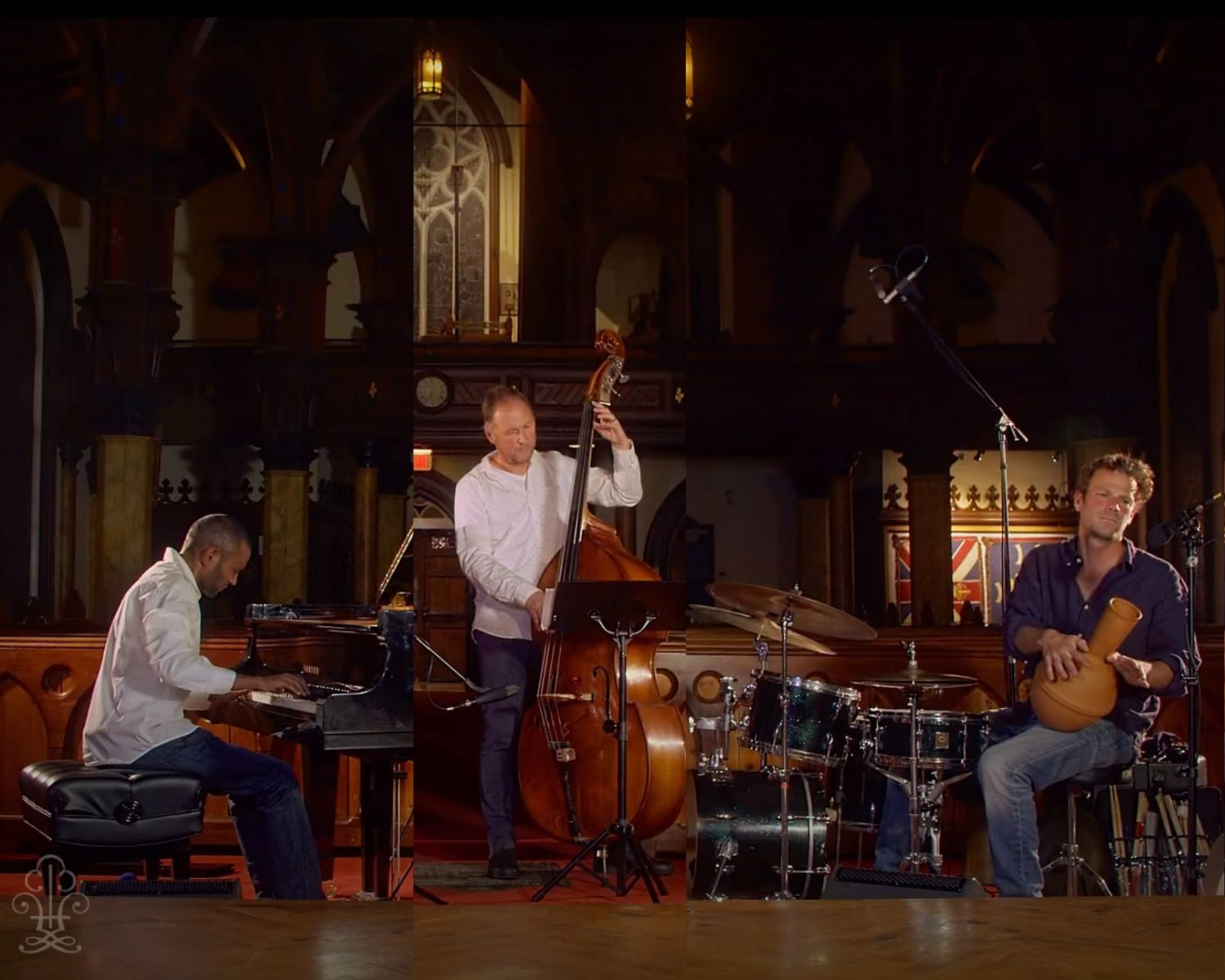 Wednesday December 2 2020, 12:00 PM
Dinuk Wijeratne Trio Canada
About
Hear pianist Dinuk Wijeratne in a virtual concert with jazz drummer/world percussionist Nick Halley, and double bassist Tom Easley. Sri Lankan-born Canadian Dinuk Wijeratne is a JUNO and multi-award-winning composer, conductor, and pianist who has been described by the Toronto Star as 'an artist who reflects a positive vision of our cultural future', and by the New York Times as 'exuberantly creative'. His boundary-crossing work sees him equally at home in collaborations with symphony orchestras and string quartets, tabla players and DJs, and takes him to international venues as poles apart as the Berlin Philharmonie and the North Sea Jazz Festival. The concert is presented in partnership by Musique Royale and the Wednesday's at Noon series, recorded at St John's Anglican Church and released via Musique Royale Facebook and YouTube channels on Wednesday December 2 at 12:00 pm.
More about Dinuk Wijeratne
Dinuk was featured as a main character in 'What would Beethoven do?' – the documentary about innovation in Classical music featuring Eric Whitacre, Bobby McFerrin and Ben Zander. Dinuk made his Carnegie Hall debut in 2004 as a composer, conductor, and pianist, performing with Yo Yo Ma and the Silk Road Ensemble. A second Carnegie appearance followed in 2009, alongside tabla legend Zakir Hussain. Dinuk has also appeared at the Kennedy Center (Washington DC), Opera Bastille (Paris), Lincoln Center (New York), Teatro Colón (Buenos Aires), Sri Lanka, Japan, and across the Middle East.
Dinuk grew up in Dubai before taking up composition studies at the Royal Northern College of Music (RNCM), Manchester, UK. In 2001, he was invited by Oscar-winning composer John Corigliano to join his studio at New York's Juilliard School. Conducting studies followed at New York's Mannes College of Music under David Hayes, and doctoral studies at the University of Toronto under Christos Hatzis.
Dinuk has composed specially for almost all of the artists and ensembles with whom he has shared the stage; to name a few: Suzie LeBlanc, Sandeep Das, Kinan Azmeh, James Ehnes, Andrew Armstrong, Bev Johnston, Tim Garland, John Dankworth, Nikki Iles, Julian Argüelles, Victor Mendoza, Buck 65, Skratch Bastid, Joseph Petric, Nick Halley, Ed Thigpen, Pandit Ramesh Misra, Adrian Spillett, David Jalbert, Kevork Mourad, Mayookh Bhaumik, Yolande Bavan, Christina Courtin, MIR, the Afiara & Cecelia String Quartets, the Apollo Saxophone Quartet, TorQ & 4-Mality Percussion Quartets, McGill Percussion Ensemble, the New Juilliard Ensemble, Onelight Theatre, Symphony Nova Scotia, and the orchestras of Toronto, Vancouver, Calgary, Edmonton, Buffalo, Illinois, Fresno, Windsor, and KwaZulu Natal (South Africa).
Dinuk is also a creativity consultant, and works with private clients as well as the Rebanks Fellows of Toronto's Glenn Gould School. A passionate educator, Dinuk is a founding faculty member at the Lunenburg Academy of Music Performance (LAMP), and enjoyed a 13-year tenure as Music Director of the Nova Scotia Youth Orchestra. He is the recipient of the Canada Council Jean-Marie Beaudet award for orchestral conducting; the NS Established Artist Award; NS Masterworks nominations for his Tabla Concerto and piano trio Love Triangle; double Merritt Award nominations; Juilliard, Mannes & Countess of Munster scholarships; the Sema Jazz Improvisation Prize; the Soroptimist International Award for Composer-Conductors; and the Sir John Manduell Prize – the RNCM's highest student honor. His music and collaborative work embrace the great diversity of his international background and influences.
Nick Halley, percussion
As a jazz drummer and world percussionist, Nick performs and records internationally with a wide range of musicians, including the world-renowned James Taylor, Oscar Castro-Neves, Maucha Adnet, David McGuinness, Revenge of the Folk Singers, Concerto Caledonia, Jefferson Hamer, the Chris Norman Ensemble, various Paul Halley ensembles, Suzie LeBlanc, Theresa Thomason, Trio Diomira with Dinuk Wijeratne and Joseph Petric, and occasionally the Nick Halley Band. The recording Barnum Hill features Nick and his ensemble playing some of his original compositions.
Nick is the Assistant Director of the University of King's College Chapel Choir. He is the founder and Director of The King's Chorus, a choral society for students, faculty, staff, and other members of the King's and Dalhousie University communities. He is the founder and Artistic Director of Capella Regalis Men and Boys Choir, which sings Tuesday Evensong in the King's College Chapel. Nick is also Cantor and Director for the King's College Chapel male Compline choir. Nick was for one year (2013-14) the Host of CBC's Choral Concert, a national, weekly radio show exploring all facets of choral music. In 2012, Nick was awarded the Queen Elizabeth II Diamond Jubilee Medal in recognition of his contribution to Canada and Nova Scotia through the arts.
Tom Easley, double bass
Bassist, composer, and educator Tom Easley has earned a reputation as one of Eastern Canada's finest jazz bassists. Two-time East Coast Music Award Winner, Maple Blues Winner and multiple award nominee, Tom co-lead the music group Hot Toddy for a decade; co-producing seven CDs and performing at major jazz and blues festivals all across Canada, Europe and the United States. Tom is also a member of the award winning group Nine Steps featuring Bill Stevenson and Geoff Arsenault.
Over the past 25 years Tom has performed with a number of internationally recognized artists including Mike Murley, Juan Martin, Ed Thigpen, Jeff Hamilton, John Abercrombie, Hal Galper, Mike Stern, Peter Erskine, Adam Rogers, Lage Lund, Tierney Sutton, David Liebman, Phil Dwyer, Lorne Lofsky, Matt Wilson, Cyril Aimee, Andy Laverne, Chad Wackerman, Randy Brecker and Los Lobos.