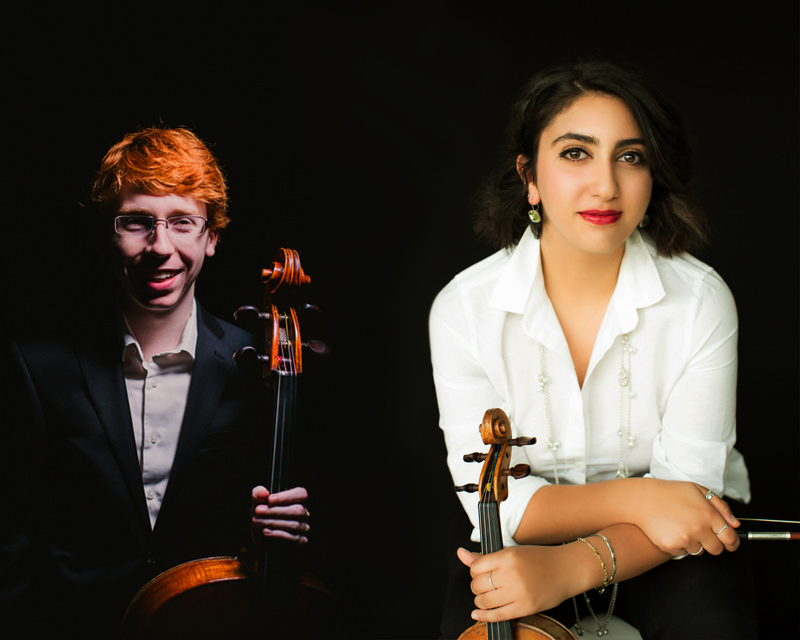 Friday February 26 2021, 7:30 PM
Music for Two
About
Recognized for their "technical virtuosity" (Culture Spot LA) and "personal style that leaves us wanting to hear more" (Classica Magazine), Eva Aronian, violin, and Cameron Crozman, cello team up as a powerhouse duo. Their virtual concert "Music for Two" explores the unexpectedly beautiful world of 2-part counterpoint.
From the ancient sounds of medieval songs and the genius of Bach to the modern era when instruments pushed to their extremes, the program gives a taste of how counterpoint can be so much more than just a word from a dusty old textbook. The duo is on a virtual tour across Atlantic Canada and their concert is featured by Musique Royale on Friday, February 26 at 7:30 pm.
As one of Canada's most prestigious classical music organizations, Debut Atlantic is committed to developing young artists and establishing new initiatives that enhance the cultural life of Atlantic Canada. Since 1979 it has treated Atlantic audiences to Canada's most promising young musicians. Celebrating 41 years, Debut Atlantic has featured over 400 artists, gracing the stages of venues from Happy Valley-Goose Bay, Newfoundland and Labrador to Yarmouth, Nova Scotia.
Eva Aronian, violin
Canadian-Armenian violinist Eva Aronian has received many prestigious accolades, most recently the 2020/21 Sylva Gelber Music Foundation Award, the 2020/21 Canadian Centennial Scholarship Award, the 2019/2020 Alberta Foundation for the Arts Award, and top prizes at the Brookline Symphony Orchestra Competition, Minnesota Orchestra Young Artists Competition, and the OSM Manulife Competition, among others. Praised as an artist "balancing emotional weight and technical virtuosity […]" by ​Culture Spot LA​, she has graced audiences with solo and chamber music performances across the world. Her diverse range of repertoire in both traditional and contemporary canons has been featured at chamber music festivals such as the Philadelphia Chamber Music Society, ChamberFest Cleveland, Ottawa Chamberfest, Dilijan Chamber Music Series, and Yellow Barn, as well as on BBC Radio 3. She has collaborated with world-renowned artists and ensembles such as Kim Kashkashian, Laurence Lesser, Robert McDonald, Anthony Marwood, Hsin-Yun Huang, the Saint Paul Chamber Orchestra, and the Australian Chamber Orchestra, among others.
Ms. Aronian earned her undergraduate and master's degrees from the New England Conservatory under the tutelage of Donald Weilerstein, for whom she also served as teaching assistant from 2017-2018. Additionally, she was an intern for ​Music for Food​, a musician-led initiative founded by Kim Kashkashian to fight hunger in local communities. She is currently an Artist Diploma candidate studying with David Takeno at the Guildhall School of Music and Drama in London, UK. She plays the c.1700 "Bell" Giovanni Tononi violin, on generous loan from the Canada Council for the Arts Instrument Bank.
Cameron Crozman, cello
A cellist "with a rich imagination and a keen mind" (Diapason), Cameron Crozman is recognized as one of Canada's rising stars. Named Radio-Canada's 2019-20 Classical Revelation artist, he performs across North America and Europe, appearing as a soloist with major Canadian orchestras and sharing the stage with imminent musicians such as James Ehnes, Augustin Hadelich, André Laplante, and James Campbell.
After studies with Paul Pulford in Canada, Cameron attended the Paris Conservatory in the class of Michel Strauss, where he received his "Prix de Violoncelle" with highest honours. He was also a laureate of Gautier Capuçon's 2016-17 Classe d'Excellence at the Louis Vuitton Foundation. His debut recording for ATMA Classique, Cavatine, recorded on the ca. 1696 "Bonjour" Stradivarius cello, was released to critical acclaim in 2019.
Cameron is extremely grateful to the Canada Council for the Arts and the Sylva Gelber Foundation for their support of his projects. He currently plays the Spanish cello "El Tiburon" attributed to Joannes Guillami ca. 1769 generously on loan from the Canada Council for the Arts Instrument Bank.
When he isn't touring, Cameron makes his home in Montreal, where he loves exploring the city's many eclectic neighbourhoods, even in the freezing cold winter!