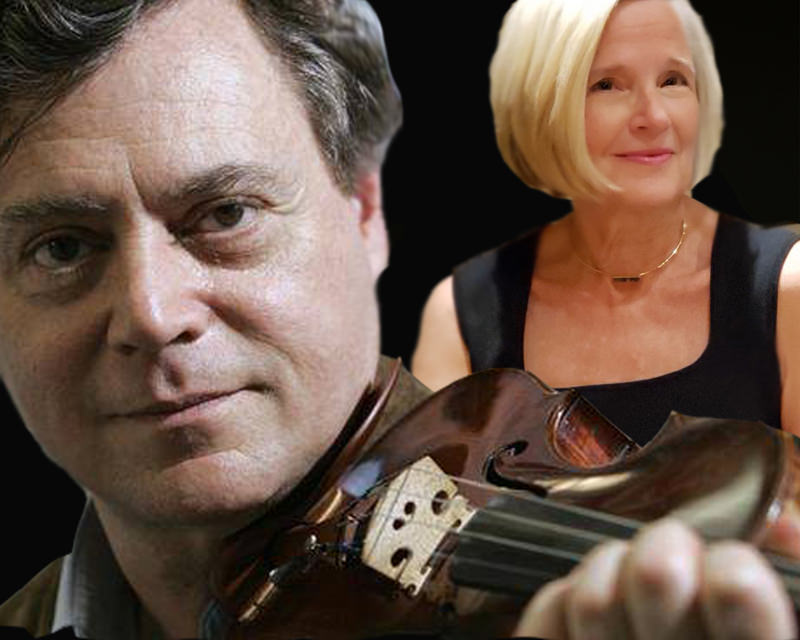 Saturday March 13 2021, 7:30 PM
Philippe Djokic & Lynn Stodola
About
Musique Royale is delighted to welcome violinist Philippe Djokic and pianist Lynn Stodola to perform a virtual concert featuring music by Vitali, Grieg, Dvorak, and Beethoven. The concert is prerecorded at St John's Anglican Church in Lunenburg and released via Musique Royale Facebook and YouTube channels on Saturday March 13th at 7:30 pm.
Program
Chaconne - T. Vitali (1663 - 1745)
Sonata No. 3 Op. 45 - E. Grieg (1843 - 1907)
II. Allegretto espressivo alla Romanza
Four Romantic Pieces Op. 75 - A. Dvorak (1841 - 1904)
I. Allegro moderato
II. Allegro maestoso
III. Allegro appassionato
IV. Larghetto
Sonata No. 9 Op. 47 "Kreutzer" - L. Van Beethoven (1770 - 1827)
III. Presto
Philippe Djokic, violin
Violinist Philippe Djokic has had a long and distinguished career as a soloist, chamber music player, orchestral concertmaster and pedagogue. Many of his former students from his private studio and Dalhousie University are currently pursuing successful careers in performance and teaching both in Canada and abroad. He has won prestigious prizes and awards in major international competitions including the Paganini (Genoa), Thibauld (Paris) and Huml (Zagreb) competitions. His 1994 recording of the Delius violin concerto with Symphony Nova Scotia and Georg Tintner on the CBC and Naxos labels has garnered praise from international journals and critics. He is also often heard in performance with his wife, pianist Lynn Stodola, who is well known to Halifax audiences.
Lynn Stodola, piano
Pianist Lynn Stodola is an active soloist, chamber musician and collaborative pianist, having performed throughout Canada, the United States and Europe. Her performances have received critical acclaim from the New York Times: "excellent pianist - first class performance, intense and technically commanding" and the Chicago Sun Times: "stunning debut…Ms Stodola showed herself possessed of intelligence, bravura and beauty of spirit". She has appeared regularly in many international music festivals, including Juneau Jazz and Classics (Alaska), Music and Beyond (Ottawa), as a guest artist in the Ateneum Series (Venice, Italy), Scotia Festival Music Room Chamber Music Society and the Cecilia Concert Series. Her work as collaborative pianist has assisted in the careers of many performing artists and her guidance as teacher and mentor has helped many young artists achieve successful musical careers in the U.S., Canada and abroad.
In 2009 she was recipient of the first Hugheen Ferguson Distinguished Teacher Award presented by the Canadian Federation of Music Teachers' Association, and in 2018 was named NSRMTA Teacher of the Year. In 2019 Ms. Stodola was awarded Teacher of Distinction by the Royal Conservatory of Music. Recently retired after a distinguished career as Professor of Piano at the Fountain School of Performing Arts, Ms. Stodola now devotes her time to teaching young gifted pianists, many of whom have won numerous awards locally and nationally at the Kiwanis Music Festival, the Canadian Music Competition and the CFMTA National Final Competitions.
Ms. Stodola holds degrees from the American Conservatory of Music (B.Mus.) and the Juilliard School (M.Mus, post graduate Professional Studies).