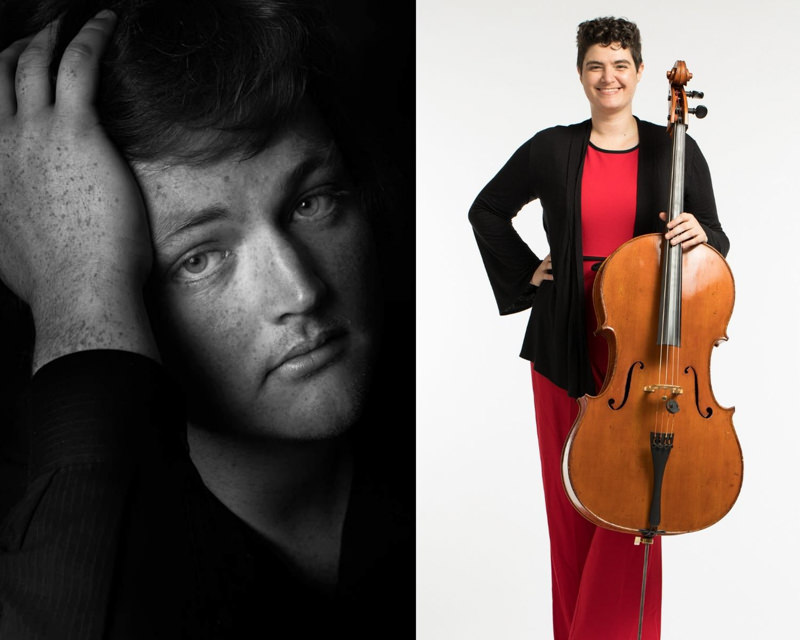 Wednesday March 24 2021, 7:30 PM
Rachel Desoer and Ian Tomaz
St. David's Presbyterian Church
Wednesday 24 March – 7:30 PM

$20. Tickets must be purchased online in advance or reserved by Tuesday, March 23rd to ensure the space can map out seating for safe, social distancing. To reserve seats, please email janellelucyk@gmail.com.
About
Musique Royale invites you to hear pianist Ian Tomaz and cellist Rachel Desoer in concert at St. David's Presbyterian Church in Halifax on Wednesday March 24th at 7:30 pm. Ian will first perform 7 Fantasien by Brahms and then will be joined by Rachel, to perform the Cello Sonata by Frank Bridge.
The first work, 7 Fantasien (Seven Fantasies) by Brahms, is a set of seven miniatures which are known for their reflective nature in comparison to earlier piano works by the composer, with Brahms gradually receding into himself. The miniatures touch on moments of both introspection, even desolation, as well as lyricism and warmth. The second work, Frank Bridge's Cello Sonata, was completed at the height of the First World War. The world collectively faced uncertainty, terror and the threat of annihilation, and Bridge's music certainly contains a feeling of suffering and crying out for relief from overwhelming turmoil. Ultimately, however, the piece has an underlying sense of hope, with some of the greatest moments of the piece being intimate, still sections of calm between storms, revealing a fragility and sensitivity which persists even in the most tumultuous of times.
For protocol on this live event, please refer to the Musique Royale Covid-19 Prevention Plan, available at musiqueroyale.com/events. Ian Tomaz is currently a student at the Lunenburg Academy of Music and Performance (lampns.ca), and Musique Royale is delighted to feature him at St. David's Church. The promotional image of Ian was taken by Manuel Schnell.
Program
Brahms 7 Fantasien, Op. 116
Capriccio in D minor. Presto energico
Intermezzo in A minor. Andante
Capriccio in G minor. Allegro passionato
Intermezzo in E major. Adagio
Intermezzo in E minor. Andante con grazia
Intermezzo in E major. Andantino teneramente
Capriccio in D minor. Allegro agitato
Frank Bridge Cello Sonata
Allegro Ben Moderato
Adagio - Molto Allegro e Agitato
About the Artists
Ian Tomaz, piano
Ian Tomaz has performed as a soloist and collaborative pianist throughout the US, Canada and Europe. He completed his Bachelors in Performance with Distinction at the University of Wisconsin, where he was the recipient of the Adele Stoppenbach, Jack Kimbrell and Alumni Association scholarships. He also participated in many summer festivals and masterclasses including Orford Music Festival, Virtuoso & Belcanto and the Amalfi Coast Music Festival. Recently, he participated in the Beethoven 250th Anniversary Series at the Lunenburg Academy of Music Performance, performing solo recitals and collaborative programs with Jane Archibald, Rachel Doeser and others. His primary teachers include Walter Delahunt, Martha Fischer and Judit Jaimes. This Fall, he will begin graduate work at the Ecole Normale de Musique De Paris in France.
Rachel Desoer, cello
Rachel Desoer is a Canadian cellist. She studied at the Juilliard School, Oberlin College, McGill University and the Banff Centre. She graduated from Oberlin in 2008 with a Bachelor of Music degree. Rachel was the cellist of the Cecilia String Quartet from 2010 to 2018. In this ensemble Rachel toured extensively around the world, recorded 4 albums on the Analekta label and taught chamber music at the University of Toronto.
Touring has allowed Rachel to perform at such inspiring venues as Wigmore Hall, The Concertgebouw (Amsterdam), Konzert Haus Berlin and many more. The Cecilia Quartet also made educational programming a priority and performed hundreds of presentations for schools. In 2014, the quartet created a concert series called Xenia concerts specifically designed for children on the autism spectrum and their families. Exemplifying their commitment to the equal representation of women in music, Rachel spearheaded the commissioning of 4 string quartets by Canadian women composers in 2016.
Rachel continues to play recitals and concertos with orchestra regularly. She has worked in orchestras, most notably, the National Arts Centre Orchestra and the Canadian Opera Company. Currently, Rachel is the principal cellist of Symphony Nova Scotia. Rachel plays the 1929 Carlo Guiseppe Oddone cello generously on loan to her from an anonymous donor.