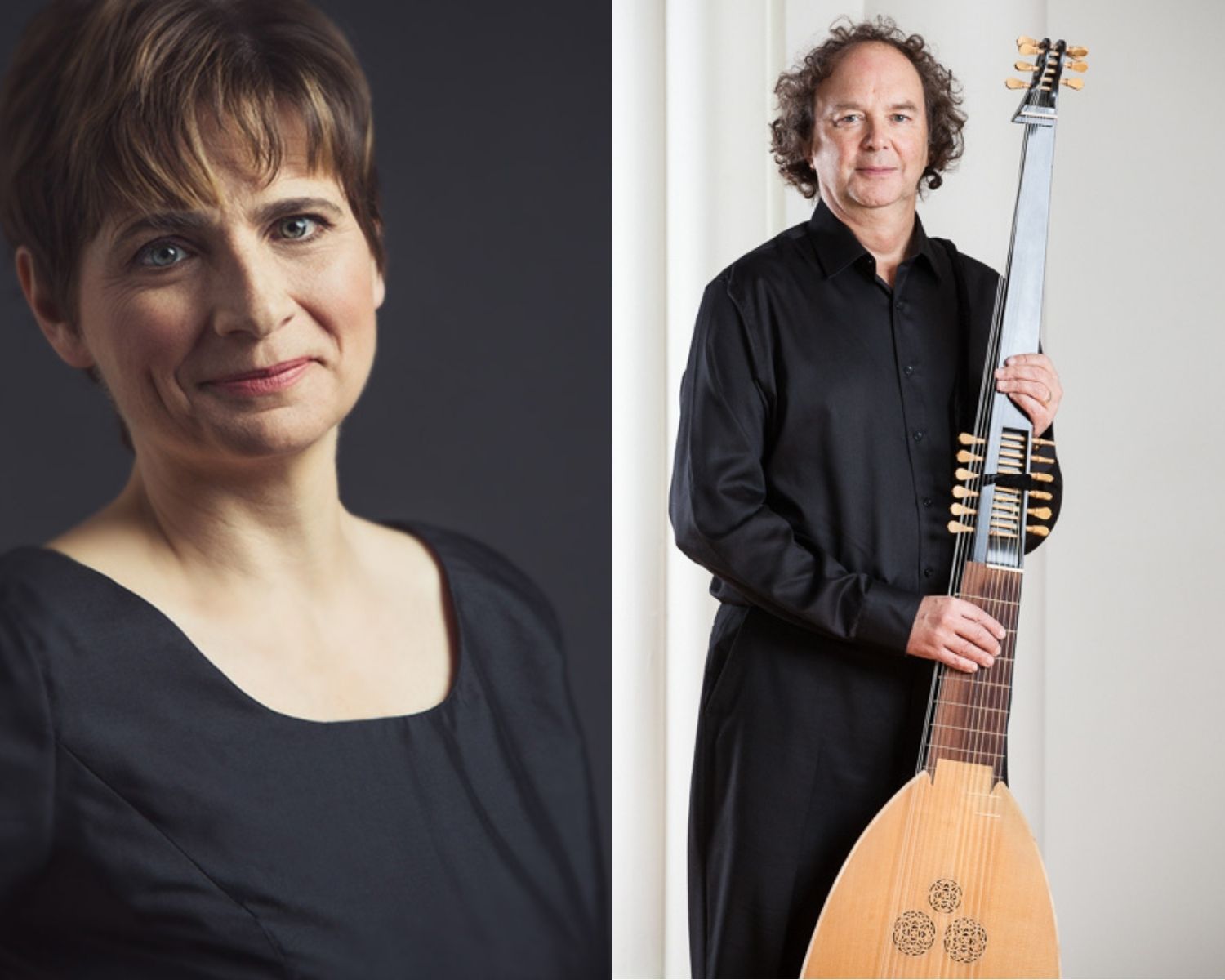 Friday July 23 2021, 7:00 PM
Sibylle Marquardt & Michel Cardin
St Stephen's Church
Friday 23 July – 7:00 PM

$20. Seats must be purchased in advance or reserved by July 22 to ensure the space can be mapped out for safe, social distancing.
About
Musique Royale is delighted to welcome two of Atlantic Canada's finest specialists in baroque music, lutenist Michel Cardin, and traverso player Sibylle Marquardt, to perform in Chester as part of our 36th Summer Festival activities. The duo will perform a program of French, German and Scottish baroque music for traverso and theorbo with works by JS and CPE Bach and more! On Friday July 23rd at 7 pm join us to hear the duo live at the charming and historic St Stephen's Church in Chester.
Program
Sonata BWV 1033 - Johann Sebastian Bach (1685-1750)
Andante-presto
Allegro
Adagio
Menuett I & II
Sonata H550/Wq123 - Carl Philipp Emanuel Bach (1714-1788)
Andante
Allegro
Tempo di minuetto
Suite in D (1682) - Robert de Visée (1650-1725)
Allemande
Courante
Sarabande 1
Gavotte
Sarabande 2
Gigue
Suite in G (1682) - Robert de Visée
Allemande
Courante
Gavotte
Sarabande
3 pieces in g minor (1682) - Robert de Visée
Tombeau de Mr.francisque Corbet
Courante
Sarabande en Rondeau
Neil Gow - Neil Gow's Lament (1727-1807)
William McGibbon - Willie was a wanton wag (1690-1756)
About the artists
Sibylle Marquardt, traverso
A native of Germany, Sibylle Marquardt moved to Canada in 1997. In August 2018 she moved to Halifax, and in October 2020 became the Dean of Music at the Maritime Conservatory. An active chamber and orchestral player in Canada and Europe, she is also recognized for her teaching. After extensive studies in Germany, she became a Faculty member of the Maritime Conservatory in 2017, was a faculty member of the Royal Conservatory of Music Toronto from 1998-2019, got her certifications as Suzuki teacher, has joined the College of Examiners and has become a sought after adjudicator at music festivals and competitions. As well she was a visiting artist at the Etobicoke School for the Arts for 11 years, one of the designated art schools of the Toronto District School Board.
Her orchestral career began at the early age of 23, when she was regularly hired as second flute and piccolo with the Radio Symphony Orchestra Munich under Sir Colin Davis, touring to Italy and Japan. She went on to join the orchestral program of the Deutsche Oper Berlin and held a solo flute-solo piccolo position at the Freiburg Philharmonic Orchestra under Sir Donald Runnicles. She was a substitute player with numerous orchestras in Germany, Switzerland and Canada.
Sibylle is a member of Trio Argento with cellist Paul Pulford and pianist Todd Yaniw which is performing all over Canada and has recorded the CD "Piano Centric" with members of the Canadian Brass. She is also the founding member of the Argento Collective. With Duo Resonance (with guitarist Wilma van Berkel) she recorded the CD "From The New Village", featuring 20th century music.
In 1994, Sibylle started playing the Baroque flute and in 2020 founded Baroque Argento Collective Halifax (BACH) with Hilary Brown and Lynette Wahlstrom. She has performed with the Camerata Basel, Nota Bene Baroque Players/Kitchener and Toronto Masque Theatre.
Sibylle's flute education is based on the French School and Marcel Moyse. Her main teachers include Hermann Klemeyer and Jean-Claude Gérard and she had lessons with Trevor Wye, Geoffrey Gilbert, Wolfgang Schulz, Philippe Boucly, Eric Kirchhoff and Aurèle Nicolet.
Her students are consistent award-winners at the provincial level of Kiwanis Ontario and other festivals and many of her students were accepted into various music programs such as the University of Toronto, McGill University, University of Ottawa as well as the University of Western Ontario.
Michel Cardin, theorbo
Born in Montreal in 1953 and living in New-Brunswick since 1980, Michel Cardin has gained international recognition as a teacher, a performer, a musicologist and a producer. He is full professor of guitar and lute at the Department of Music of the University of Moncton (Canada), with a PhD equivalence status and teaches also to professional performers who visit him from various countries to have lessons on baroque interpretation. He has made, among others, 13 compact discs of solo Baroque lute music and duos with flute. These recordings, consisting for the most part of world premieres, are dedicated to Silvius Leopold Weiss and have been reissued in 2015 by Brilliant Classics as The Complete London Manuscript. Michel Cardin has given concerts, conferences and masterclasses in both Americas, Europe, Japan and Africa. He started in 2009 the La Tour Baroque Duo with Tim Blackmore on recorder and harpsichord. The Duo has played regularly throughout Canada, in Europe and the USA, and has made 5 CDs.
He obtained in 1977 a 'First prize' top diploma from the Montreal Conservatory in guitar performance, harmony, counterpoint and solfege. His list of teachers is impressive, with Stephen Fentok, Alexandre Lagoya, Alirio Diaz, Alberto Ponce, John Mills, Oscar Ghiglia for guitar and Toyohiko Satoh, Patrick O'Brien, Nigel North, Robert Barto, Jakob Lindberg, William Christie (at the Paris Conservatory) for instruction in lute and continuo on theorbo. He was a soloist with Symphony Nova Scotia and as a theorbist he performed under William Christie, Andrew Parrott, Christian Mendoze, Veronika Manova in addition to the Louisbourg Choir and the Damian, Musica Divina, Les Idées Heureuses and Réjouissance ensembles. He also founded the Ensemble Baroque Montéclair in 1990. M.Cardin is a regular guest theorbist at the Olmütz (Czech Republic) and Naxos (Greece) festivals.
M.Cardin was awarded Quebec's Music Council's OPUS award 1998 for Best Classical Album of the Year, the Geocities Vienna 2000 Award for Outstanding Artistic Merit for the New Millennium, the Éloize 2001 and Éloize 2010 Awards for Best International Exposure outside Atlantic Canada, two Étoiles Awards (Classical Artist and Album of the Year), and has received the Excellence in Music Award from the Government of New-Brunswick in 2000. His CDs were 5th place in the Music Lovers Top 20 (US website, members' voting system) and are among the most regularly played by the Canadian FM radio stations, Galaxy & Stingray Music, Spotify, iTunes, YouTube (over a million viewers), etc.
Michel Cardin finds time for contemporary music in his busy schedule, having premiered new pieces dedicated to him, for the lute and for the guitar (Richard Gibson, Michael Miller, Alain Weber, Sylvaine Martin), and one of which was on the 1986 ACCA double album (Atlantic Canadian Composers' Association). In 1991 he played the guitar part in Le Marteau sans Maître under the direction of Pierre Boulez at the Scotia Festival. A composer himself, Michel has even written various works for films, radio, etc.
He is also a recording producer/manager for Canadian artists and has published regular musicological articles (in 6 different languages so far) in European, American and Asian periodicals. In addition, he published an urtext score of the Christmas Oratorio by Marc-Antoine Charpentier, and solos/duos by Weiss with his own reconstructions. A Silver Medalist of the Royal Society of the Arts, he is a regular jury member for the Canada and New-Brunswick Councils, the Quebec Council's Opus Prizes Gala, the Quebec Funds for Research and Culture and he was invited in Phd juries at Toronto and Laval universities, being also appointed Visiting prof at Laval in 2019.