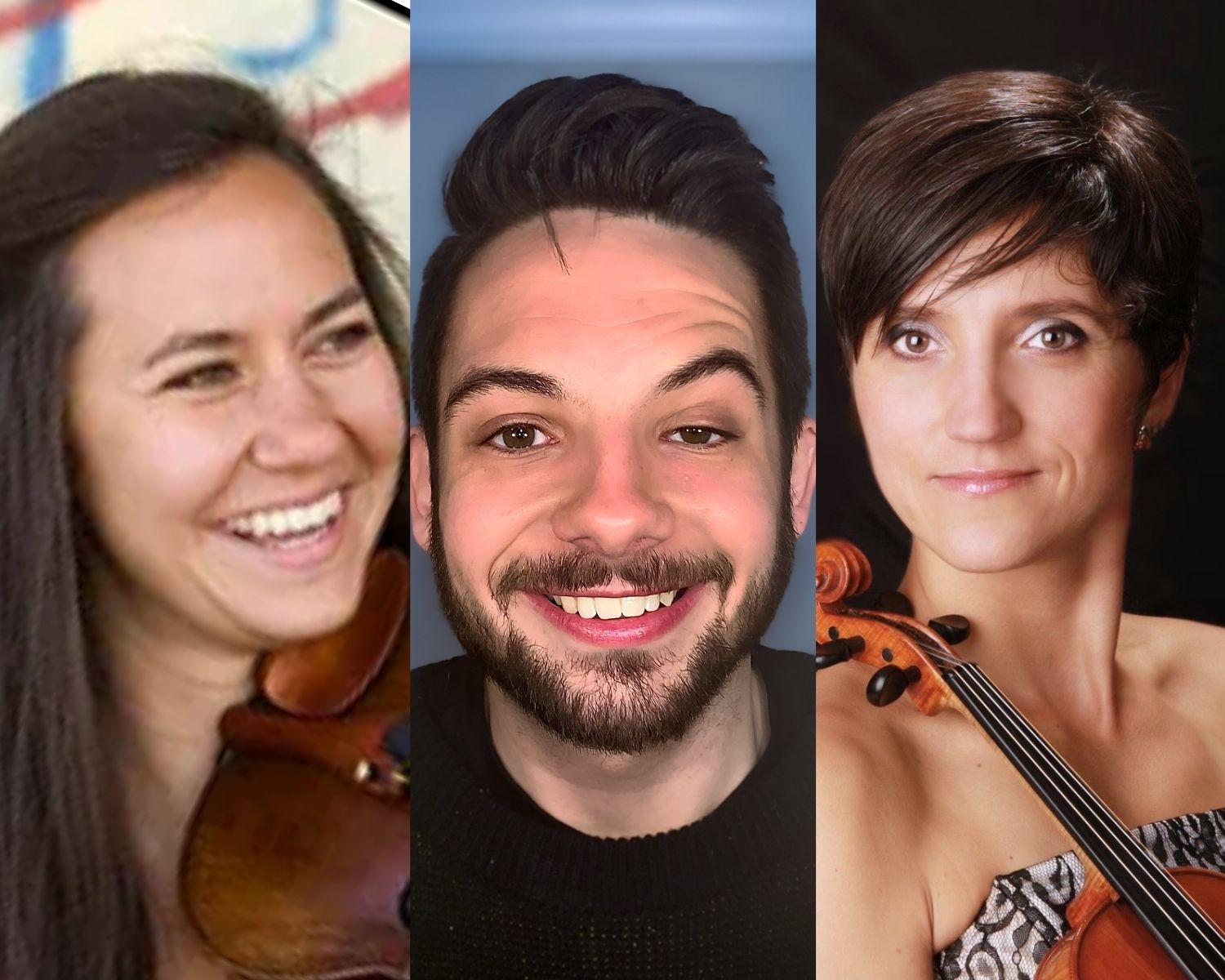 July 29 - 30, 2021
Gulliver's Travels and beyond
St. George's Anglican Church
Thursday 29 July – 7:00 PM

$20. Seats must be purchased or reserved by July 28th to ensure the space is mapped out for safe, social distancing
St. George and St. Andrew United Church
Friday 30 July – 7:00 PM

$20. Seats must be purchased or reserved by July 29th to ensure the space is mapped out for safe, social distancing
About
Musique Royale is delighted to feature two fantastic violinists, Danielle Sametz and Timi Levy, in a concert moderated by Jamie Whitley featuring solo and duo music for violin! Hear Biber's divine Passacaglia for solo violin along with duets by Stamitz, Gossec and Leclair, and finally Telemann's Gulliver's Travels, inspired by the novel and written as part of a recurring periodical filled with entertaining and instructive chamber music for use at home. Seating will be limited so make sure to get your ticket's in advance!
Program
G. Telemann: Canonic Sonatas for Two Violins
-Sonata No. 2
-Sonata No. 6
G. Telemann: Intrada-Suite for Two Violins, 'Gulliver's Travels'
J.S. Bach: Sonata for Solo Violin in g minor, Adagio
H. von Biber :Passacaglia for Solo Violin
C. Stamitz: Duo Sonata Op. 27 no 1
-I. Allegro
-II. Romance
-III. Un poco presto
J-M. Leclair: Duo Sonata Op. 12 no.2
-I. Allegro ma poco
-II. Largo
-III. Menuetto non tropo Allegro
-IV Allegro
F-J. Gossec: Gavotte in D
About the artists
Danielle Sametz, violin
Danielle Sametz grew up in Regina, Saskatchewan where she began her musical studies on both violin and piano. During her time in Regina Danielle was a member of the Regina Symphony Orchestra and also completed her Associate of the Royal Conservatory of Toronto certification studying with Dr.Jamie Syer. She successfully completed her Bachelor of Music from Brandon University (BU) in 2009, studying with Kerry DuWors and Mark Rudoff. Danielle was a member of the string quartet-in-residence at the Centre for Opera in Sulmona, Italy, has collaborated with Winnipeg rock band 'From the Moon' on their album The Cyclist, was a Saskatchewan representative at the National Arts Program of Canada during the 2009 Summer Games and travelled to Palestine and Israel for a concert series and tour with faculty of the Edward Said National Conservatory of Music. After finishing her Masters degree at the Aaron Copland school in New York City she spent 18 months in South Africa playing with the KwaZulu-Natal Philharmonic Orchestra. Danielle is currently second violinist with the Saint John String Quartet and Symphony New Brunswick.
Timi Levy, violin
Timi is a professional violinist originally from Budapest, Hungary. Prior to coming to Canada to participate in master classes at the Banff Centre of the Arts, Timi performed throughout Hungary, Germany, Netherlands, Spain and Switzerland. Timi had lived in Calgary where she performed with the Calgary Philharmonic Orchestra, National Ballet, Alberta Ballet, Sarah Brightman and the Tea Party. While in Calgary Timi also taught violin privately and at the Mount Royal University. Timi is a qualified artist, chamber musician, violin and fiddle instructor. Currently she teaches and performs violin and fiddle in her home town of Parrsboro and various locations throughout Nova Scotia and New Brunswick. Timi has been performing regularly with Symphony New Brunswick, PEI Symphony and Nova Sinfonia, Halifax as concertmaster. Timi is one of the founding members of Classics by the Bay music festival in Parrsboro which originated in 2008 and continues to perform at the annual event.
Jamie Whitley, narration
James Whitley has a theatre and choral music background, growing up in Toronto and performing as a teenager in choral and theatre festivals across the city. He came to Nova Scotia in 2014 to study philosophy at the University of King's college, where he met music director Paul Halley and began singing regularly with the King's College Chapel Choir, the choir of All Saints Cathedral, and Capella Regalis Men and Boys Choir. In 2018, he began studying classical voice with Marcia Swanston, and later Dr. Christina Haldane, at the Fountain School of Performing Arts. In 2019 and 2020, he sang leading roles in the Fountain School's productions of Emmanuel Chabrier's L'etoile and Henry Purcell's Dido and Aeneas, and was also a featured soloist with the King's Chorus in their concerts Music For Saint Cecilia (2018) and Ikos.