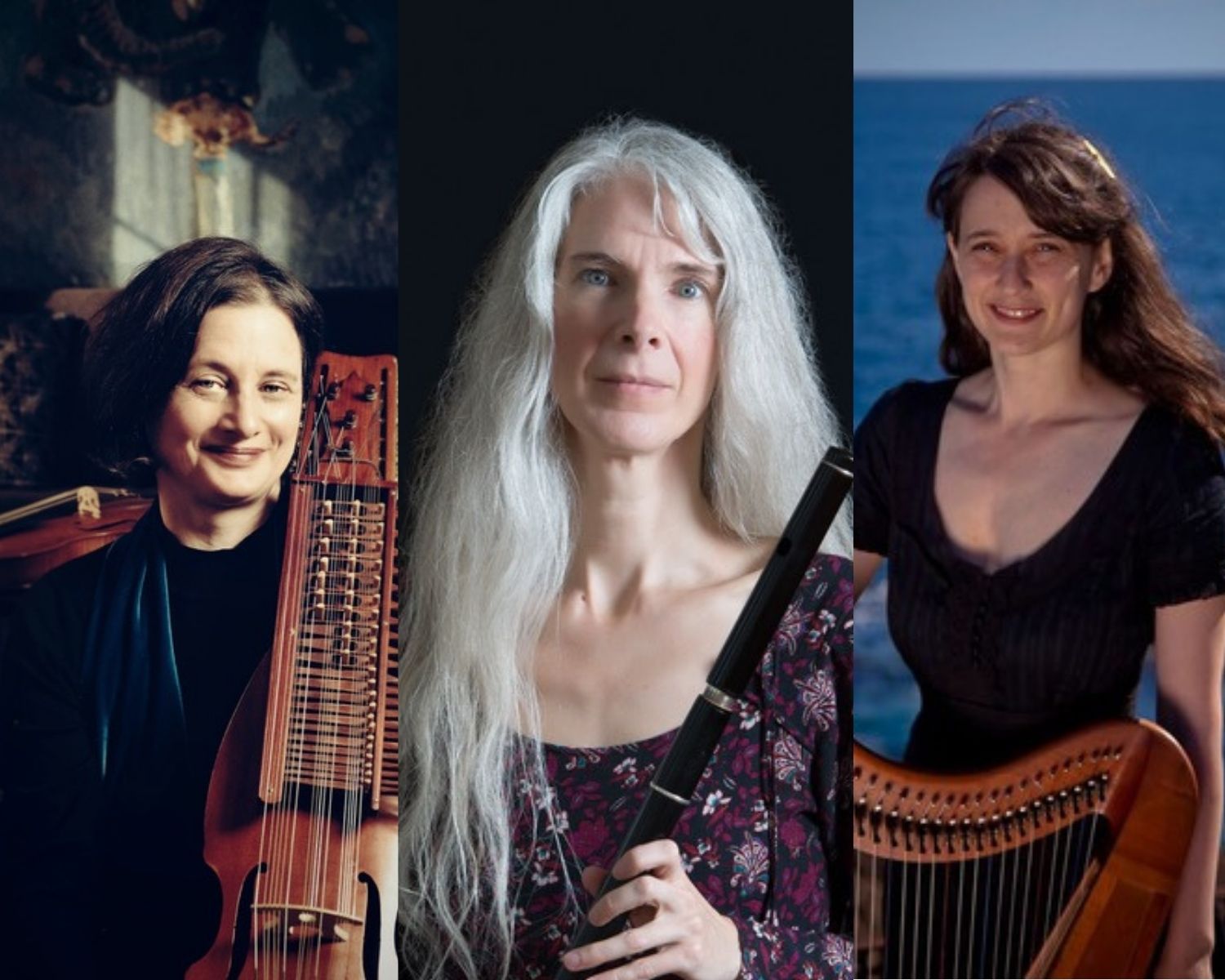 July 31 - August 1, 2021
Harpaflöjt
Dawn Oman Art Gallery
Saturday 31 July – 7:00 PM

$20. Seats must be purchased or reserved by July 30th to ensure the space is mapped out for safe, social distancing. Phone reservations: 902 588 2002
St. Barnabas Anglican Church
Sunday 1 August – 4:00 PM

$20. Seats must be purchased or reserved by July 31st to ensure the space is mapped out for safe, social distancing
About
Musique Royale is delighted to feature "Harpaflöjt", a trio specializing in Nordic music with flutist Jennifer Publicover, harpist Ellen Gibling, and Kirsty Money playing nyckelharpa and fiddle. The trio has woven together a program of Scandinavian origin, with a focus on traditional and baroque music from Sweden, Denmark and Norway, as well as their own compositions. The 3/4 time Polska beat will take centre stage, luring the listener into the trancelike groove that is so addictive in this music, and an integral part of this tradition.
Audiences will experience an immense depth of sound with this unique instrumental combination, as well as the stories behind the music, typical of a Scandinavian musical gathering. Dancing under the Northern Lights may result after listening to the Polskas from the many different regions of Scandinavia! Harpaflöjt, which is a word that references both strings and flute, is a trio of Halifax based musicians, dedicated to exploring the folk music traditions of Scandinavia, the Celtic countries of Scotland, and Ireland, as well as the dispora of these traditions throughout Canada and the United States.
About the artists
Kirsty Money, nyckelharpa/fiddle
Originally from BC, Kirsty Money studied violin with Sydney Humphreys at the Victoria Conservatory of Music, and has further performance degrees from McGill and Western Universities, as well as her LRSM (UK). Currently she is a member of the first violin section of Symphony Nova Scotia. However, Kirsty plays more than just modern violin. While studying in Montréal, she was introduced to the Baroque violin, and this has led to collaborations with Early Music musicians like David Greenberg (Tempest Baroque Ensemble), Suzie Leblanc (Le Nouvel Opera), Jeanne Lamont(Tafelmusik), Alex Weimann (Pacific Baroque Orchestra), Kati Debretzeni (English Baroque Soloists) and David McGuinness (Concerto Caledonia, Scotland). Kirsty's interest in Early Music and living with the Folk traditions in Nova Scotia, has also inspired her to take up playing the Swedish Nyckelharpa, an instrument dating from Medieval Northern Europe. Since 2015 she has been studying the instrument and it's Folk repertoire from Sweden intensely. Through grants from the Canada Council and Arts Nova Scotia she has been to Nyckelharpa workshops and festivals in Sweden, the UK and Germany. Principal mentors include Olov Johansson, Josefina Paulson, Magnus Holmström, David Eriksson, and Vicki Swan. Kirsty's intention is to bring the amazing depth of sound and versatility of the nyckelhapra to audiences in Nova Scotia, and indeed to the rest of Canada. For more information about the nyckelharpa please visit kirstymoney.ca or Kirsty's FB page Nyckelharpa Nova Scotia.
Jennifer Publicover, flute
Jennifer Publicover leads a multi-faceted life performing on the wooden Irish flute, modern orchestral flute, and Baroque flute. She earned her Master's degree in flute performance at the University of Toronto and her B.Mus at Mount Allison. An ac3ve collaborator in dance halls and on the concert stage, she has also recorded two albums as a member of the neo-traditional trio Papilio. She freelances as an orchestral/theatre musician on the modern flute and a chamber and orchestral musician on the Baroque flute. Possessing a second master's degree in environmental studies, Jennifer is also a published scholar on the use of music as an environmental education tool, and lectures at Saint Mary's University on the history of Irish traditional music. She is the owner and director of the Halifax Institute of Traditional and Early Music, and is a sought-after flute teacher
Ellen Gibling, harp
Ellen Gibling is a harpist based in K'jipuktuk/Halifax, Nova Scotia, who plays classical, Irish traditional, and improvised music on lever and pedal harps. She studied classical music at McGill University, with additional training from the National Youth Orchestra of Canada. Recently, she spent a year focused on Irish traditional music, studying at the University of Limerick in Ireland. Over the past decade, Ellen has enjoyed working in a wide variety of contexts, performing with pop artists, traditional bands, chamber groups, orchestras, film projects, dancers, and theatre productions on Canada's east coast. In addition to playing with Harpaflöjt, she is a member of the traditional music ensembles Ragged Robin and Síle, free-improvised quartet New Hermitage, and the classical flute and harp duo Conundrum. Ellen teaches at the Maritime Conservatory of Performing Arts, and has also taught at Acadia University, the University of Limerick, and the Canadian International Summer Harp Institute. Her solo harp album, "The Bend in the Light", was released in the fall of 2021.