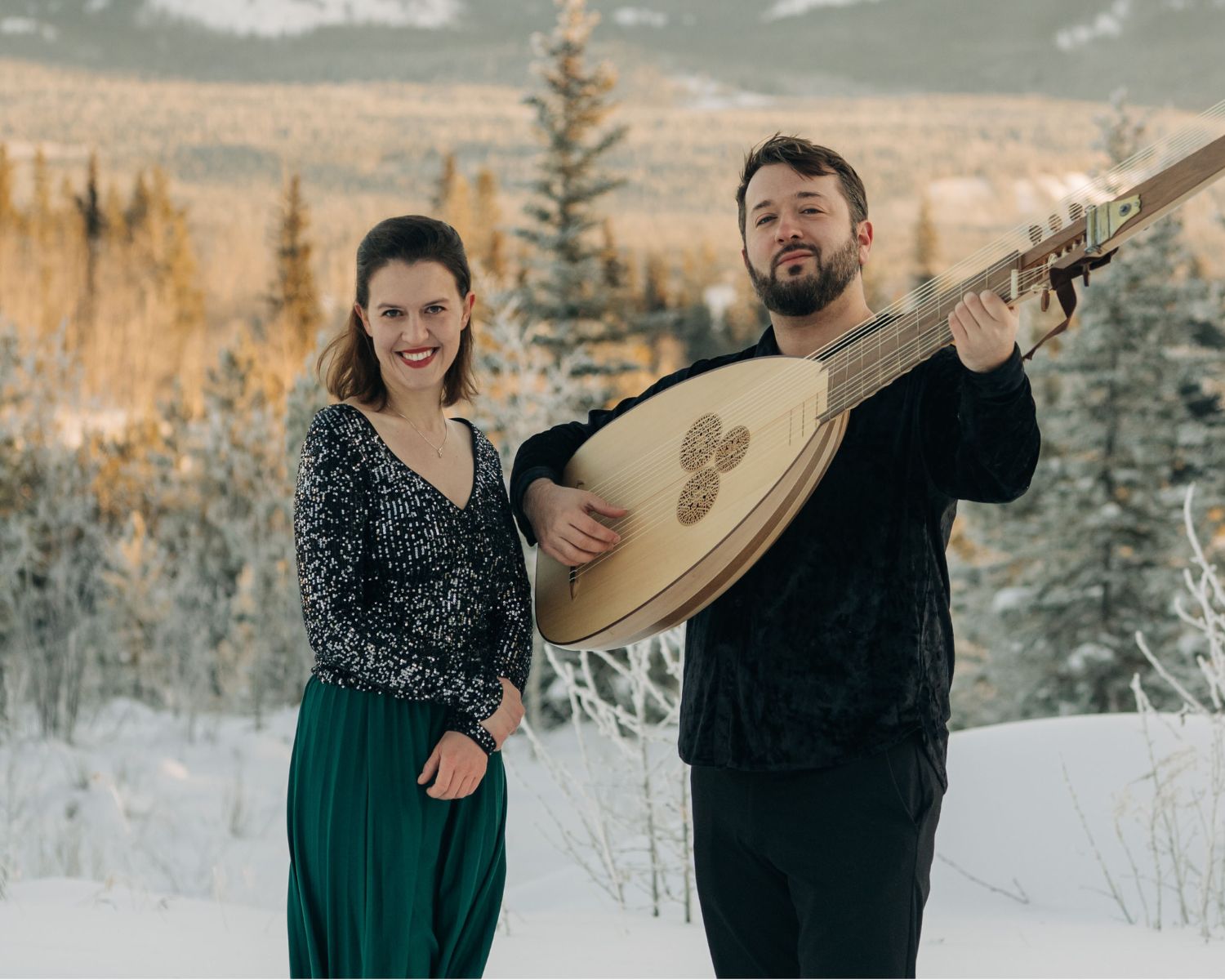 Tuesday August 3 2021, 7:00 PM
Ménestrel
St. Barnabas Anglican Church
Tuesday 3 August – 7:00 PM

About
Musique Royale presents Ménestrel in a concert that features a variety of repertoire including French air de cour composer Joseph Chabanceau de La Barre from the 17th century, unaccompanied violin music by the self taught composer Jeorg Philipp Telemann from the late baroque era, some english baroque songs and great folk songs too. Ménestrel (meaning Minstrel in English, referring to medieval musical entertainers) features tenor and theorbo player Kerry Bursey, soprano and violinist Janelle Lucyk, and violinist Rudy Sternadel. Join us at the picturesque St Barnabas Anglican Church on Tuesday August 3rd at 7 pm for this evening of baroque gems.
About the artists
Rudolf Sternadel, violin
Born in Prague, Rudolf Sternadel started violin lessons at the age of five. In 1980 he moved to Canada, where he began lessons under Prof. David Zafer, completing his Bachelor of Music at the University of Toronto in 1991. He then enrolled at the Academy of Performing Arts in Prague, where he studied violin with Prof. VáclavSnítil and chamber music with Prof. LubomírKostecký of the Smetana Quartet. During his stay in Europe, Rudolf also toured Germany and Italy as a member of the RIAS Jugendorchester, Berlin, and participated in several chamber music seminars. Upon returning to Canada he enrolled at the University of Toronto, completing his Master of Music degree in September 1994 under the tutelage of Prof. LorándFenyves. Until October 2000, he was involved in numerous freelance and chamber music activities in Toronto and Kitchener-Waterloo. Currently Rudolf is the head of the Child / Parent String Program at the Regina Conservatory of Performing Arts, Assistant Music Director / Librarian of the South Saskatchewan Youth Orchestra, and is a member of the Regina Symphony Orchestra.
Kerry Bursey, theorbo
Kerry Bursey is a young tenor and multi-instrumentalist from Montreal, particularly active in the Early music scene throughout Canada. A herald of the lost art of self-accompaniment, he is one of the few to simultaneously sing and play early repertoire. He regularly sings with groups such as Studio de musique ancienne de Montréal, Ensemble Caprice, Theatre of Early Music, Harmonie des Saisons, Arion Baroque Orchestra, Clavecins en Concert and Aureas Voces. He also sings with the choirs of Montreal Symphony Orchestra, Orchestre Métropolitain, I Musici, les Grands Ballets and the Church of St. Andrew & St. Paul. He has participated in Tafelmusik's Baroque Summer Institute, and has studied and performed sacred cantatas of Bach in Germany and Italy at the renowned Bachakademie in Stuttgart and Bachkantatenakademie in Weimar. Kerry is a graduate of the Conservatoire de musique de Montréal in classical guitar and has performed as a soloist with the Orchestre symphonique des jeunes de Montréal (in which he played the viola for 2 years) and was a finalist at both the 2011 Grand Prix de guitare de Montréal and the Concours de musique de Sorel.
Janelle Lucyk, soprano/violin
Janelle Lucyk graduated in 2014 with distinction from the Conservatoire Royal de Bruxelles in Belgium where she debuted Lux Aeterna, written for her and the Brussels Chamber Choir by Jan Moeyaert, performed as a soloist and recorded with Musica Fura (Praetorius Christmas Mass) and Laudantes Consort (Palestrina), and formed Voces Desuper, an ensemble performing regularly in the magnificent Cathédrale de Saints-Michel-et-Gudule, and especially at the Te Deum ceremony for the King and Queen of Belgium. Following, she completed her Masters in Management at Durham University in the UK and won the role of Susanna in Durham Opera Ensemble's The Marriage of Figaro for which she was awarded the Best Soloist by Music Durham, and Best Female Soloist by her peers at the DOE.
Growing up as a violinist, Janelle was the youngest member of Regina Symphony Orchestra and with them performed Vivaldi's Four Seasons as soloist in 2009. Janelle has been captivated by Nova Scotia's flourishing music scene since arriving in the stunning maritime province. She has had the good fortune of working as a soloist with the King's College Chapel Choir under five-time Grammy winner Paul Halley on many unforgettable concerts including Monteverdi's Vespers of 1610 and Selva Morale e Spirituale and multiple Bach Passions. She performed as a soloist across Canada with Per Sonatori, Newfoundland Symphony Orchestra, Scott MacMillan's Celtic Mass for the Sea (Canada 150), Aureas Voces, Daniel Taylor's Theatre of Early Music, Ensemble Caprice and has organized concerts involving improvisation, early music, and jazz with Blackwood Duo.
Janelle is more recently known as the Artistic and Administrative Director of Musique Royale (est. 1985), which presents concerts yearlong featuring early music and much more in beautiful, historic venues across the province, and is based in Lunenburg, Nova Scotia.