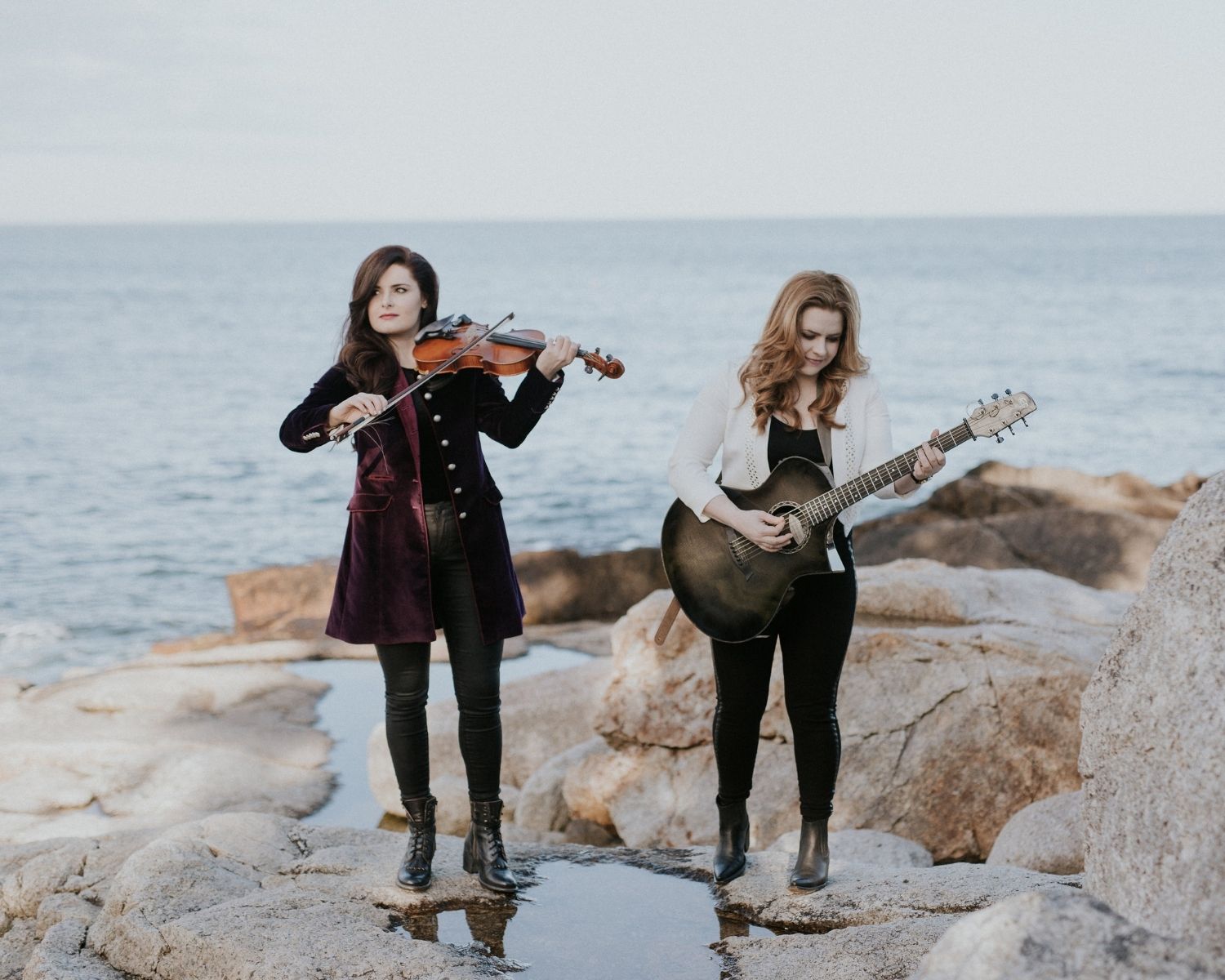 July 18 - August 15, 2021
Cassie and Maggie
St Mary's Catholic Church
Sunday 18 July – 3:00 PM

$20. Seats must be purchased or reserved by July 17th to ensure the space is mapped out for safe, social distancing.
Evergreen Theatre
Saturday 14 August – 8:00 PM

The Gardens at Zoé Vallé Memorial Library
Sunday 15 August – 3:00 PM

$20. If the weather is bad, the concert will be held across the street at St Stephen's Church in Chester.
Featuring
Cassie MacDonald
fiddle / vocals
Maggie MacDonald
guitar / vocals
About
Musique Royale is delighted to present the incredible Nova Scotian sisters Cassie and Maggie at three live concerts. Nominated for a JUNO in 2018, they are putting their own 21st Century stamp on the Celtic soundtrack of this nation. Cassie provides the powerful, lively fiddling, while her younger sister, Maggie, adds beautiful guitar, and they both sing crystal-clear vocals together and use foot percussion to drive the rhythms of their songs.
Concerts will be held at the majestic St Mary's Church in Mabou, the Evergreen Theatre (a historic theatre loved by audiences and artists alike), and at the stunning gardens of the Zoé Vallé Memorial Library which is the oldest community library in Canada. Join Musique Royale at one of these iconic provincial spots hear the sisters live!
Biography of Cassie & Maggie
2018 JUNO nominees Nova Scotian sisters Cassie and Maggie are putting their own 21st Century stamp on the Celtic soundtrack of this nation.
Exciting and innovative, their talent is surpassed only by the sheer joy they exude in performance. Alternating between Gaelic and English, traditional and contemporary, haunting and electrifying, the duo is nothing short of mesmerizing.
Born to a family of deep Nova Scotia roots and a rich musical history, the two have been enchanting audiences around the world with their unparalleled unity of strings, voices and fabulous percussive step dance.
Theirs is the perfect balance between musical integrity and sheer entertainment as they seamlessly blend tunes passed down through generations of musicians with their own songwriting, borrowing from other writers, other genres and other eras.
They're turning heads wherever they go – 2018 JUNO award nominees, Galaxie Radio Rising Star award winners, 17 Canadian Folk Music, East Coast Music and Music Nova Scotia awards and nominations, Female Singers of the Year by Live Ireland Radio, Female Vocal Album of the Year by Chicago Irish American News, and Album of the Year by NPR's Celtic Connection – the list goes on.