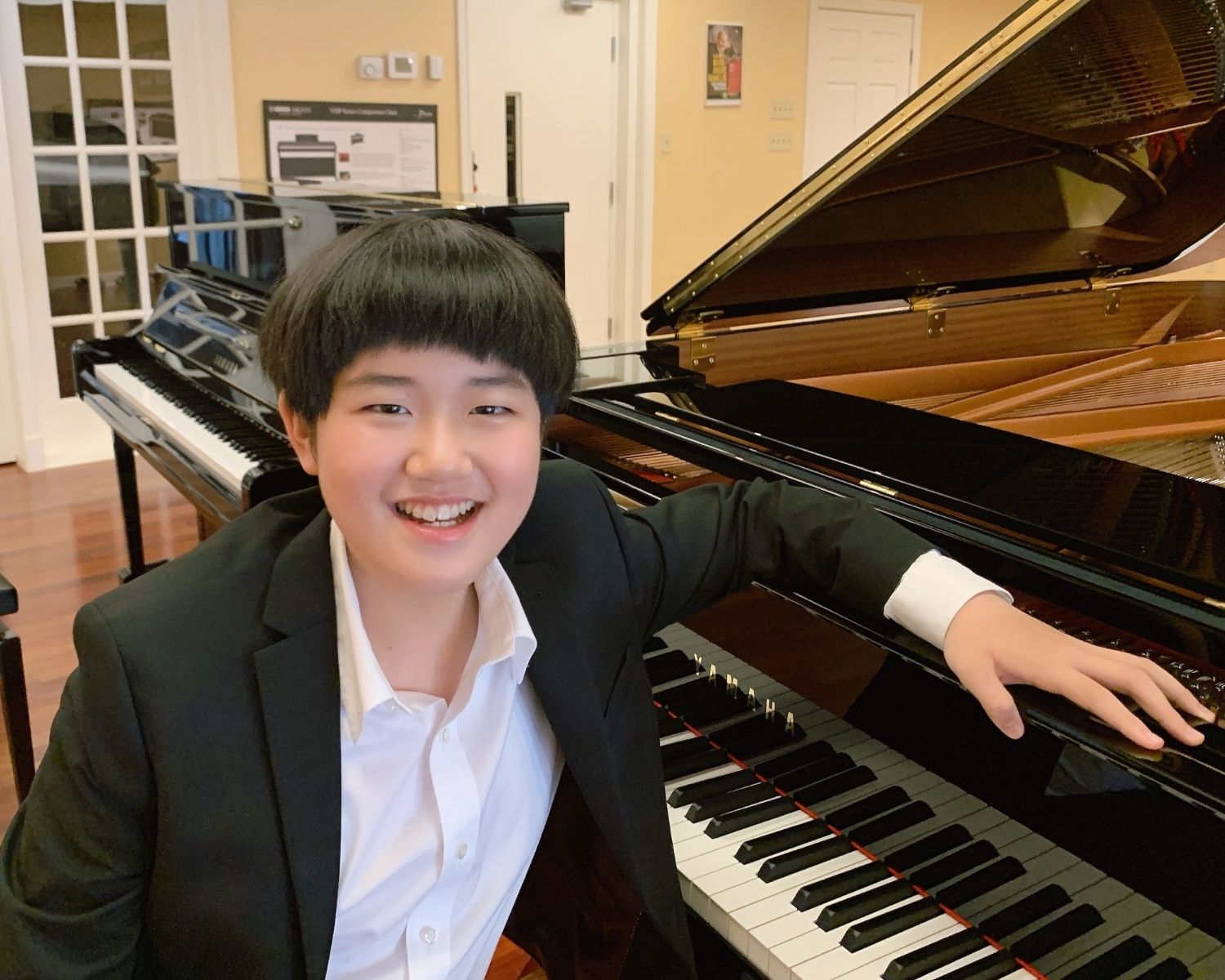 Friday August 20 2021, 7:00 PM
Alex Yang
Sharon United Church
Friday 20 August – 7:00 PM

$20. To reserve by phone, call 902 703 0739
About
Musique Royale invites you to hear pianist Alex Yang in a solo piano concert at Sharon United Church in Tatamagouche. The 12-year-old pianist from Halifax has been scooping up many awards in recent years including First Place in both piano and violin categories for his age category in the Canadian Music Competition (CMC) National Finals in 2019, where he was also declared unanimously the overall Grand Prize winner for all instruments in his age category, having achieved the highest piano mark of 97.
Alex is preparing an exciting program that includes Chopin's "Black Key" Étude Op. 10, No. 5, coined as such because its right-hand part is entirely on black keys, except for one note, in a mesmerizing, triplet figuration. Alex will also take on the famous "Tempest" Sonata Op. 31 No. 2 by Beethoven. In this work, Beethoven bridges the gap between the classical style and the romantic style which would take over in the following decades of the 19th Century, through his mastery of elements such as pedal techniques and rich textures. Other repertoire to be featured includes a Prelude and Fugue by Bach, and music by Rachmaninoff and Canadian composer Oskar Morawetz (1917-2007). Join Musique Royale on Friday, August 20th at 7 pm to hear Alex Yang live, and prepare to be inspired!
Program
Prelude and Fugue XV (WTC I) BWV 860 - J. S. Bach (1685 - 1750)
Sonata Op. 31 No. 2 "The Tempest" - L. van Beethoven (1770 - 1827)
I. Largo-Allegro
II. Adagio
III. Allegretto
Nocturne Op.27 No.2 - F. Chopin (1819 - 1849)
Etude Op. 10 No. 5 "Black Key" - F. Chopin
Prelude Op. 23 No. 5 in G Minor - S. Rachmaninoff (1873 - 1943)
Scherzo - O. Morawetz (1917 - 2007)
About Alex Yang
12-year-old Alex Yang is a grade seven student at the Halifax Grammar School, and has been studying with Professor Lynn Stodola since 2015.
In June 2019, he won First Place in both piano and violin categories (age 10 group) in the Canadian Music Competition (CMC) National Finals in Calgary, Alberta, and was declared unanimously the overall Grand Prize winner for all instruments (age 7 - 10), having achieved the highest piano mark of 97. He was chosen as the "Favorite" in the 2020 Canadian Music Competition in the 11-14 years old category of the Quebec and Maritimes region of Canada. As the 2019 winner of the Chebucto Symphony Orchestra Concerto Competition, he was the featured soloist for their Opening Concert of the 2019/2020 season, performing Beethoven's Piano Concerto No. 1.
In March 2020, Alex was invited to perform at Weill Recital Hall at Carnegie Hall in New York, having won the First Prize and Exceptional Young Musician Prize in the International Classical Music Competition. That same year he won the Canadian Sinfonietta Young Artist Competition and was invited to play with their orchestra in the 2020 Young Artist Concert in Toronto.
In recent years, Alex has been a regular participant in Nova Scotia Kiwanis Music Festival, winning the Gordon Murray Rising Star Award and the Halifax Ladies' Club Junior Award for the past four consecutive years, as well as the George Fleming Memorial Senior String Award for his outstanding performance in the Festival. In the 2021 Kiwanis Festival, he was recommended to the National Festival in the senior piano category by the Nova Scotia Provincial Festival.
Alex has been an RCM Gold Medalist (Atlantic Region) in both Piano and Violin multiple times, and winner of numerous Nova Scotia Registered Music Teachers Association (NSRMTA) trophies and Scholarship Competitions in piano and violin. As one of the youngest Nova Scotia Talent Trust Scholarship recipients in 2017, 2018, 2019, 2020, and 2021, he was invited to perform a solo recital at the Lieutenant Governor's House on their Music on Tuesday Series.
Alex has been playing violin for 4 years and has won numerous string awards and scholarships. He also loves playing in orchestras and school musicals, and is a member of Halifax Boys Honour Choir as well. He was recently invited to join the Nova Scotia Youth Orchestra (NSYO) this coming season. Alex enjoys music composition as well, and won First Prize in the 2019 NSRMTA Composition Competition.
In February 2021, he made his solo recital debut on the "Cecilia Concerts" series.
Aside from music, he likes tennis, badminton, swimming and computer programming. He is also a member of the Halifax Grammar School Debate Team.