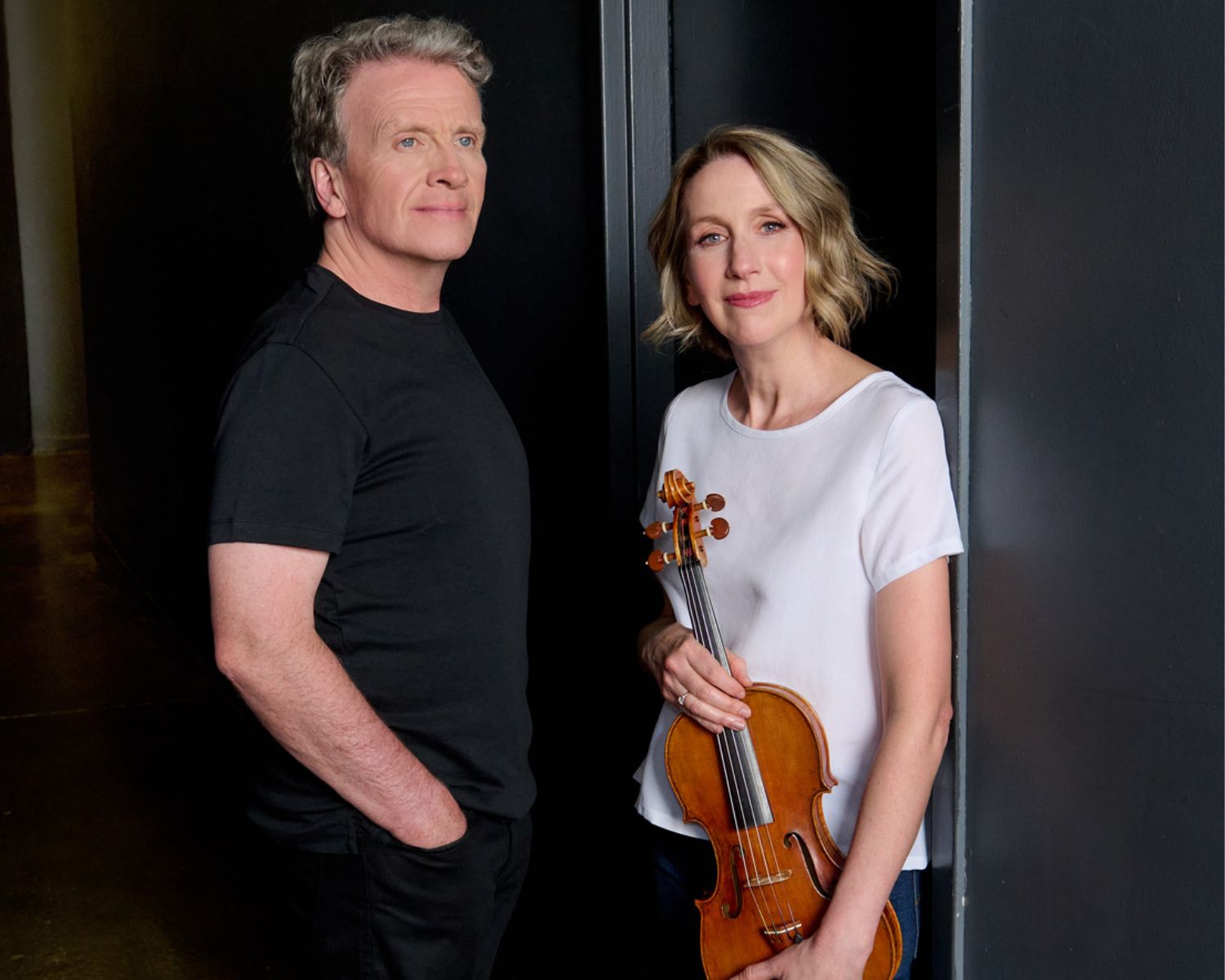 August 24 - 29, 2021
Solace
St. David's Presbyterian Church
Tuesday 24 August – 7:00 PM

Varnus Hall
Friday 27 August – 7:00 PM

$Admission to the concert is free, but we would be grateful if each visitor could make a donation of $20.. Please reserve by calling Judy James at 902 350 3114.
King's Theatre
Sunday 29 August – 2:00 PM

About
Join Musique Royale for a beautiful new program called SOLACE by Duo Concertante which addresses our collective relationship with each other, exploring themes of reconciliation, peace, understanding, loving and communion, in counterpoint to the worldwide stress and sadness caused by the current pandemic.
Duo Concertante has commissioned Grammy Award-nominated Dawn Avery to write a new work entitled Iotsistokwaron:ion ("The Stars" in Mohawk). Another contemporary work in the program is Jessie Montgomery's PEACE (2020), a profoundly universal expression of the "Great Sadness of the first quarantine" when she "struggled to define what actually brings joy, making peace with sadness - a necessary dynamic to the human experience." Finally is the canonic sonata by César Franck Sonata, a musical journey chronicling an intimate partnership in stages - from the initial infatuation, through intense passion, crisis and conflict, to a final place of acceptance and deep connection.
About Duo Concertante
"MAJESTY, PASSION AND EXCITEMENT. INSPIRING!"
– WIENER ZEITUNG (VIENNA)
"ARTISTRY, POETRY, AND IMPECCABLE TECHNIQUE"
– LA SCENA MUSICALE
"GRACE AND FIRE… FURY AND REPOSE… A TRIUMPHANT MASS OF NON-STOP ENERGY"
– WHOLENOTE
For over twenty years, violinist Nancy Dahn and pianist Timothy Steeves have built an international career as the acclaimed Canadian chamber ensemble Duo Concertante. Their name comes from the inscription over Beethoven's "Kreutzer" sonata, "in stilo molto concertante," which implies the two performers are equal, dynamic voices. This defines their unique artistic relationship and the "deeply integrated performances that flow naturally as if the music were being created on the spot" (Gramophone).
After their first concert in 1997, the Halifax Chronicle-Herald called them "two packages of musical dynamite that would credit any stage on the planet." Since then, they have performed more than 600 performances around the world, at such prestigious venues as the Wigmore Hall (London), Carnegie Hall's Weill Recital Hall (New York City), Shanghai City Theatre (Shanghai), the Los Angeles County Museum of Art (Los Angeles), Roy Thomson Hall and the Four Seasons Performing Arts Centre (Toronto), the National Arts Centre (Ottawa), and the Forbidden City Concert Hall (Beijing).
Duo Concertante have produced 12 albums, recorded on the Centrediscs, ATMA and Marquis Classics labels, creating a formidable oeuvre of new works and definitive classics. Beethoven: Complete Sonatas for Violin and Pianoreceived critical praise in German, Austrian, British and Canadian media, and was described by Gramophone as "a miracle of…knowledge and poetry." In 2017, J.S. Bach Six Sonatas for Violin and Keyboard was named ECMA's Classical Recording of the Year, the first of three consecutive ECMA wins in that category, followed by Incarnation (2018) and Perfect Light (2019). The just-released Franz Schubert Music for Violin and Piano (May 2020) has already gained attention from the CBC for being "heart-rending…thrilling", and with "uncanny unity of purpose."
Nancy and Tim are stalwart advocates for Canadian composers, and have commissioned, premiered and recorded over 65 new works to date. Composers such as Chan Ka Nin, Kati Agócs, Andrew Staniland, Alice Ping Ho, Randolph Peters, Andrew MacDonald, are just a few of the many distinguished artists they have worked with. It Takes Two (2009), described as "spectacular" by American Record Guide, is a collection of encore pieces arranged by Clifford Crawley, and Wild Bird (2011) featured their commissioned work Duo for Violin and Piano by R. Murray Schafer, which won a 2011 JUNO Award (Classical Composition of the Year). In 2020, the Duo launched "Ecology of Being," a dynamic program of music and words inspired by climate change and mankind's reliance on the earth not only for survival but for resilience, mental health and spirituality. New works by Melissa Hui, Ian Cusson, Bekah Simms, Dawn Avery, and Carmen Braden reflect on the state of our world and what we may be leaving the next generation through music and poetry.
Duo Concertante are the artistic directors, founders, performers, and mentors of the Tuckamore Festival – an internationally acclaimed chamber musical festival held for two weeks each August. For almost 20 years, Tuckamore — a major contributor to the cultural life of Newfoundland and Labrador– has welcomed leading artists and emerging musicians worldwide to St. John's. In addition to featuring extraordinary performances by artists such as Janina Fialkowska, Jon Kimura Parker, the Danish String Quartet, the Miro Quartet, and Louie Lortie, it also offers an inspiring and intensive educational experience for more than 20 young chamber musicians and composers. Duo Concertante also regularly perform and collaborate with other artists of international stature, at other summer music festivals throughout North America, including the Ottawa International Chamber Music Festival, Cactus Pear Music Festival, Toronto Summer Music, Festival of the Sound, Indian River Festival, Domain Forget and Music Niagara.
Throughout their artistic endeavours and achievements, Nancy and Tim have maintained a full studio of students drawn from across North America. Their students have been accepted for graduate studies at the Juilliard School, Rice University, the New England Conservatory, the Royal Academy of Music, the Guildhall School and the Peabody Conservatory. Duo Concertante have given hundreds of master classes and workshops in Canada, the US and China
Duo Concertante's artistic excellence and contributions throughout their 20-year career have been acknowledged with the receipt of Royal Society of Canada Fellowships, being named University Research Professors by Memorial University of Newfoundland and singled out by the Newfoundland and Labrador Arts Council as Artists of the Year in 2009.