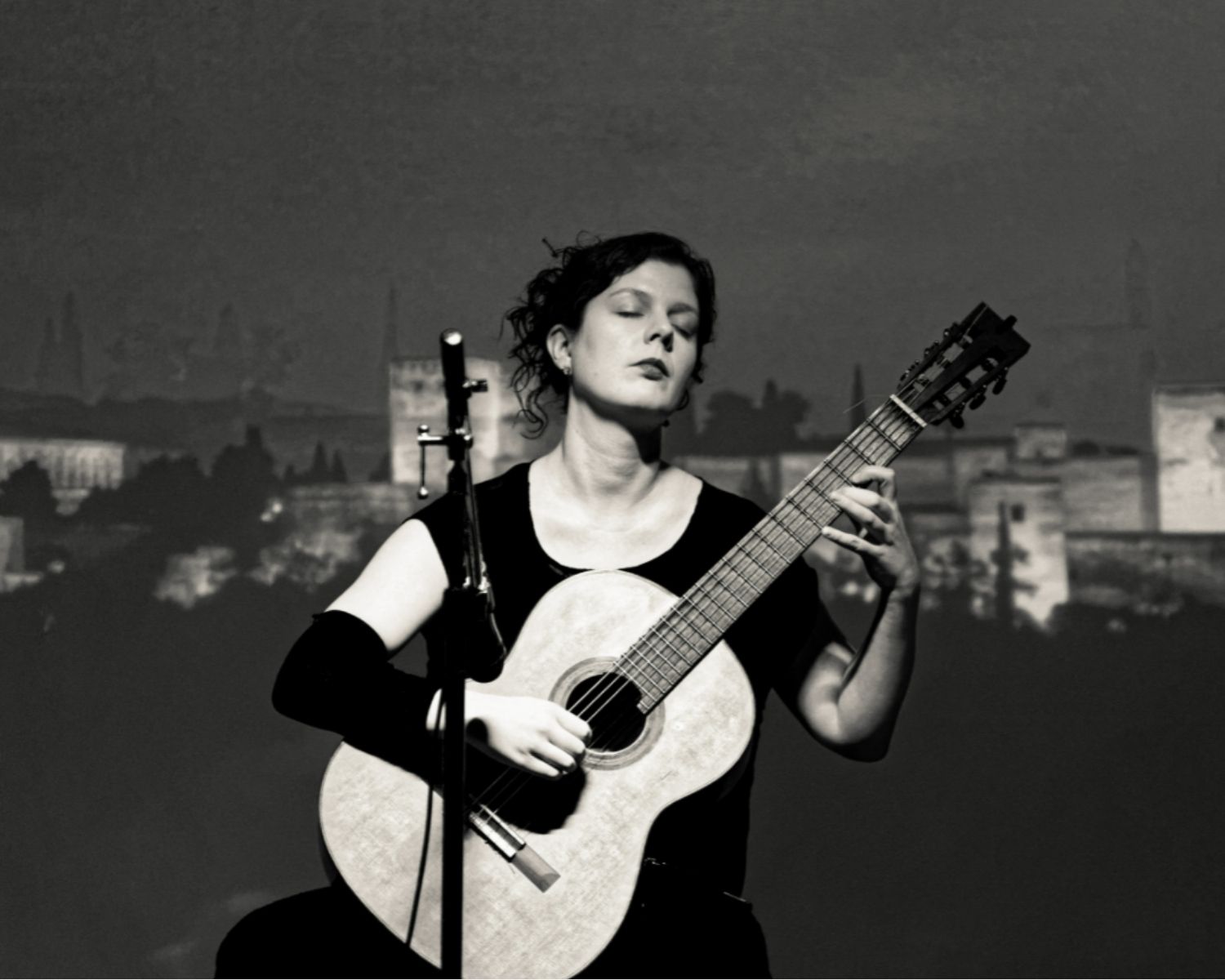 Thursday October 14 2021, 7:00 PM
Emma Rush
Lunenburg School of the Arts
Thursday 14 October – 7:00 PM

$5 at the door (4 years and under free)..
About
Musique Royale is delighted to invite you to hear classical guitarist Emma Rush at the Lunenburg School of the Arts! Her warm sound and virtuosic technique make concerts with Emma truly unforgettable. This intimate evening will feature rarely heard historical works, little-known gems of the Latin American guitar repertoire, folkoric music from around the world, and more. We can't wait to be back in person at the Lunenburg School of the Arts to hear Emma Rush.
Due to scheduling reasons, we were unable to host our regular Cookie Concert this month, and are hosting this concert on Thursday October 14th at 7 pm. Cookie Concerts are Musique Royale's child friendly concert series which take place on the first Saturday of the month at 2 pm (from Oct-June) at the Lunenburg School of the Arts. There are approximately 40 spots available for this concert, to reserve in advance please email janellelucyk@gmail.com.
Proof of full vaccination (second dose at least 14 days ago) is mandatory to enter the venue, except for those ages 11 years and under who may enter with a fully vaccinated adult, or those who have a valid medical exemption. Vaccine proof, or proof of age for those ages 11 and under, or proof of exemption, as provided by the provincial government, must be presented and verified at the door. Physical distancing and mask wearing at the concert is required in adherance of Musique Royale's COVID-19 Prevention Plan.
About Emma Rush
"She captivated the audience with her charm, wit and technical prowess" - Frankenpost, Germany
"Rush's technique is flawless throughout…" - The Whole Note
Emma Rush has established herself as one of Canada's top classical guitarists. Her career has commanded world recognition. Recent touring highlights include a four-city tour in China, starting with the Altamira Shanghai International Guitar Festival, appearances at major guitar festivals including Festival de Guitarras Lagos de Moreno (Mexico), the Nyköping Gitaarseminarium (Sweden), and a prestigious concert at the Internationales Gitarren Symposion, Iserlohn (Germany). She tours throughout North America and in 2016-17 toured extensively in Eastern Canada as a Debut Atlantic artist. She performs regularly as Azuline Duo with flutist Sara Traficante and in 2018-19 the duo toured throughout Western Canada in the Yukon, British Columbia, and Alberta. Rush recently appeared in the McMichael Gallery's Group of Seven Guitar Project documentary alongside such notable guitarists as Bruce Cockburn, Jesse Cook, and Don Ross. In 2018 Rush completed two residencies at the Sointula Art Shed in British Columbia and in Lübeck, Germany.
She has received three City of Hamilton Arts Awards, and has had her work supported by the Canada Council for the Arts, Ontario Arts Council, Hamilton City Enrichment Fund, and FACTOR.
In 2020 Rush released Wake the Sigh, a collection of rare music written for guitar by women in the 19th century. Her earlier recordings are Canadiana, which includes a suite dedicated to her by composer William Beauvais, and Folklórica.
Rush is a guest lecturer at colleges and universities throughout North America and was an Artist-in-Residence at the Fountain School of Performing Arts at Dalhousie University in the fall of 2016. She is active in presenting guitar events around the world and is Co-Director of GuitarFest West in Calgary and the Collegiate Peaks Guitar Retreat in Colorado.