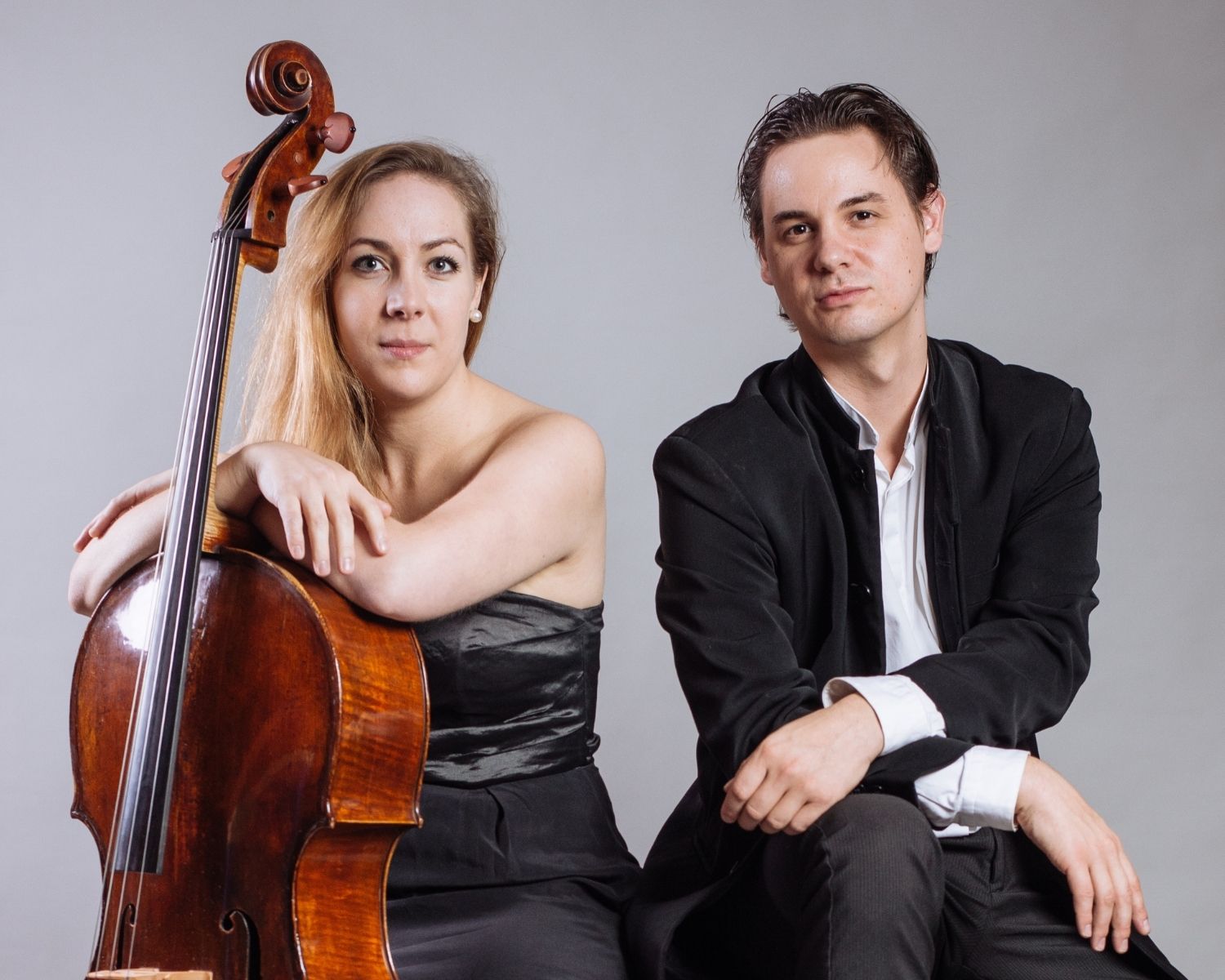 Tuesday November 23 2021, 7:30 PM
Perfumes of Paris
Bridgewater Baptist Church
Tuesday 23 November – 7:30 PM

$20 advance, $25 at the door, $10 students.
About
It doesn't take much imagination, or even a visit, to conjure up the unique atmosphere of Paris. From the sights of the Eiffel Tower and Notre Dame de Paris, to the scents of the famous boulangerie, the French are masters of cultivating a distinctive atmosphere, a certain perfume of Paris. The undisputed capital of classical music for centuries, Paris has hosted the most significant composers from all eras. From Couperin to Franck, and the magnificent Nadia Boulanger, the immensely talented Duo Cavatine will transport us to a different time, place, and atmosphere through music of colourful Paris.
Musique Royale presents cellist Noémie Raymond-Friset and pianist Michel-Alexandre Broekaert of Duo Cavatine who share music inspired by the city that continues to fascinate, polarize, and inspire. Join us at the Bridgewater Baptist Church on Tuesday November 23rd to enjoy this delightful affair!
Proof of full vaccination (second dose at least 14 days ago) is mandatory to enter the venue, except for those ages 11 years and under who may enter with a fully vaccinated adult, or those who have a valid medical exemption. Vaccine proof, or proof of age for those ages 11 and under, or proof of exemption, as provided by the provincial government, must be presented and verified at the door. Physical distancing and mask wearing at the concert is required in adherence of Musique Royale's COVID-19 Prevention Plan.
About the Artists
Duo Cavatine
"They surf with mastery on virtuoso musical passages. (…) we discover that they live intensely the emotions conveyed by the music and that they have the mission to communicate with us." — Daniel Raymond, AtUVU.ca
United by a deep passion for music, Duo Cavatine is, above all, a long story of friendship. Founded by cellist Noémie Raymond-Friset and pianist Michel-Alexandre Broekaert, the ensemble name is inspired by the famous Poulenc sonata - the very first piece they performed together while in school. Praised for their dynamic and refined musical personalities, the duo are avid collaborators and perform with a poignant sensitivity - the secret to their compelling stage presence. From Couperin to Schnittke, their artistic versatility is evident in their wide range of musical styles.
Noémie and Michel-Alexandre combine their great virtuosity and mastery of their instrument, making them one of the most prominent emerging duos. Individually recognized as critically acclaimed performers, Duo Cavatine has as participated in numerous international competitions. Most recently, they were named prize-winners of the International Music and Fine Arts Competition. They regularly appear in venues and festivals throughout Canada, including the Pro Musica Society, the Chapelle Historique du Bon-Pasteur, the Doors Open at Southminster in Ottawa, the Belle Chapelle in Sherbrooke, the Orford Music Festival, and the Oasis Musicale. Their performances have been broadcasted on CBC Music's "In Concert" program, including their concert at Music Mondays in Toronto. Upcoming projects include a debut album in collaboration with CBC Music and a tour of Atlantic Canada presented by Debut Atlantic in the Fall of 2021.
Noémie Raymond-Friset, cello
One of the most promising Canadian cellists of her generation, Noémie Raymond-Friset is a passionate musician, praised for her sensitive and refined playing. In recognition of her artistry, she was named by CBC Music as one of the 30 Hot Canadian Classical Musicians Under 30. She was also one of the top prizewinners at the Edwin H. and Leigh W. Schadt String International Competition, the Stepping Stone Competition, the WAMSO Young Artist Competition, and many others. Raymond-Friset made her debut at the famous Royal Albert Hall of London in December 2016 and has been awarded a professional development grant by the Canada Council for the Arts, and was a 2015 Musical Instrument Bank Competition laureate. Artistic Director of the Eastman Cello Ensemble, she also took part in numerous tours for the Heifetz International Music Institute, where she was a 2019 Artist in Residence and chamber music coach for the PEG Program.
Very active in the international musical community, Raymond-Friset toured Cambodia in December 2019 with world-renowned violinist Midori for the ICEP Music Sharing program. She has been heard several times on Performance Today, CBC Music, and ICI Musique by Radio-Canada. Additional international appearances include an invitation by the Music Corporation of Viña del Mar to perform in La Calera (Chile) as part of an introductory program to classical music with young students, and a guest artist appearance at the XVIII International Festival of Musica de Camara in Lima (Peru). In Quebec, she has performed at the Montreal Chamber Music Festival, the International Festival of Lanaudière, the Orford International Music Festival, and the Festival Les Concerts de la Chapelle.
As a soloist, Raymond-Friset has performed with the National Arts Center Orchestra, the Longueuil Symphonic Orchestra, the Francophonie Orchestra, the Carlos Costa Chamber Orchestra, and the Symphonic Orchestra of the Agora. Additionally, she was invited to play the solo cello part in Vivaldi's Concerto for Four Violins alongside Pinchas Zukerman and the National Arts Center Orchestra.
Raymond-Friset is currently working with pianist Michel-Alexandre Broekaert as a member of Duo Cavatine on the production of a CD album, recorded in collaboration with CBC Music and whose release is scheduled next year. They also maintain an extensive concert schedule throughout North America.
An accomplished and experienced educator, Raymond-Friset was Steven Doane's teaching assistant at the Eastman School of Music, where she completed a DMA in music and literature. She also holds a Graduate Diploma from the New England Conservatory with Yeesun Kim and a Masters degree from the University of Montreal, where she studied under the tutelage of Yegor Dyachkov and Carole Sirois. Previously, she studied with Denis Brott at the Conservatoire de Musique de Montréal. Additionally, she has been fortunate to work with many internationally renowned cellists. In 2014, she performed for a master class led by Yo-Yo Ma at the Claude-Champagne hall in Montreal in front of an audience of more than 1000 people. Her playing was warmly acclaimed by the public and described by La Scena Musicale as a "beautiful and sensitive performance."
Michel-Alexandre Broekaert, piano
"He is an excellent listener and has a remarkable touch. In his hands, the music breathes and blossoms." — Revue Opéra
Recognized for his profound and spectacular interpretations, Quebec pianist Michel-Alexandre Broekaert is one of the most promising musicians of his generation. His passion for accompaniment and chamber music has led to a versatile, vast, and eclectic career. At ease on both the stage and studio, he divides his time between the repertoires of instrumental and operatic music with equal pleasure. A pedagogue at heart, his activities as a coach / pianist-collaborator at the Université de Montréal and McGill University nourish his passion for passing on knowledge to young musicians. He is also committed to the future of classical music, actively engaging with established organizations and collectives of experienced musicians to present music in an accessible and casual way. Michel-Alexandre is very active on the Quebec scene and regularly collaborates with many organizations, such as the Canadian Institute of Vocal Art, Opéra de Montréal, the OSMManuvie competition, The Prix d'Europe Competition, Jeunesses Musicales Canada, and the collective Un Opéra Une Heure.
Michel-Alexandre has collaborated with Jeunesses Musicales of Canada (JMC) in several tours across Canada as a chamber musician and artistic director. As an organization with multiple missions, including bringing high-quality classical music concerts to audiences far away from major urban centres, JMC significantly impacted his conception of the musician's role in our society. As a chamber musician, he has collaborated with numerous world-renowned musicians, including Quebec soprano Andréanne Brisson-Paquin. In 2011, the duo distinguished itself in Paris, receiving a special jury prize in the Nadia and Lili Boulanger International Piano Singing Competition finals. In 2013, they returned to France and were awarded 2nd Prize at the prestigious Lyon International Chamber Music Competition.
Michel-Alexandre is the recipient of many awards, including the "Pianist Prize" at the 2016 Mary Trueman Art Song Vocal Competition. In 2018, he was awarded the Special Prize for the best accompanying pianist at the Concours International de mélodies françaises du Festival Classica. More recently at the Concours d'lnterprétation de L'Anthologie de la Musique Québécoise, he claimed the Prix Janine-Lachance (1st Prize collaborative-pianist), the Prix André-Mathieu (1st Prize (ex-aequo) Solo Piano), and the Jury's Coup de coeur. As a soloist, he is the top prize winner at several national and international competitions, including the Canadian Music Competition, the Trois-Rivières Symphony Orchestra Concerto Competition, and the Concerto Competition of Université de Montréal.
In 2018, alongside cellist Noémie Raymond-Friset, Michel-Alexandre co-founded Duo Cavatine. Since then, the duo has established itself as one of the most dynamic chamber music groups in Canada. Upcoming projects include a tour of Atlantic Canada in the fall of 2021 with Debut Atlantic, and the launch of their debut CD, Nuages, on the KNS label.
Michel-Alexandre holds a doctorate from the Université de Montréal, under the tutelage of Mr. Jean Saulnier, and continued his studies in Vienna (Austria) with the renowned pedagogue Avedis Kouyoumdjian.