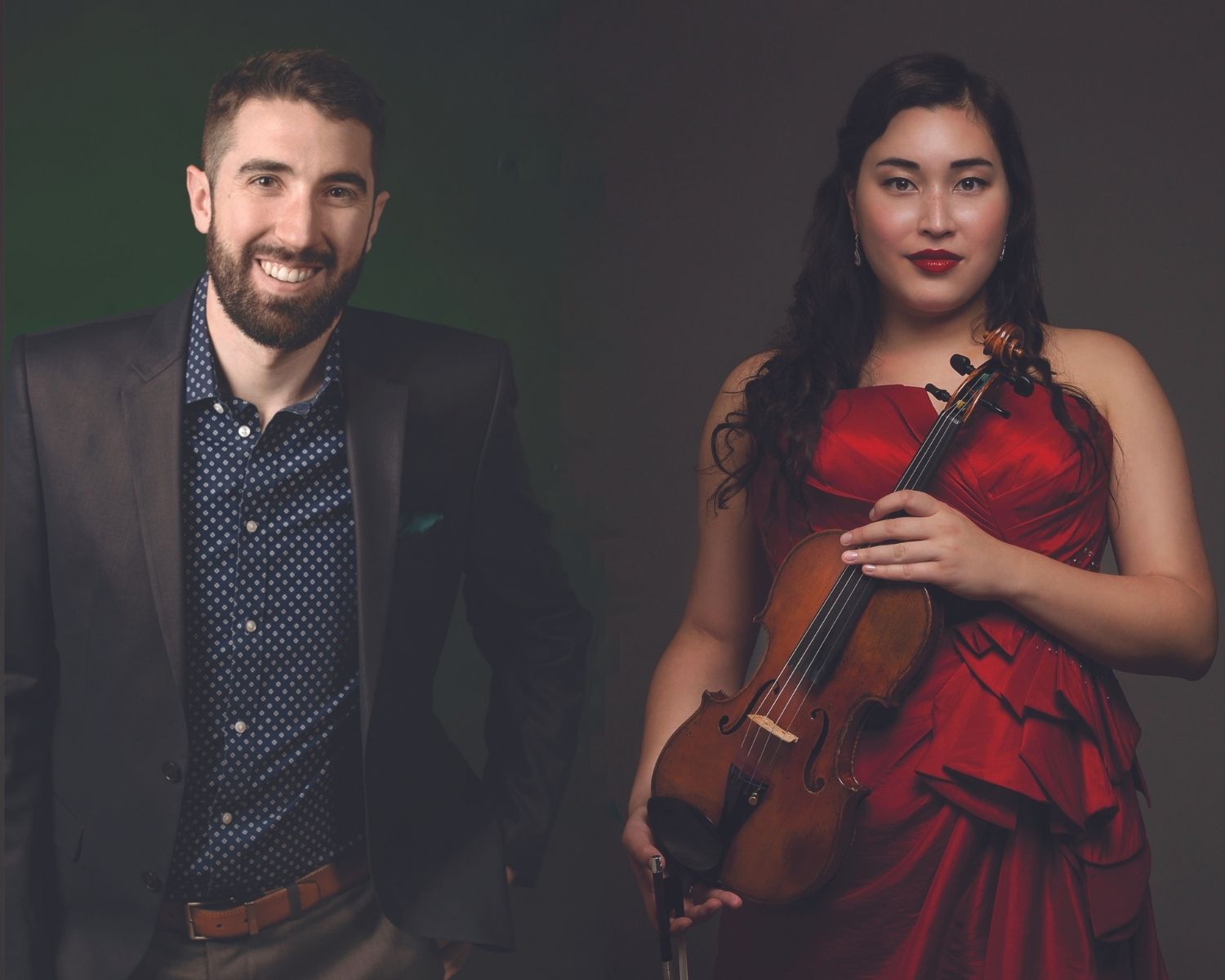 Saturday May 28 2022, 7:30 PM
Crème de la crème
St. John's Anglican Church Lunenburg
Saturday 28 May – 7:30 PM

$20 advance, $25 at the door, $10 students. reserve by emailing musiqueroyale1985@gmail.com
About
Their musical chemistry is second to none."
-Mhiran Faraday, former Executive Director of Debut Atlantic
Musique Royale invites you to hear "Crème de la crème", a hand picked program featuring dazzling French music performed by violinist Christina Bouey and pianist Pierre-André Doucet. The lauded duo will take us on a rollercoaster of music with repertoire by Debussy, Nicole Lizee, Chaminade, Ravel, Lili Boulanger, Saint-Saens and Couperin arranged by Christina Bouey herself. Join us on Saturday May 28th at 7:30 pm, at St John's Anglican Church in Lunenburg.
Program
Sonate pour violon et piano - Claude DEBUSSY (1862-1918)
I. Allegro vivo
II. Intermède. Fantasque et léger
III. Finale. Très animé
Summer's Last Gasp - Nicole LIZÉE (b. 1973)
Pierrette – Air de ballet, op. 41 - Cécile CHAMINADE (1857-1944)
Tzigane - Maurice RAVEL (1875-1937)
< INTERMISSION >
Les Barricades mystérieuses - François COUPERIN (1668-1733)
Le Tic-Toc Choc ou Les Maillotins - arr. Christina BOUEY (b. 1988)
Peace - Jessie MONTGOMERY (b. 1981)
Nocturne pour violon et piano - Lili BOULANGER (1893-1918)
Sonate pour violon no. 1 en ré mineur, op. 75 - Camille SAINT-SAËNS (1835-1921)
III. Allegretto moderato
IV. Allegro molto
Christina Bouey, violin
Canadian violinist, Christina Bouey, is hailed by the New York Times for playing "beautifully," by the New York Post, "When violinist Christina Bouey spun out that shimmering tune, I thought I died and went to heaven," and by Opera News, for playing "with exquisite, quivering beauty." She is praised by Seen and Heard International, "Bouey responded with the kind of beguiling poetry that technical brilliance alone cannot liberate." Her recent prizes include Grand Prize at the Vietnam International Chamber Competition, 1st Prize at the Schoenfeld International String Competition in the chamber division, Grand Prize at the Fischoff Competition, 1st place in the American Prize, and 2nd prize at the Osaka International Chamber Competition. Among her other top awards include the Hugo Kortchak Award for outstanding achievement in chamber music, Heida Hermann International, Canadian National Music Festival, Queens Concerto Competition, and the Balsam Duo Competition. In addition, her ensemble, the Ulysses Quartet, are Lisa Arnhold Fellows at Juilliard, serving as the School's Graduate Resident String Quartet, an appointment that has been extended through May 2022.
Christina has performed as soloist with the Greenwich Symphony, Cayuga Chamber Orchestra, Salina Symphony, River Cities Symphony, Symphony of the Mountains, Tonkünstler Ensemble, Metro Chamber Orchestra, Bergen Symphony, Prince Edward Island Symphony, and the Banff Orchestra to name a few. She will be making her solo debut in Carnegie Hall, Stern Auditorium playing Tchaikovksy Concerto with the Senior Concert Orchestra of NY in the fall of 2022. Her solo and chamber credits include Carnegie Hall- Weill and Zankel Halls, Esterházy Palace, Alice Tully Hall, Taiwan National Recital Hall, Harbin Grand Theatre, Jordan Hall, Metropolitan Museum of Art, Chamber Music Society of Lincoln Center, Schneider Series, Rockefeller Tri Noon Series, Dame Myra Hess series, the National Arts Centre, La Jolla SummerFest, Premiere Performances Hong Kong, Vietnam Connection Music Festival, Kneisel Hall Festival, Emilia Romagna Festival, Harvard Club of New York, Montreal Chamber Festival (Salle Bourgie), Mayfest at Cornell, Debut Atlantic, Kansas International Music Festival, L'Archet Concert Group and the Indian River Festival. She will tour as a soloist for Prairie Debut during the 2021-22 season.
Christina has collaborated with artists such as David Chan, Jeremy Denk, Paul Coletti, Lynn Chang, Robert DeMaine, Steven Doane, Rosemary Elliott, David Geber, Clive Greensmith, Marc-André Hamelin, Toby Hoffman, Chee-Yun Kim, Yura Lee, Max Levinson, Cho-Liang Lin, Paul Neubauer, Bright Sheng, and Lara St. John.
Christina graduated from Manhattan School of Music (2013) with a Professional Studies Certificate in Orchestral Performance, studying with Glenn Dicterow and Lisa Kim as a full scholarship student, (2012) with a Professional Studies Certificate, studying with Laurie Smukler, and in 2011 she received a Master of Music, while studying with Nicholas Mann. Her Bachelor of Music (Magna cum laude) is from The Boston Conservatory; where she studied with Irina Muresanu as a full-scholarship student.
In June 2014, as part of the 150 year celebrations on PEI, professional dancers from Ballet Jazz de Montreal performed a modern dance to her first compositional commission for solo violin, with Christina playing it on the violin. Christina is currently serving as concertmaster of the Cayuga Chamber Orchestra, and is a member/founder of the Ulysses String Quartet. She plays the 1728 "Artot" Stradivarius on generous loan from the Juilliard School. Christina is very excited to announce her debut album being released later this year including her own composition. To keep up to date with Christina, you can follow her website www.christinabouey.com and various other social media platforms including Facebook, Instagram, TikTok and YouTube.
Pierre-André Doucet, piano
Renowned for his vivid soundscapes and inventive texts, pianist and writer Pierre-André Doucet is a leading voice among Canada's newest generation of artists.
In addition to having been heard on NPR, Radio-Canada, Espace musique, and CBC Radio's Next! series, Mr. Doucet has also been featured on CBC Radio 2's list of 30 Hot Canadian Classical Musicians Under 30. Recent musical projects have seen him perform extensively across Canada, as well as in Austria, France, Germany, South Africa, Spain and the United States. He has also performed aboard the ms Koningsdam as a member of its inaugural Lincoln Center Stage piano quintet, a collaboration between the Lincoln Center for the Performing Arts and Holland America Line.
Mr. Doucet has been a guest soloist with several orchestras in Canada and South Africa, under the leadership of Airat Ichmouratov, Carel Henn, Stéphane Laforest and Véronique Lussier. An engaging chamber musician and vocal pianist, he frequently works with countless established singers, choirs, instrumentalists and ensembles, including members of the Los Angeles Philharmonic, the Montreal Symphony Orchestra, the Vancouver Symphony Orchestra, and the roster of the Metropolitan Opera.
Winner of the prestigious Knigge Piano Competition, Mr. Doucet has also been a laureate of the Women's Musical Club of Toronto Career Development Award Competition and the Prix d'Europe. Furthermore, he has been recognized for his evocative and compelling readings of contemporary scores at the Ibiza International Piano Competition, as well as the Eckhardt-Gramatté Competition alongside his duo partner, soprano Alexandra Smither. His ardent work in disseminating new music has also led him to premiere works by William Bolcom, Mark Carlson, Richard Gibson, Hendrik Hofmeyr, Libby Larsen, Nicole Lizée, Pierre Michaud, Jared A. Miller, Jocelyn Morlock, and Alan L. Smith.
Mr. Doucet has been a guest professor at l'Université de Montréal, where he completed doctoral studies in 2016 under the tutelage of Maneli Pirzadeh. Previously, he studied with Richard Boulanger at l'Université de Moncton. Additional studies have allowed him to perfect his craft and perform at the Tanglewood Music Center, Music Academy of the West, the Franz-Schubert-Institut, Toronto Summer Music, the Tuckamore Chamber Music Festival, the Orford Festival, the Gijón International Piano Festival, Internationaler Klaviersommer Bad Bertrich, Opera on the Avalon, the Vancouver International Song Institute and as recipient of a Stern Fellowship at Songfest. Through these experiences, he has benefited from masterclasses with such luminaries as Sir Thomas Allen, Elly Ameling, Helmut Deutsch, Julius Drake, Margo Garrett, Marilyn Horne, Graham Johnson, Warren Jones, Kiri Te Kanawa, Martin Katz, Rosemarie Landry, Christa Ludwig, Robert McDonald, Michael McMahon, Francis Perron, Paul Stewart, Sanford Sylvan, Dawn Upshaw, Roger Vignoles and Howard Watkins. He has received financial support from the Social Sciences and Humanities Research Council of Canada (Joseph-Armand Bombardier Graduate Scholarship), the Fonds québécois de recherche en société et culture, the Canadian Art Song Foundation, the Conseil des arts et des lettres du Québec and the New Brunswick Arts Council.
Pierre-André Doucet has been published in Ancrages, Impossible Archetype and Voix plurielles. His first collection of poetry and short stories, Sorta comme si on était déjà là (Éditions Prise de parole), was shortlisted for the Prix littéraire Émile-Ollivier, in addition to having earned him the Discovery of the Year award at the Gala des Prix Éloizes. He has also been awarded the Antonine-Maillet-Acadie Vie Literary Award for Kilométrage (Prix Volet jeunesse Richelieu), and was twice a finalist at the Francophone Games, in Beirut and Nice. Following his stay in Lebanon, Mr. Doucet served as Artistic Director of the Suites du Phénix, a literary blog featuring work by emerging francophone writers.
A community-minded artist, Mr. Doucet has spent almost fifteen years administering non-profit organisations dedicated to culture, language rights, health, leadership and arts education. He currently serves as Co-Artistic Director of Barachois Summer Music, in his native New Brunswick.