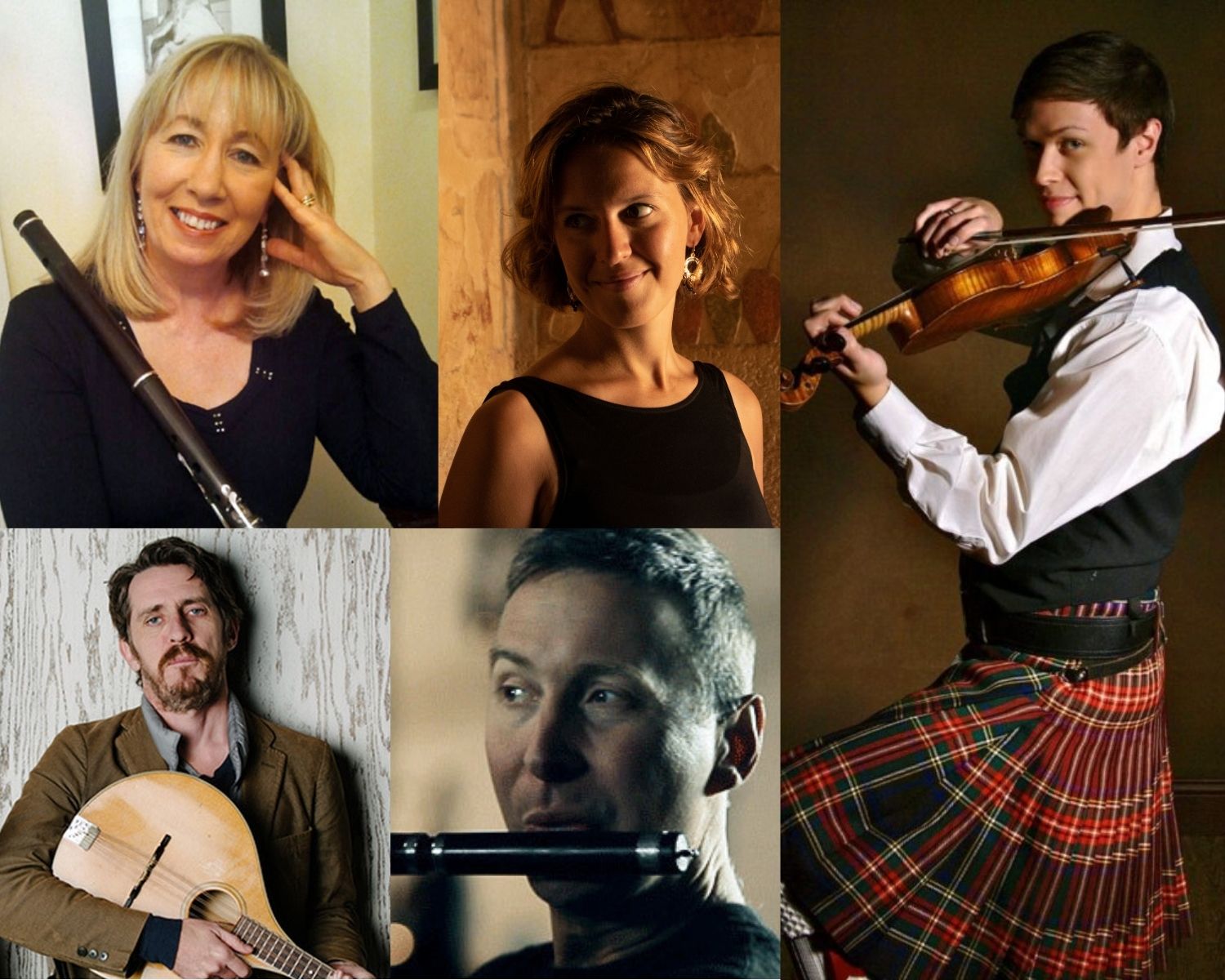 July 31 - August 5, 2022
The Best of Boxwood 2022
About
Each year a new troupe of musicians feature in The Best of Boxwood concert tour, with performances across Nova Scotia part of Musique Royale's Summer Festival, celebrating the energetic, traditional dance music of Maritime Canada, Scotland, and Ireland. Taking place annually in Lunenburg, the Boxwood Festival is renowned for its inspiring, multi-generational environment of workshops and concerts centered around early and traditional music with experts and amateurs providing an immersive artistic experience. The Best of Boxwood tour showcases the fruits of these collaborations across Nova Scotia.  This year, the featured performers are Catherine McEvoy (winner of TG4 Gradam Ceol Musician of the Year in 2019), Seán Heely (a U.S National Scottish Fiddle Champion), Eamon O'Leary (the incredible Irish singer and songwriter), and singer Janelle Lucyk.  
At the heart of the group is Chris Norman, who's brilliant and imaginative flute playing has contributed to groups as diverse as The Baltimore Consort, Skyedance, Helicon, Chatham Baroque, Concerto Caledonia, as well as Hollywood soundtracks and seven solo recordings. His influential work as a performer, composer, recording artist, educator, and director of the Boxwood Festival & Workshop has played a significant role in reviving the flute in traditional Scottish and Canadian music.
About the Artists
Chris Norman - flutes, pipes
Chris' influential work as a flute maker, performer, composer, recording artist and visionary community builder has earned him worldwide recognition. His flute playing has appeared on more than 40 recordings and can be heard featured on numerous Hollywood soundtracks. Chris is the driving force behind Boxwood Festivals, inspiring thousands of musicians of all ages in Canada, New Zealand, Australia, the USA, and online. As a flute maker, he brings to bear a discernment forged over a 30-year career to make world-class flutes for traditional and early music. Chris' awards and honors include a Queen Elizabeth II Diamond Jubilee medal from the Senate of Canada, and a Doctor of Laws, honoris causa from Dalhousie University.
Seán Heely - fiddle, harp, Gaelic song
Seán Heely is a U.S National Scottish Fiddle Champion as well as an award-winning Irish Fiddler, singer, and harpist in the folk and Gaelic traditions of Scotland and Ireland. A versatile artist, he holds a degree from University of South Carolina in Classical Violin Performance and was a 2019 Artist in Residence at Strathmore Music Center in Maryland. An educator in demand, Seán is an Adjunct Instructor at American University He has performed in Scotland, Ireland, South America, Germany and at prestigious venues in the U.S such as the Kennedy Center in Washington D.C and Strathmore Music Center.
Catherine McEvoy - Irish flute, whistle
Meath-based flute player Catherine McEvoy is known for her vibrant flute-playing in the Sligo-Roscommon style. She was a member of the group Macalla and has since recorded several solo and ensemble albums including The Home Ruler in 2008 and Comb Your Hair and Curl It in 2010 with Caoimhín Ó Raghallaigh and Michael O'Raghallaigh. Catherine was awarded the TG4 Gradam Ceol Musician of the Year in 2019. She is also well known as a teacher and has taught at the Willie Clancy Summer School for many years. Her playing is particularly influenced by Josie McDermott.
Eamon O'Leary - guitar, banjo, song
Eamon O'Leary is a songwriter, guitar, bouzouki and banjo player and from New York's Lower East Side, originally from Dublin, Ireland. He has developed his songcraft, appearing live and collaborating with esteemed artists such as Sam Amidon, Beth Orton, Bonnie Prince Billy, Anais Mitchell, Anna and Elizabeth, Martin Hayes, releasing five recordings of original songs including Old Clump, All Souls, Sister in Song, Bernadette, and The Silver Sun. He has toured extensively throughout North America and Europe, performing and recording with many of Irish music's great players. Eamon regularly tours and records with The Murphy Beds, with Jefferson Hamer, and with old friends John Doyle and Nuala Kennedy to form The Alt.
Janelle Lucyk - song
Janelle graduated in 2014 with distinction from the Conservatoire Royal de Bruxelles in Belgium where she debuted Lux Aeterna, written for her and the Brussels Chamber Choir by Jan Moeyaert, performed as a soloist and recorded with Musica Fura, Laudantes Consort, and Voces Desuper. Growing up as a violinist, Janelle was the youngest member of Regina Symphony Orchestra and with them performed Vivaldi's Four Seasons as soloist in 2009. Janelle has been captivated by Nova Scotia's flourishing music scene since arriving in the stunning maritime province. Janelle is also the artistic and administrative director of Musique Royale, which presents concerts featuring early music in beautiful and historic venues across Nova Scotia.