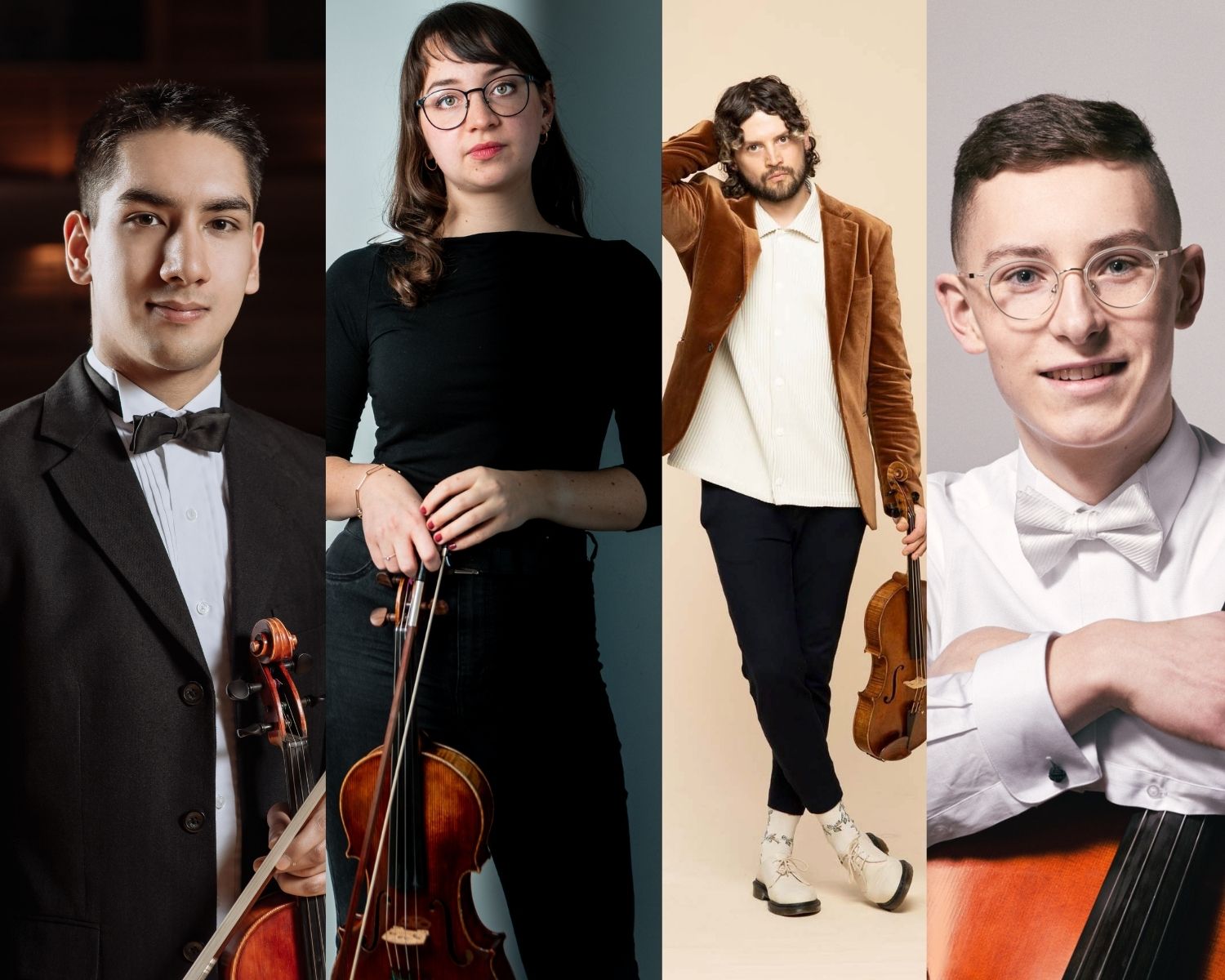 August 16 - 21, 2022
Aurore String Quartet
About
From August 16 - 21 2022, the Aurore String Quartet will perform six concerts across Nova Scotia part of Musique Royale's 37th Summer Festival taking place in historic venues in Lunenburg, Brooklyn, Yarmouth, Port Williams, Johnstown, and Truro. The quartet features violinists Jeanne-Sophie Baron and Daniel Dastoor, along with violist Ryan Davis and cellist David Liam Roberts. The ensemble will perform one string quartet by Wolfgang Amadeus Mozart and another by Joseph Haydn, highlighting the two prolific composers in Vienna who had a special friendship that was based on mutual admiration, and untainted by envy.
These musicians were selected out of many applicants to participate in the prestigious Equilibrium Young Artist program led by soprano Barbara Hannigan, taking place at the Lunenburg Academy of Music and Performance during the week leading up to this Musique Royale concert tour, which will finish with a Gala Concert on August 13 with the famed soprano and conductor. The quartet is made up of four of Canada's most brilliant emerging artists at the beginning of their extraordinary careers. Musique Royale is delighted to showcase their talents across the province as part of its 37th Summer Festival.
About the Music
The first quartet we will hear is Haydn's "Sunrise" Quartet No. 63 in B flat major, Op. 76, No. 4, which was named this way thanks to the rising theme over sustained chords that begins the quartet. This quartet is part of a set of six, written in 1796 after Haydn returned to Vienna from the second of his highly successful London visits. Haydn was now considered the greatest living composer in the Western world, and while he always composed with confidence, his realization of that fact might have guided the bold and brilliant tone that exudes from the work.
The quartet will also perform Mozart's "Dissonance" String Quartet No. 19 in C Major, K. 465, which is nicknamed this way on account of its unusually slow introduction. It is the last in the set of six quartets that Mozart dedicated to Joseph Haydn, and is perhaps the most famous of his quartets.
Mozart and Haydn admired each other and the two men quickly developed a deep friendship after meeting first in 1783. Through the 1780s in Vienna, the two composers played together in impromptu quartets, with Haydn on violin and Mozart playing viola. Two years after their first meeting, in 1785, Mozart dedicated his six "Haydn quartets" to his older friend. Usually, compositions would have been dedicated to a wealthy patron or sponsor of the work, so Mozart's dedication here is a sign of the affection and high regard he held for his friend and mentor.
In his dedication, Mozart describes sending his "six sons" (six quartets) to his "best friend" (Haydn), and goes on to say "Your good opinion encourages me to offer these string quartets to you, and leads me to hope that you will not consider them wholly unworthy of your favor. Please, then, receive them kindly and be to them a father, guide, and friend!"
About the Artists
Jeanne-Sophie Baron, violin
Jeanne-Sophie graduated from the Schulich School of Music at McGill University in 2022 with a Graduate Performance Diploma in the studio of Andrew Wan, concertmaster of the Orchestre Symphonique de Montréal. Previously, she obtained from the same institution a Master's and a Bachelor's degree in performance with Violaine Melançon and Felicia Moye. Before establishing herself in Montreal, she completed a major part of her music studies at the Conservatoire de musique de Saguenay, her hometown, in the studios of Nathalie Camus and Guylaine Grégoire.
During her studies, Jeanne-Sophie had the opportunity to participate in masterclasses given by renowned violinists such as Cho Liang-Lin, Kevin Lawrence, Alexandre Da Costa and Frederic Bednarz. She also developed as a chamber musician under the tutelage of Denise Lupien, Jean Marchand, Mark Fewer, André Roy, as well as the Ariel Quartet and the Formosa Quartet. She also stood out as a finalist in several competitions including the McGill University Chamber Music Competition, the Canadian Music Competition and the Festival de Musique du Royaume.
As an active orchestral musician, Jeanne-Sophie currently holds a second violin position with the Orchestre Symphonique du Saguenay-Lac-St-Jean and frequently joins various orchestras in Quebec as a freelancer. In June 2022, she had the chance to perform several times with the National Arts Center Orchestra in Ottawa as part of their mentorship program, working closely with their musical director Alexander Shelley. During the summers of 2015 to 2017, she was part of the National Youth Orchestra of Canada and this last year received an Award of Excellence, giving her the opportunity to hold a concertmaster position. She further perfected her qualities as an orchestral musician by joining the National Academy Orchestra in Hamilton (under the direction of Boris Brott) in the summer of 2018, and the orchestra of the Collegium Musicum Schloss Pommersfelden (Bavaria, Germany) in 2019 .
Daniel Dastoor, violin
Known for his musical sensitivity and inspired performances, violinist Daniel Dastoor has emerged as one of Canada's leading young artists. A native of Montreal and a frequent participant in competitions and festivals, Daniel won the Calgary Philharmonic's Marley Rynd Performance Scholarship, won first and second prize at the Glenn Gould School's Chamber Competition, and is a prizewinner of the Canadian Music and Alberta Festival competitions. He has also performed as soloist with the Calgary Philharmonic and with the Lethbridge Symphony. Recent appearances include solo and chamber performances in the Toronto area, and at the Joseph Joachim International Violin Competition in Hannover, Germany.
A passionate chamber musician, Daniel has participated in the Perlman Music Program Chamber Workshop, the Kneisel Hall Chamber Music Festival, the National Arts Center's Young Artist Program, the Fontainebleau Festival, the Orford Music Academy, the Banff Centre Festival, and the Trondheim International Chamber Music Festival. Invited to perform as guest violinist with the UCalgary String Quartet faculty quartet in residence from 2016-2018, Daniel participated in Calgary Pro Musica's Young Artists Development Program in the 2016-2017 season. He participated again in the 2017-2018 season as part of the Walden Piano Trio, with which he competed in the 45th Fischoff National Chamber Music Competition, and with which he was mentored by the Gryphon Trio at the Festival del Lago Academy in Ajijic, Mexico.
Active in the concert scene, Daniel has appeared as part of the Festival de Febrero, Concerts@100, and Arts & Letters Club of Toronto series, and has given solo and chamber performances across the United States, Canada, France, Germany, Mexico, and Norway. Recent projects include recordings in Toronto's
Koerner Hall and in St. Louis, Missouri, and an online performance as part of the Banff Centre's EvoFest: Evolution Concert Series. Daniel has performed with many great musicians including Krzysztof Jablonski, Susanne Ruberg-Gordon, Vivian Hornik-Weilerstein, and members of the Danish String Quartet. A frequent performer in masterclasses and festivals, he has had the opportunity to work with renowned artists such as Noah Bendix-Balgley, James Ehnes, Mauricio Fuks, Joseph Kalichstein, Ida Kavafian, Joel Krosnick, Robert McDonald, Merry Peckham, Joel Smirnoff, Roger Tapping, and Pinchas Zukerman.
An equally experienced orchestral musician, Daniel has performed as concertmaster of the Royal Conservatory Orchestra and University of Calgary Orchestra, has been a member of the National Youth Orchestra of Canada, McGill Symphony Orchestra, and Orford Academy Orchestra, and has served as a substitute in the Calgary Philharmonic Orchestra and Red Deer Symphony Orchestra.
Daniel is currently in the first year of his Artist Diploma in Chamber Music at the San Francisco Conservatory of Music, where he studies with Ian Swensen. Most recently, he completed an Artist Diploma at the Glenn Gould School where he studied with Paul Kantor and Barry Shiffman as a Temerty Fellow. He holds degrees in music from the Mount Royal Conservatory and the University of Calgary where he studied with Bill van der Sloot, and degrees in Computer Science from the University of Calgary and University of Toronto. He plays on a 1737 Guidantus violin on generous loan from the Banff Centre for Arts and Creativity.
Ryan Davis, viola
Praised by The WholeNote as "showcasing multitudes of colours and possibilities, with much skill and imagination," Radia, the moniker for Saskatchewan-raised artist Ryan Davis, is swiftly emerging as a singular creative force. Combining his rigorous classical training with the inspiration of folk, electronic, and hip-hop music, he finds himself seamlessly blending in between creative spaces. Using the viola as his voice, his unique sound has garnered attention and has been featured in diverse spaces, including in Toronto's Koerner Hall, The Violin Channel, in Los Angeles's Skid Row, and on ABC Channel 7 News LA. Of Glow & Abandon, his debut EP, was released on all major platforms on December 18th, 2021. He was named one of "30 Hot Canadian Classical Musicians Under 30" by CBC Music in 2021.
Ryan will be a featured solo artist with the Saskatoon Symphony Orchestra throughout their 2022-2023 season: a concerto performance on opening night, September 24th; as well as premiering an original work for viola, electronics, and the SSO musicians on April 2nd.
Some recent highlights include an appearance on former Toronto Raptors forward and NBA Champion Serge Ibaka's Instagram Live show How Talented Are You?, a performance with The Gryphon Trio and vocalist Patricia O'Callaghan as a featured guest artist in Kingston's Isabel Bader Theatre, a solo curation called Chromatophores as part of the Banff Centre's Evolution Classical festival, and a performance of Christos Hatzis's The Mega4 Meta4 as an invited solo artist as part of 21C Music Festival at The Royal Conservatory of Music. Ryan was chosen as the principal violist of the string ensemble Les Jeunes Virtuoses in Montreal, as part of the Montreal Chamber Music Festival in the fall of 2021.
He had a solo concerto debut with ensemble Prairie Virtuosi in January 2016, and has since returned in that role in 2020. Mr. Davis was the principal violist of the Colburn Orchestra's 2018 tour of Scotland and Ireland, and was selected by the Lucerne Festival Academy Orchestra as their principal violist for the 2017 summer festival. He has been fortunate to collaborate in chamber music settings with many world-renowned musicians, including Martin Beaver, Jonathan Crow, Steven Dann, Roberto Diaz, Mark Fewer, Matt Haimovitz, Ernst Kovacic, Joel Link, Anthony Marwood, Johannes Moser, Eric Nowlin, Erika Raum, Wolfgang Redik, Lara St. John, and Axel Strauss. Festivals include the Banff Centre for the Arts, BigLake Arts, Creative Dialogue France, Orford Arts Center, Ottawa Chamberfest, McGill International String Quartet Academy, Napa Valley Music Festival, Ritornello Chamber Music Festival, and the Toronto Summer Music Festival.
Ryan's passion for community engagement has led to working closely with Street Symphony, focused within the Skid Row neighborhood of Los Angeles. Along with trombonist Jared Dickerson and violinist Simone Porter, he created the media co-op The Upnote, a platform and podcast focused on the exploration of young artists in an ever-changing music industry. After over 50 episodes, The Upnote was selected as the inaugural Entrepreneurs In Residence at the Colburn School for the 2019-2020 academic year, and was awarded the Grand Prize at the New Venture Competition.
In 2014 Mr. Davis completed a Bachelor of Music degree at McGill University, graduating with "Outstanding Achievement in Viola" as a scholarship student of Andre Roy, and graduated in 2016 with a Master of Music degree from the Yale School of Music as a student of Ettore Causa, and in 2019 graduated from Los Angeles's The Colburn School, receiving an Artist Diploma under the tutelage of Paul Coletti. Ryan was then chosen as the first ever violist to be selected as a Rebanks Fellow in 2019, in the Rebanks Family Fellowship & International Performance Residency Program in Toronto, where he now calls home. He can sometimes be spotted playing in the viola section of the Toronto Symphony Orchestra.
David Liam Roberts, cello
Winner of the 2021 Canada Council for the Arts' Michael Measures 1st Prize, David Liam Roberts is establishing himself as one of the most exciting Canadian cellists of his generation. David Liam was awarded both the 1st Prize and Grand Award at the 2018 National Music Festival of Canada and recently won 1st Prize of the 2022 biennial WMC McLellan Competition after performing the Schumann Cello Concerto as soloist with the Winnipeg Symphony Orchestra in the competition's final round.
Upcoming engagements include a two-week tour of Atlantic Canada in March 2023 with pianist LaLa Lee. Recent engagements have included recitals presented by Cecilia Concerts (Halifax), Virtuosi Concerts (Winnipeg) and the Women's Musical Club of Winnipeg.
Chamber music has been an integral part of David Liam's life since he started busking with his older siblings at age 5, playing Métis fiddle tunes in his home province of Manitoba. His piano trio, Mykola Trio, is one of only 4 trios selected from around the world to participate in the 2022 Trondheim International Chamber Competition Academy in Trondheim, Norway. Earlier this year, they were awarded 1st Prize of the Glenn Gould School Chamber Competition in Koerner Hall.
Recent highlights have been collaborating with pianist Nicolas Namoradze and violinists Gwen Hoebig, Karl Stobbe, and Joel Link of the Dover Quartet at the Rosamunde and Toronto Summer Music Festivals. David Liam studies with Hans Jørgen Jensen and Andrés Díaz at the Glenn Gould School of the RCM in Toronto, where he received his Bachelor's degree in 2022 and is now pursuing an Artist Diploma as a recipient of the prestigious Temerty Fellowship.