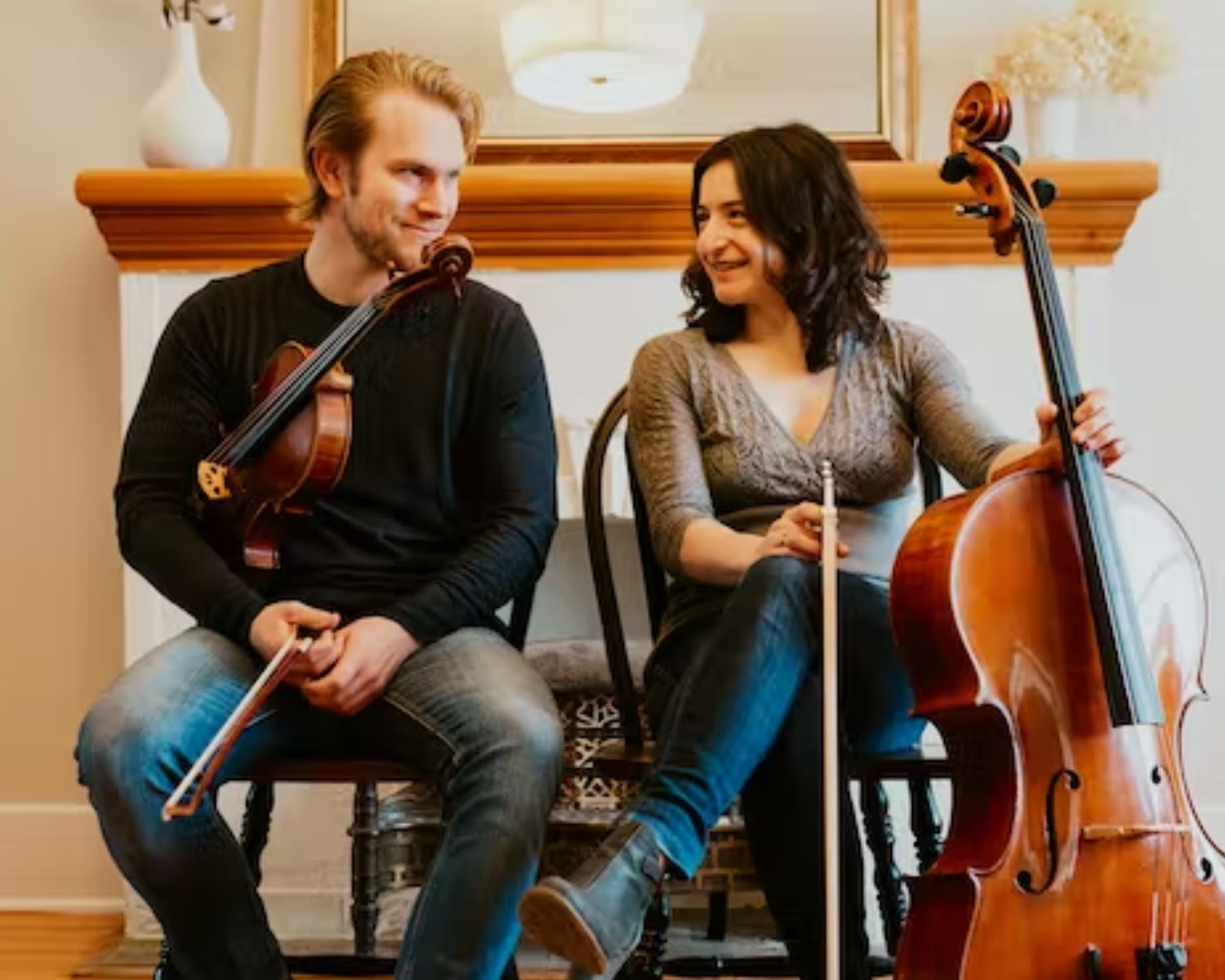 Friday September 23 2022, 7:00 PM
The New Cohort
Cecilia's Retreat
Friday 23 September – 7:00 PM

$35. Limited seating, admission by advance email reservation
About
Musique Royale welcomes audiences to hear viola and cello duo, The New Cohort, in the intimate setting of Cecilia's Retreat. Founded in the early days of the COVID 19 pandemic, The New Cohort was formed by violist Keith Hamm and cellist Julie Hereish to explore chamber music possibilities while in household isolation.
A deep dive into the repertoire for viola and cello has led to many performance engagements online and outdoors (including concerts for the Edmonton Symphony's Stage to Screen series, Doors Open for Music at Southminster in Ottawa, The Homestage Tour for Rosebud Theatre, and Xenia Concerts). The concert, entitled "Household Music", explores the individuals, relationships, and circumstances behind the collaborations between composers and close friends. Repertoire at the concert includes music by Beethoven, Lutoslawski, Boccherini, and notably Matthias McIntire, a Canadian composer who recently moved to Lunenburg!
This Musique Royale performance taking place at Cecilia's Retreat is part of a concert tour across Atlantic Canada organized by Debut Atlantic (www.debutatlantic.ca).
Program (subject to change)
Duet with two Obligato Eyeglasses WoO 32 for Viola and Violoncello - Ludwig van Beethoven (1770-1827)
El Jefe (Renan) for viola and cello - Pablo Ortiz (b. 1956)
8 Pieces, op. 39 - Reinhold Glière (1875-1956)
Bucolics, 5 pieces for viola and cello - Witold Lutoslawski (1913-1994)
Allegro vivace
Allegretto sostenuto, poco rubato
Allegro molto
Andantino
Allegro marciale
Sonata for viola and cello in C minor - Luigi Boccherini (1743-1805)
Joy Despite All - Matthias McIntire (b. 1986)*
Grotesque for viola and cello - Rebecca Clarke (1886-1979)
Duo for viola and cello - Walter Piston (1894-1976)
Allegro risoluto
Andante sereno
Allegro brillante
*denotes Canadian composer
About the Musicians
Keith Hamm, viola
Keith Hamm, viola, is a native of Rosebud, Alberta. He received his training at the Glenn Gould School of Music under the instruction of Steven Dann, and at the Mount Royal Conservatory with Nicholas Pulos. While still a student, Keith was named Principal Violist of the Canadian Opera Company Orchestra and performed there for eight seasons. In the fall of 2019, Keith took up that same position with the Edmonton Symphony Orchestra. A dedicated chamber musician, Keith has been invited to perform at the Ravinia Festival as guest violist with the Royal Conservatory's Grammy-nominated ARC Ensemble, Toronto Summer Music Festival, Ottawa Chamberfest, Stratford Summer Music, Sweetwater Music Festival, and Music By The Sea in Bamfield, BC. Keith has performed as a guest artist with the Juno-winning Amici Ensemble, and frequently performs with Continuum Contemporary Music, Skylight Series in Toronto's Distillery District, Echo Chamber Toronto, and Stereo Live as performer and producer. Keith is Founder and Artistic Director of the Rosebud Chamber Music Festival in Rosebud, Alberta, and is the co-founder and violist of the Rosebud String Quartet. From 2000 – 2003, Keith was the fiddler for the Calgary Flames.
Julie Hereish
Julie Hereish, cello, pursued her studies in her hometown, Montreal and then in Vienna, Austria. In the Fall of 2019, she joined the Edmonton Symphony Orchestra as Assistant Principal Cello. Previously, she held the same position in the Québec Symphony Orchestra. During her time in Québec City, she co-founded the piano quartet Quatuor Philanthros and the cello octet Élément 8. She is now a member of the High Level Trio, which she founded with two friends and colleagues of the ESO, Ewald Cheung and Ethan Filner. Her chamber music performances have taken her across Canada, where she's toured with Debut Atlantic and Jeunesses Musicales du Canada. As a guest artist, Julie joined the Grammy Award winning ARC Ensemble in performance in Toronto. She has also performed with the Canadian Opera Company as guest continuo cellist. She has been featured on CBC Radio and Radio-Canada. Julie has performed throughout Europe and North America, and has appeared extensively with the chamber orchestra Violons du Roy in Québec City. Together with actor Pierre Mayer, Julie created Charlot et Mlle Cello, a theatrical concert experience for children based on Charlie Chaplin's famous character.